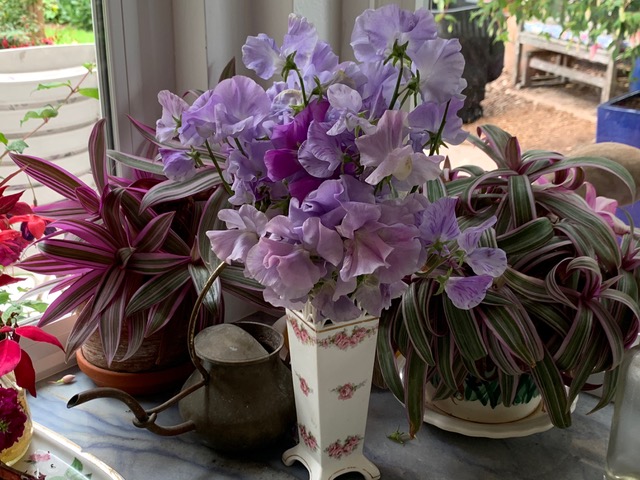 Today we're off to San Diego to visit with Catherine Dickerson.
One of the things I love about growing lots of flowers is the abundance of bouquets that come from the necessary trimming and cleaning up. I used to complain that most of my work here in San Diego is hacking and trimming. Now I think of it as tender care, and that shift in perspective makes it all very enjoyable.
For over half the year, we have the delicious luxury of flowers in every room. Here are a few bouquets.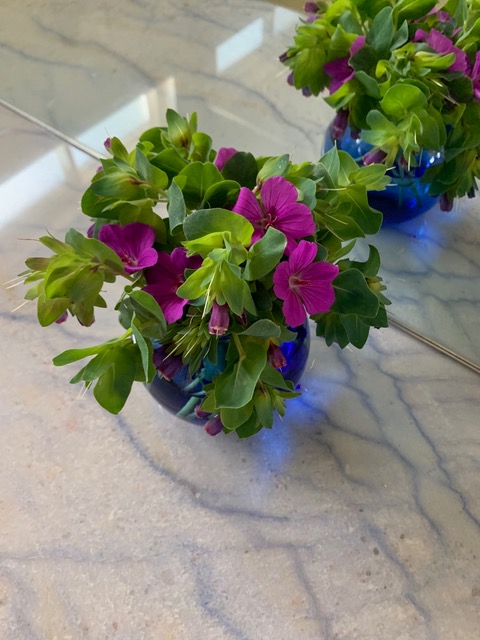 A little powder-room bouquet of overgrown cerinthe (Cerinthe major, annual) and geranium.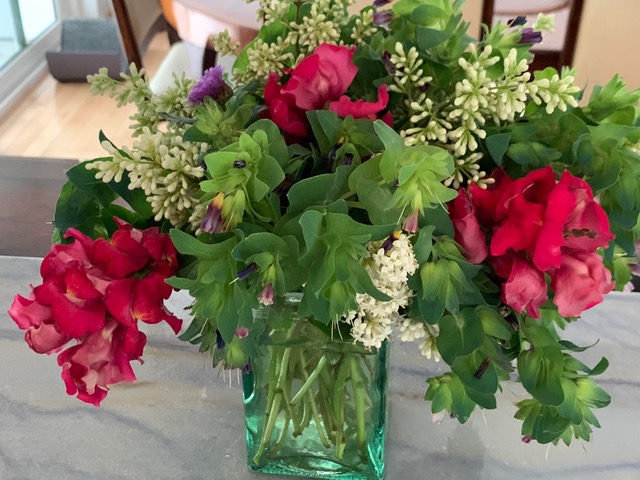 More cerinthe, with broken snapdragons (Antirrhinum majus, annual) and trimmed ligustrum (Ligustrum species).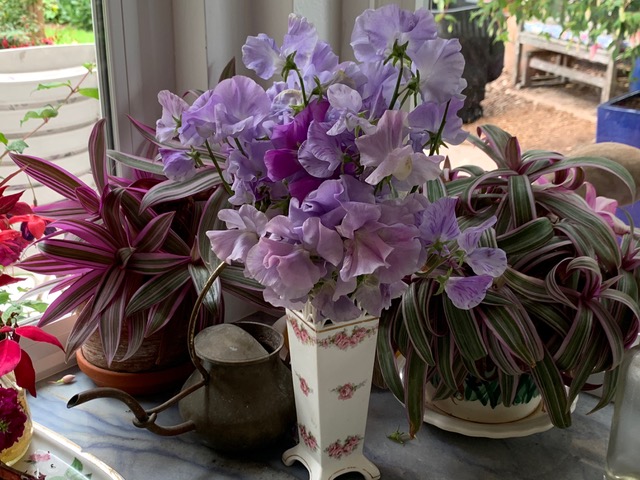 Sweet peas (Lathyus odoratus, annual) in front of two Moses-in-a-boat (Tradescantia spathacea, Zones 9–11 or as a houseplant), the first of the latter I've been able to grow after failing with several. Sweet peas have to be cut daily, as they rush to produce seeds, which of course reduces flowering. I get most of my vases from local estate sales—on Sunday afternoon when the prices are cut in half. This vase is a treasure I brought home from a charity shop in the UK while visiting my sister over 10 years ago.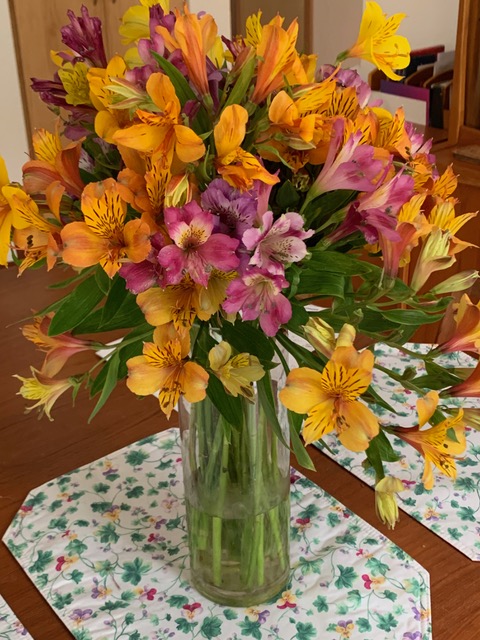 An abundance of alstromeria (Alstromeria hybrids, Zones 8–10). We have this very determined and expansive plant growing in five colors around our yard. The orange ones grow to 5 feet tall. Visitors often go home with a large bouquet.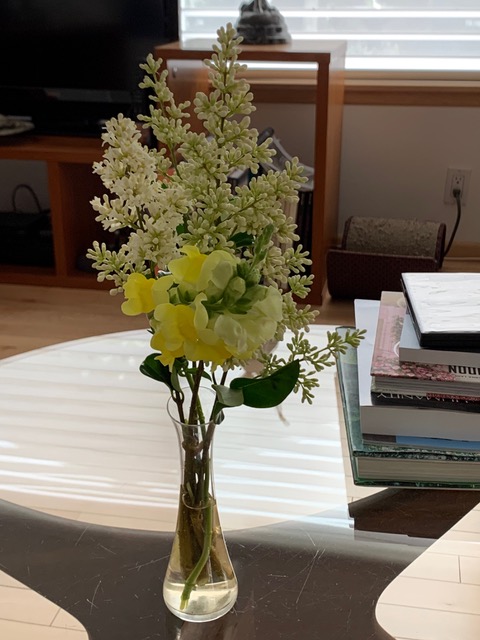 A modest bit of broken-stem snapdragon and trimmed ligustrum.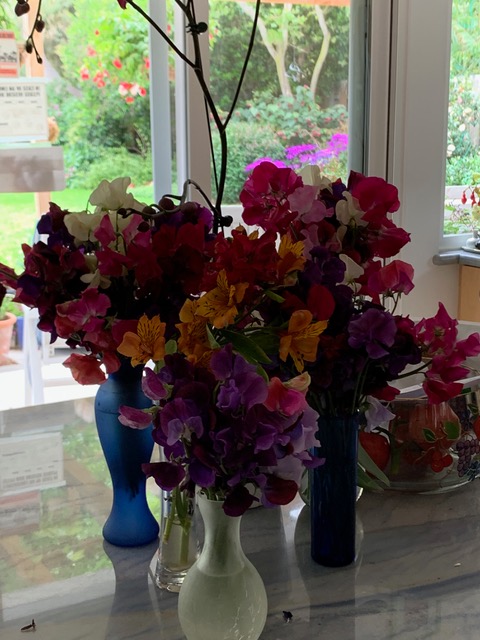 Lots of sweet peas! The purple flowers outside in the background are cineraria (Pericallis × hybrida, Zones 9–10 or as an annual). We brought two from a trip to Northern California a few years ago, and they reseed every year. A vigorous abutilon is growing behind them. (The sign in the window has pictures of our cats, in case of emergency.)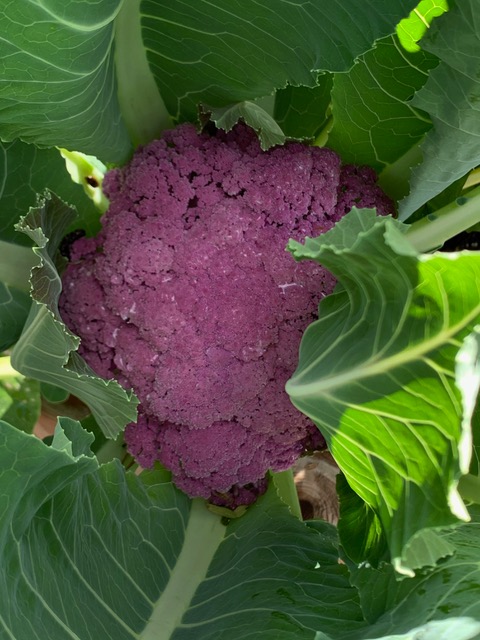 And last but not least, my first ever cauliflower. Broccoli, beets, kale, spinach, assorted lettuces and snow peas are delicious, but not as photogenic.
Thanks so much for this opportunity to share these wonderful treasures with people who share the same great joy!
Have a garden you'd like to share?
Have photos to share? We'd love to see your garden, a particular collection of plants you love, or a wonderful garden you had the chance to visit!
To submit, send 5-10 photos to [email protected] along with some information about the plants in the pictures and where you took the photos. We'd love to hear where you are located, how long you've been gardening, successes you are proud of, failures you learned from, hopes for the future, favorite plants, or funny stories from your garden.
If you want to send photos in separate emails to the GPOD email box that is just fine.
Have a mobile phone? Tag your photos on Facebook, Instagram or Twitter with #FineGardening!
You don't have to be a professional garden photographer – check out our garden photography tips!
Do you receive the GPOD by email yet? Sign up here.