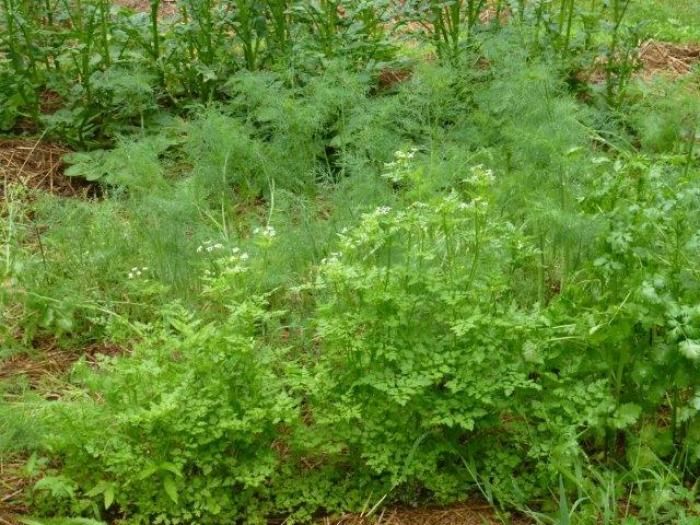 The garden is producing in leaps and bounds right now, thanks to the rain and the heat. Get out there and harvest your annual herbs before they flower and prune back perennials to encourage new growth. The more that you cut your herbs, the more they will produce for you throughout the season.
Dill, coriander, arugula, chervil, parsley, basil, tarragon, lemon balm, origanums and mints are all honkin' big right now and ready to harvest. Do this in the morning after dew is evaporated. I am tying them into bundles and hanging them from the ceiling beams to dry; infusing them in alcohol or vinegar to make spirit infusions and herbal vinegars; making herbal syrups to use right now or freeze; and I am mincing them in the food processor with oil and making aromatic herbal pastes to freeze. /item/3753/video-how-to-freeze-herbs
This first round of harvesting and preserving is such an exciting and rewarding time for we gardeners, who have been awaiting our garden harvests after toiling all apring. Aahhh–there are so many possiblities to create. I love the combo of grapefruit and tarragon, so I took about a quart of fresh tarragon leaves and put them in 1/2 gallon of vodka. After about 3 days of infusing, the vodka turned a lovely shade of green and tastes deliciously of tarragon–it is a magical spirit infusion–I will make some of it into a tarragon cordial. The rest I will use in an herbal libation, combined with fresh-squeezed grapefruit juice, my homemade grapefruit bitters and a splash of sparkling water over ice.
I have a stand of cilantro and dill, so I have cut them back to encourage another round of growth and processed them with a bit of olive oil and frozen the pastes. Once processed, a packed quart of leaves will fill a 1-cup container or freezer bag! I will be doing this with lemon balm, the mints, parsley, chervil and arugula, so I have these pastes on hand for the winter. Of course I am enjoying them now with everything from pastas to fruit salad.
Once you harvest the herbs and bring them into the kitchen, you will find a multitude of things to do with them. This part–from garden to kitchen–allows our creativity free rein and is so much fun. Not to mention, how happy our tastebuds are! So get out there and harvest!