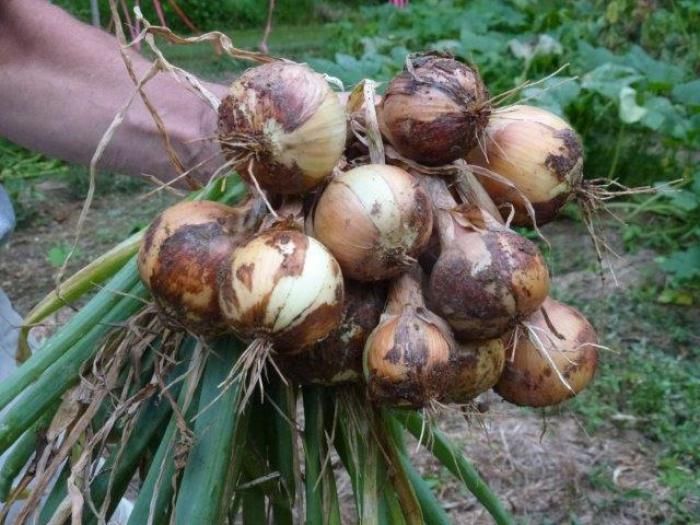 It is already midsummer and the harvest has begun–and it is time to put up the garden bounty–here's what's going on in my garden and kitchen. The garlic was dug last month and has now cured; ditto with some early onions. Just harvested the rest of the onion crop and now they must cure for about two weeks. Be sure to remove any stems or outermost skins that seems wet or slimy. I cut some tops off and also leave some to braid on the ones in the best shape. Cure alliums, out of direct sunlight, in a place with good air circulation. As the skins dry, check on them and remove any that might have bad spots, rot or mold. Once the outer skins are papery, store onions in a cool place in open boxes or net bags.
I'm getting second and third harvests of basils, mints, lemon balm and many of the woody-stemmed perennial herbs. If you can't use all you have in cooking and sharing with friends, freeze or dry excess herbs. Directions for those processes are on some of my past posts:
/item/3759/video-how-to-dry-herbs
/item/3753/video-how-to-freeze-herbs
I am a pickle person and love all kinds. Besides cucumbers, summer squash, onions and garlic, chile peppers, green beans and okra make great pickles. I do can pickles in a hot water bath for long storage and gift-giving, however, I love the ease and immediate results of refrigerator pickles. They last in the fridge for two to three months and get better with age, so I make batches using about 12 cups of veggies at a time. 
I like simple, easy-to-prepare food in the summertime, without a lot of cooking. So I make lots of salads with vegetables combined with protein from grains, beans and/or pasta. I prepare them in the morning and then they are ready for supper, with leftovers for the next day or two. Be sure to use some onions and/or garlic, fresh herbs, tomatoes, crunchy vegetables to give a lot of flavor–dress with extra-virgin olive oil, lemon juice or a little balsamic or herb vinegar and season with salt and pepper–no hohum salads for me! Perhaps garnish with some toasted nuts or seeds or crumbled cheese. Here's a previously published rice salad for inspiration: /item/2452/garlic-chive-and-rice-salad
Lastly, as plants fade or die, remove them from the garden to the compost pile. Once crops are harvested, work up the vacated space, add more amendments if needed, and sow seeds for the fall garden. It is hard to believe that it is actually that time in the gardening season. I just picked up some brassicas and greens to transplant too. 
We've had cool weather here in Maryland and lots of rain, so I tried to harvest a number of crops with a forecast of so many days of rain in a row. Hope your garden is growing in leaps and bounds–enjoy and happy harvesting!