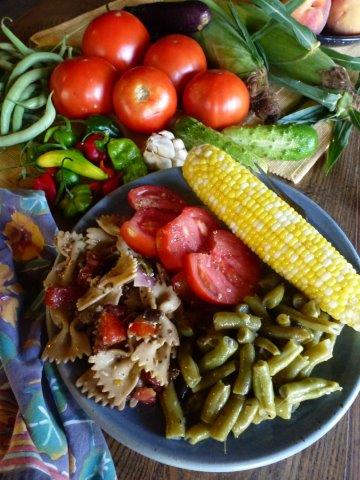 It's that time of year when we are reaping the harvest–benefiting from all of our earlier hard labor–and approaching a vegetable glut! Hot weather makes us want to cook less, so think about making salads in the morning or on the weekend to have for supper, then you just need to slice some tomatoes and cucumbers and maybe steam some corn. Enjoy the bounty now–and start thinking about preserving the harvest while we celebrate garden abundance.
Right now we are eating summer squash, tomatoes, cucumbers, chile peppers, string beans, corn, eggplant and okra almost daily. While we slice or chop tomatoes, cukes and chiles and eat them fresh, we generally cook squash, beans eggplant, corn and okra. Steaming is quick and easy, however I do love to grill my veggies. It is sort of a pleasant thing to do after work or on the weekends because you get to take a cold libation outside and enjoy the outdoors as your supper cooks.
Grilling doesn't take long–I use one of those great, simple inventions–a charcoal chimney to get the hardwood charcoal going with a few sheets of newspaper (please no lighter fluid or chemically-laden charcoal briquettes). It takes about 20 to 25 minutes before the coals are ready to dump out into the grill, which is just enough time to pull out a baking sheet and slice some veggies up. I put the veggies on the sheet and a small container of olive oil, grilling marinade or barbecue sauce with a basting brush, and long-handled spatula and tongs. Most veggies don't take more than about 15 to 20 minutes, turning once or twice, unless you have potato bundles which take about half an hour, so put them on first.
I always do extra vegetables on the grill so that I am sure to have leftovers; I eat them straight off the grill the first night and creat seomthing with them the next night. Grilled veggies are great in frittatas or omelettes, pasta or grain salads, on pizza or sandwiches.
To make a pasta or grain salad (rice, quinoa, bulgur wheat, barley, farro, etc.) I use about 4 cups of cooked pasta or grains and about 2 to 3 cups of coarsely chopped grilled vegetables (my summer favorites are onions, eggplant, chiles, squash and mushrooms). Sometimes I use pesto, or I gather about 1 large handful of herbs (to equal about 1 cup of chopped herbs); any of the following are delicious–I usually use about 2 or 3 in combination–basil, parsley, cilantro, arugula, cilantro, dill, sorrel, tarragon, oregano or marjoram.
When the pasta or grains are done cooking, while they are still hot, drizzle with olive oil (about 3 to 4 tablespoons) that has at least 2 or 3 cloves of pressed or minced garlic added, season with sea salt and freshly ground pepper to taste. Add the grilled veggies and herbs and toss. I usually add about 1 tablespoon fresh lemon juice or herb or balsamic vinegar for tang. Toss well and taste for seasoning–adjust with salt, pepper, lemon juice or vinegar, maybe a little tamari soy sauce. These salads taste better if allowed to stand for at least 30 minutes and up to all day so the flavors can meld. Be sure to refrigerate if it is hot outside and remove from fridge at least 1/2 hour before serving at cool room temperature.
Garnish with a few more herbs, edible flowers like nasturtium, calendula petals, cilantro, chive or origanum blooms, maybe some toasted nuts or a bit of cheese to make a complementary protein.
Here's to your health–Happy harvest season!