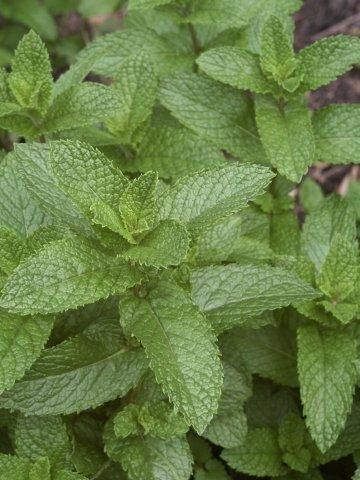 There are many kinds of spearmint (Mentha spicata): Some are fuzzy-leaved while others are smooth; there are big leaves to small, and even curly. I like them all for cooking and beverages. Their flavor is sweet, cool, and refreshing. If a recipe calls for mint—and doesn't specify which type—use spearmint since it grows on all continents, except of course the polar ones.
How to grow mints
Mints cultivated from seed are notoriously variable. Some, such as peppermint—a sterile hybrid of M. aquatica and M. spicata—can't be grown from seed at all. So the best-quality mints come from cuttings. Plant different varieties of mint away from one another—at least a couple of yards if possible so they don't cross-pollinate. In small gardens, confine mints in tubs or pots, either buried in beds or left to stand as container plants, as mints propagate through runners and have a tendency to take over the whole garden. Water, good drainage, and a well-fertilized soil are their only growing requirements. They prefer sun in most climates, but will grow in partial shade, and thrive there in very hot climates. Snip your mints freely throughout the season.
Harvesting mint
Cut back larger plantings for dried herbs at least three times during the season, and harvest in fall just before flowering or when the lower leaves yellow, whichever comes first. You can cut the plants back to the ground at this time. Hang large harvests in bunches upside down in a shady, dry, and warm place. You can dry small amounts, by stripping the leaves from the stems and drying them on a screen under the same conditions as above. I also make mint syrup and freeze it, as well as mint pastes for winter baking. See my video How to Freeze Herbs for information on making aromatic herbal pastes and to learn how to preserve mint and other herbs.
Spearmint in the kitchen
When the weather gets hot, cool down with spearmint. I use it in all sorts of everyday beverages from water to iced tea and lemonade. It is great in a daiquiri, julep, and my favorite… the popular mojito.
Spearmint is tasty in vinaigrettes, all sorts of vegetable salads and grain dishes, it is the herb that makes tabouli and tzatziki. It is lovely with fresh peas and new potatoes, I like it with zucchini and carrots too. The next time you make a baked, stuffed tomato, use mint instead of basil with the breadcrumbs and olive oil for a delicious difference.
And of course, mint stars in dessert. Whether it is a chocolate mint brownie, mint chip ice cream, tropical fruit salad, or berries and mint, it adds a pleasant and compatible flavor to all sorts of sweets and fruit.
Check out my recipe and variations thereof for Mint Mojitos.