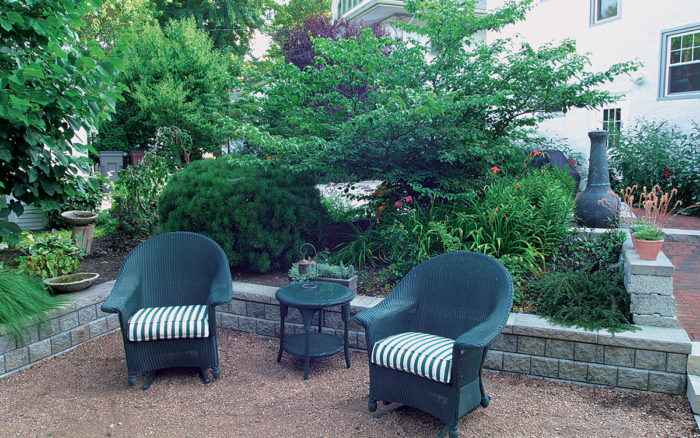 Garden historians believe that the very first  gardens were created as places of refuge from enemies. Although my worst enemies these days are rabbits, raccoons, and deer, I still have a desire for enclosure and privacy. Perhaps this is because I live in a Chicago suburb where the houses are close together and the lots are long, narrow rectangles.
Although I like my neighbors, balancing the demands of privacy and neighborliness dominated my thinking as I faced the challenge of designing my own landscape. While I wanted privacy, I didn't want to fence myself in or keep my neighbors out entirely. To achieve privacy without erecting a fence, I identified the key areas of the garden where I wanted to minimize the living-in-a-fishbowl effect. I also considered the features in my neighbors' yards that I wanted to "borrow." I then came up with creative ways to stop the eye or steal the view, depending on the situation. The result is a garden that does not shut me out of the neighborhood but at the same time offers places to go when I want privacy.
By using a combination of strategies to block, divert, or steal views, our yard is now a haven with no walls. Although it is possible to see our neighbors and say hello, we don't feel that it is required with each coming and going. Our yard is a private place of refuge, even though neighbors and an elementary school are only steps away.
1. Filter views with columnar trees
For my small lot, I chose columnar, or fastigiate, trees which stay relatively narrow as they grow taller and also provide a strong vertical element in the landscape. I used evergreen plant material where I wanted year-round privacy and deciduous material where enclosure in the summer was more important. For example, to create privacy between my neighbor's front porch and my front door, I planted three columnar scotch pines (Pinus sylvestris 'Fastigiata', USDA Hardiness Zones 3–7) in a row, 8 feet apart. The open hedge formed by the pines is now about 20 feet tall, 4 to 5 feet wide, and about 20 feet long. There is ample space between each tree for me to catch glimpses of my neighbors, but we don't intrude on each other with our comings and goings.
2. Make the most of elevation changes
My backyard abuts the parking lot of a two-story school. There is no quick fix to hide a 40-foot-tall building, so I refocused the view to the center of the yard. I knew small changes in elevation create the illusion of more space, so in the lowest part of the yard I enhanced the difference in grade by creating a sunken garden. I excavated an area about 14 feet by 28 feet to a depth of 14 inches to become a patio surrounded by a seat wall. I mounded up the dirt from the excavation between the patio and the rear property line to create a berm ranging in height from 18 to 24 inches above the original grade. As soon as you take the first step down into the sunken garden, your focus is on the patio and on the garden on the berm instead of up toward the school. To further block the view of the school, I added a solid fence on the property line, then planted large Black Hills spruce trees (Picea glauca 'Densata', Zones 3–6) on the highest points of the berm.
3. Use freestanding trellis panels to screen the view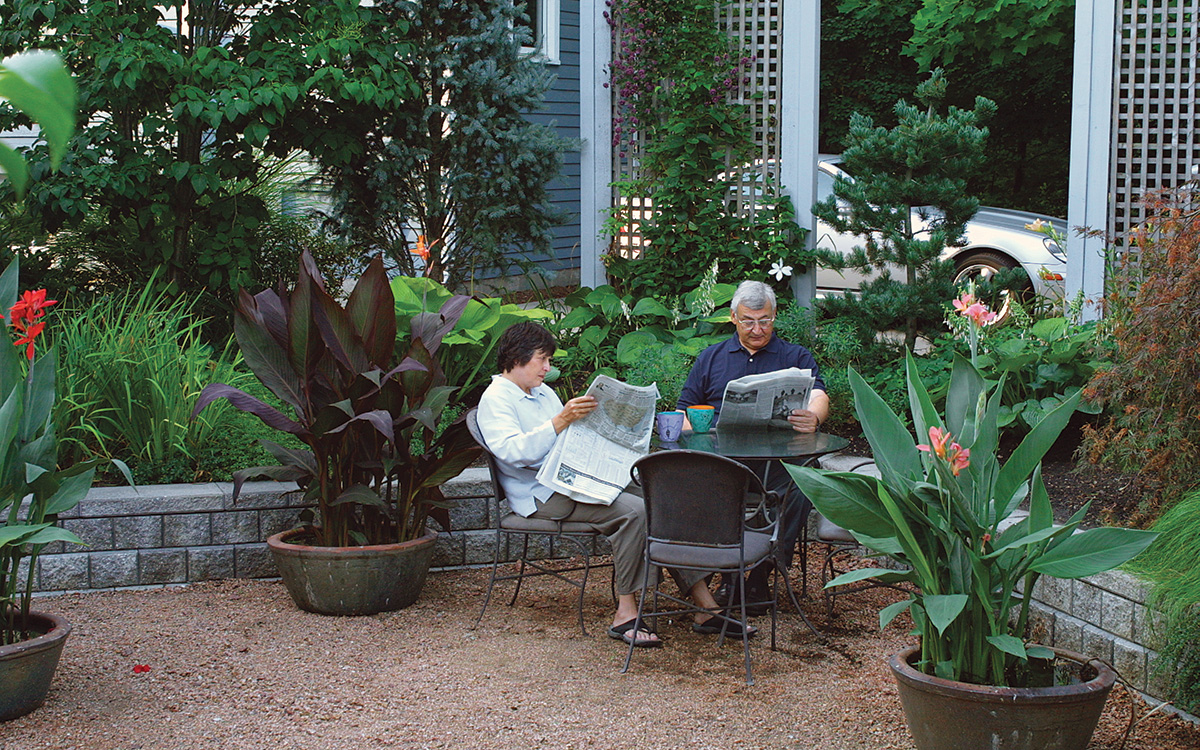 Along one side of the house, I interspersed freestanding trellis panels 8 feet tall and 4 feet wide with columnar white pines (Pinus strobus 'Fastigiata', Zones 4–9) to partially screen the view. When I look out my sunroom windows in the winter, they block the view of my neighbor's driveway and the foundation of their house. Farther along the property line, the panels allow me to catch glimpses into my neighbor's garden, which I designed, while still giving me some privacy. One incentive to using trellis panels is that our zoning code allows a trellis to be built at a greater height than it allows a fence. I grow clematis (Clematis spp. and cvs., Zones 4–9) and other vines on the trellises for additional privacy.
4. Stagger plant material for mutual privacy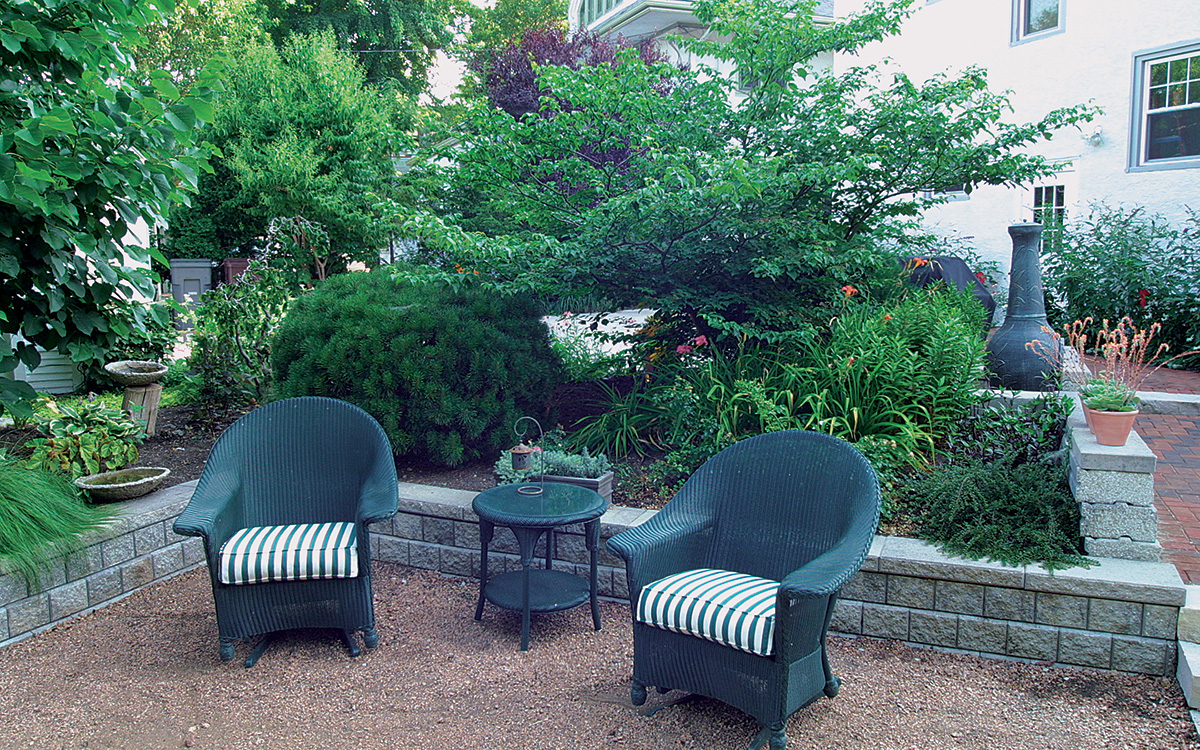 To decide how to create some privacy between my backyard and my other neighbor's back porch I sat in each of the three seating areas in my garden and looked toward their porch. I determined that two big mugo pines (Pinus mugo, Zones 3–7) and a pagoda dogwood (Cornus alternifolia, Zones 4–8) planted in a staggered, or triangular, pattern, would limit my view without having to use a solid hedge. This grouping also blocks the view of my own large driveway and garage, which makes a dramatic difference in the feel of the garden.