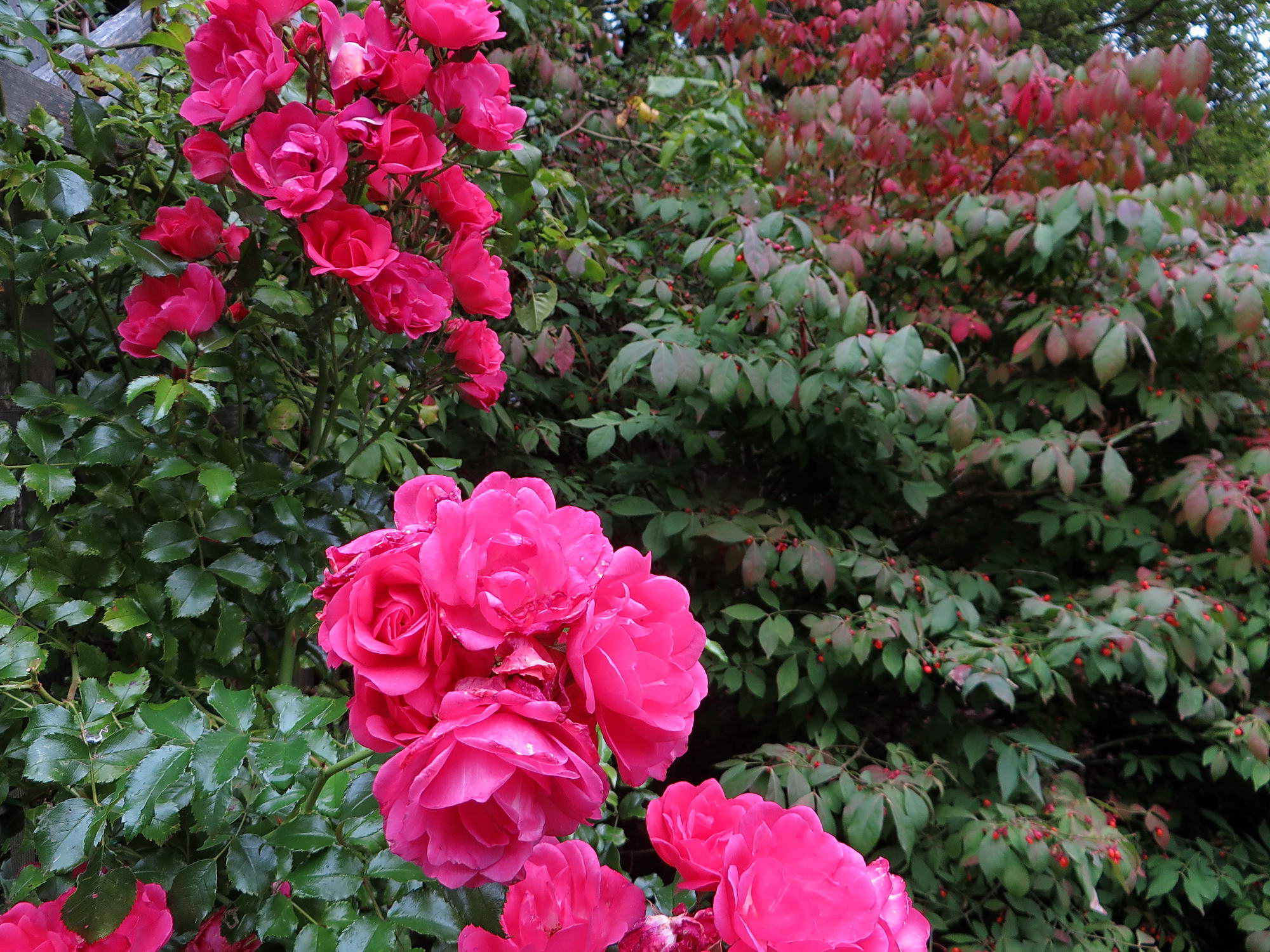 Happy Monday, everyone! Today's photos are from one of our favorite GPODers, May Kald (GrannyMay)! We got a pre-fall post from her a little while ago (refresh your memory HERE), and today she's back with a little more. She says, "Here are some fall views of my garden to share. I was hoping for more colour before posting again, but so far this fall has been very warm and I'm certainly not going to complain about that! Lots of perennials and some of the roses are still pretending it is summer, while those plants that need cold weather to colour up are still waiting for their cues to strut their stuff. Meanwhile, lots of things in the garden do look good, the Anna's hummingbirds are battling over the sugar water in their feeders, and Lacey keeps busy chasing the squirrels as they try to bury nuts and seeds everywhere. All of these photos are from October 4 to the 20. The first photo is the rose 'Flower Carpet Pink' that climbs up the fence at the very front of my driveway. It absolutely loves this weather and is still blooming now, while behind it is the burning bush (Euonymus elatus), which normally steals the show with its flaming red leaves. The burning bush did redeem itself a couple of weeks later, but even now has not reached its full glory. If we do get some brilliant colours later, I can always send more photos!" Please do, May! Yours is one of the most beautiful fall gardens I've ever seen. Goregous!
SEND ME PICS OF YOUR GARDEN! Email me at [email protected]. Thanks! –Michelle
______________________________________________
Want us to feature YOUR garden, or a garden you've recently visited, in the Garden Photo of the Day? CLICK HERE!
Want to see every post ever published? CLICK HERE!
Want to search the GPOD by STATE? CLICK HERE!
And last but not least, Check out the GPOD Pinterest page, where you can browse all the post in categories…fun! CLICK HERE!