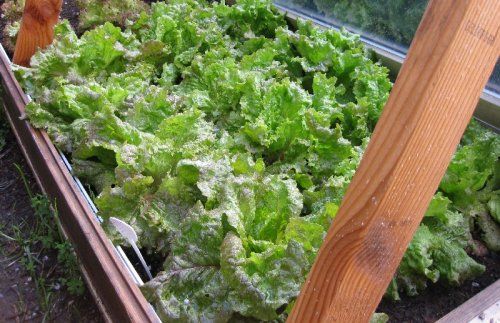 Cold frames are basically very short greenhouses sans the heat. They are mostly used for extending the season in one direction or the other.
They are one of the handiest tools around for helping gardeners work around the weather we can't control. In the fall, I use my cold frame to grow lettuces for the winter. When we're facing spring, I pop my seedlings in it to harden them off before transplanting them into their permanent bed.
Cold frames are usually built as rectangular or square box structures that have a glass or plastic top. The glass or plactic collects the sun's warmth to help extend seasons. They are super simple to make. I have done it two ways. I have used PVC pipe for the frame, and a long roll of plastic over the entire thing.
I did secure some small boards on the bottom of the plastic so the winds didn't pick it up and carry it off. But other than that, it worked very well. By the way, if you use curved PVC pipe covered in plastic to cover rows of plants, that would be called a "row cover", which accomplishes exactly the same thing.
| | |
| --- | --- |
| | |
| | You can build a cold frame out of almost anything. This one sports a French door propped up with redwood boards. |
Now, I have a very expensive cold frame (according to Bob). Bob was given a big French door for our home. Excited as he was to install it, apparently we have a Polly Pocket house compared to the house this thing came from. I suggested that we could recycle it and make it a cold frame – brilliant! He laid the beast on its side, and put it together for me (under his breath I heard him mumbling something about a thousand dollar door…bless his heart).
We (and by "we" I mean my husband-extraordinaire, Bob) cut three 2×4 redwood boards and secured them permanently to the inside of the door itself and the door fame below. We placed a board on each end and one in the middle of the frame. Hinges can be added so the lid can be set at varying heights, which is extra handy. I chose not to install hinges because I have a small granddaughter and that door is extremely heavy. Having the door secured in a fixed position was important to me for safety in this case.
Cold frames can be permanent or portable and it's a perfect way to recycle old windows, doors and the like. You could probably find some cool ones at a rummage sale, Freecycle or Craig's List. Once you have a cold frame hanging around the yard, you won't ever want to do without.
Cold frames for winter
If you have had the pleasure of being spoiled to cold-hardy veggies like home-grown lettuce and cabbage, you will appreciate a cold frame. Lettuce thrives in cool weather, and literally needs cold snaps for great flavor. That being said, the deeper we get into the winter, the cold can be tough on the leaves.
I start my lettuce seeds directly in the cold frame in the fall, and the lettuce hangs on for months. I've been harvesting lettuce since the end of January. If you are forcing bulbs for the winter, this frame can be used to give them the cooling period before they are brought in the house to bloom.
Cold frames for spring
In the spring, the cold frames are the perfect tool for hardening off (letting the plants adjust to the elements slowly) tender seedlings or small plants before they are planted into the ground.
They're perfect for toughening up the seedlings you have so lovingly raised indoors. Take your seedlings outside and put them in the frame for a couple of hours, and then bring them back in. Increase the hours that you leave them in the cold frame for a few days so they become adjusted to the outdoors.
Once they have been out all day for a couple of days, you can leave them in the frame during the night as until it's time to plant them in their permanent place in the garden.