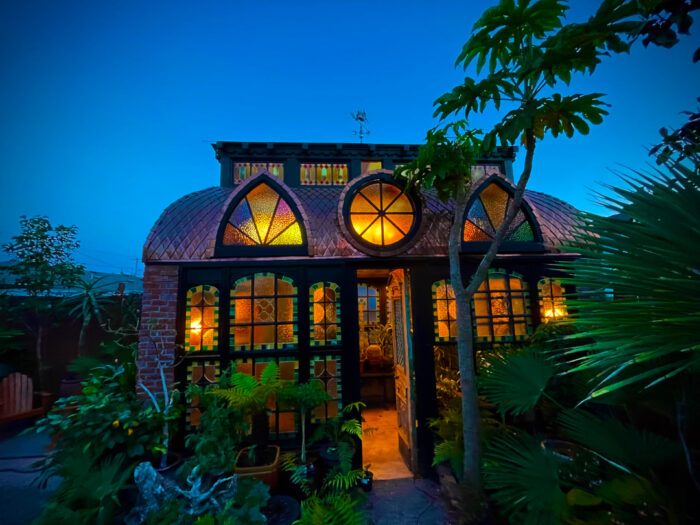 My name is Eric Peterson, and like most gardeners I have been into gardening since I was a child. I live on a 3,900-square-foot lot in Portland, Oregon (Zone 8b). I started my garden when I moved in about 12 years ago. Originally I was renting the house and started a container garden made mostly of plants that I would find on Craigslist for free. It made sense to have my plants in containers so I could take them with me if I moved. I continue to rescue unwanted plants when people are ready to give them a new home. We ended up buying the house in 2017 and still have a lot of container plants.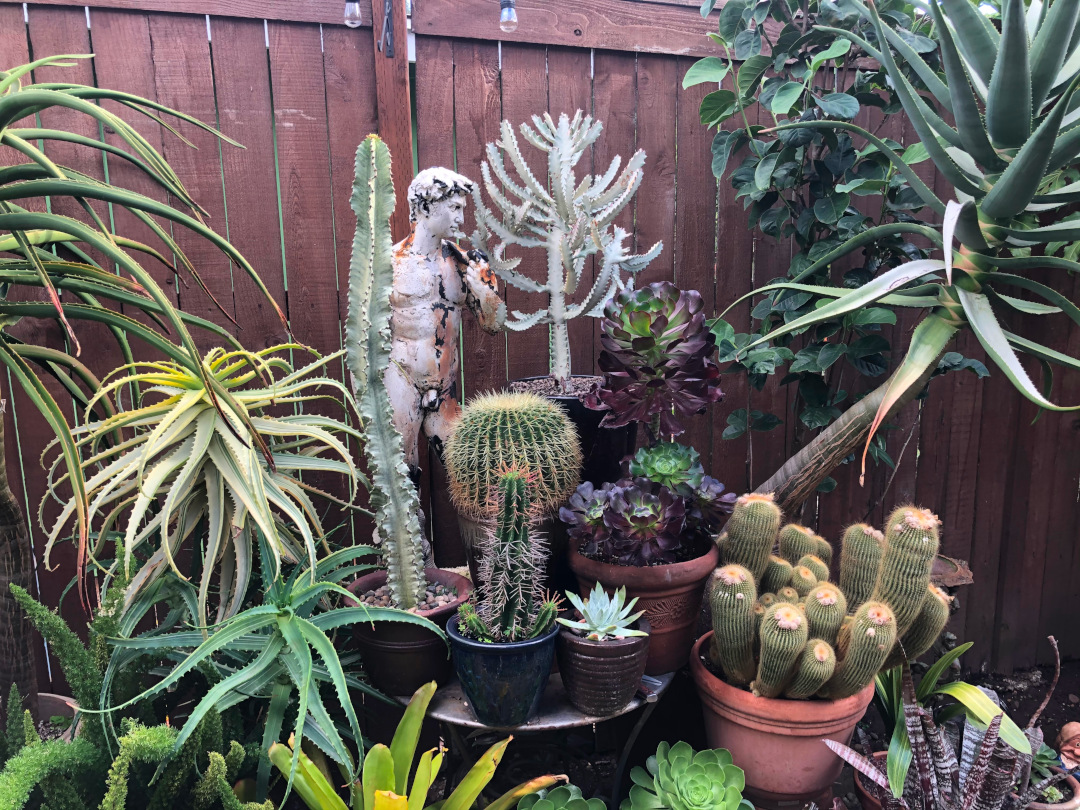 I like to collect a lot of antiques and display them in the garden wherever I can. In this photo I displayed a lot of my desert plants, including a golden barrel cactus (Echinocactus grusonii, Zones 9–11), Euphorbia lactea (Zones 10–11), Euphorbia ammak (Zones 10–11), Aloe 'Hercules' (Zones 10–11), and Aloe arborescens 'Variegata' (Zones 9–11).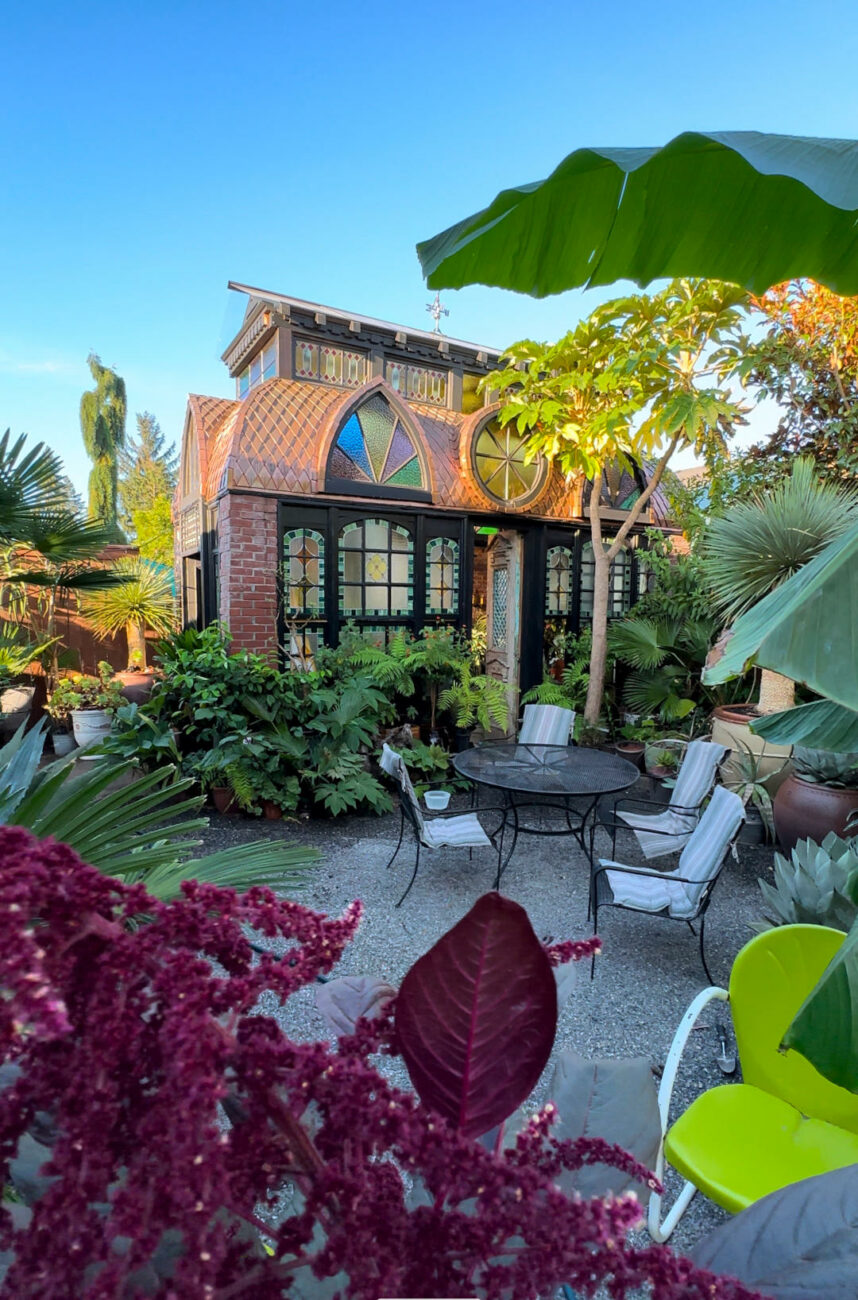 The stained glass conservatory was made out of recycled bricks and old barn wood. I made most of the stained glass windows myself. I cut and folded the copper shingles with my family. I made them in the shape of dragon scales. When I designed it, I wanted the light to be filtered to keep it cooler in the summer so it would be more of a livable space instead of your average overheated greenhouse that is too warm to enjoy in the summer. It has taken about three years to complete this project.
I am always pushing the zone with tropical plants and vines like Passiflora 'Scarlet Flame' (Zones 9–11). The antique phone booth in the background was quite a challenge to move in. I had to rent a crane because it's cast iron and weighs 1,700 pounds. We had to lift it over and under power lines to move it to the house.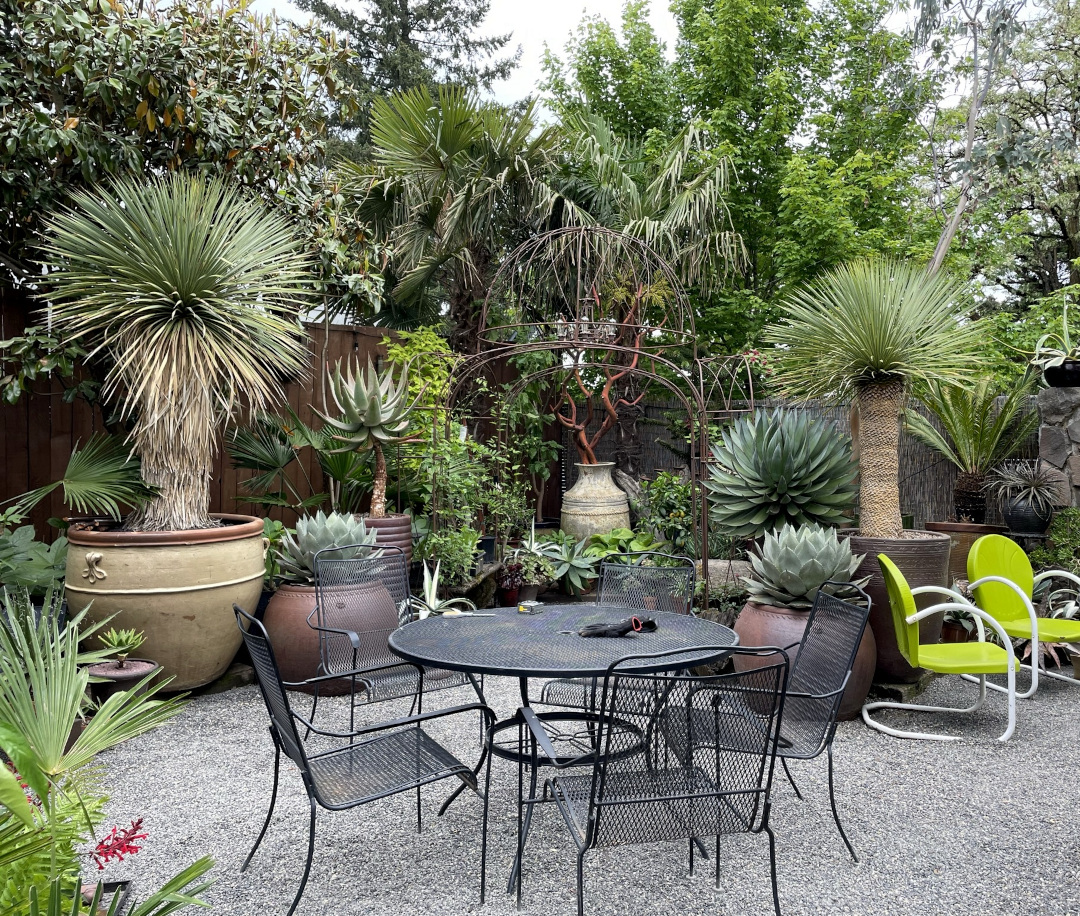 The small garden is surrounded by big Yucca rostrata (Zones 7–11) that were rescued when their previous owner posted them for free on the Nextdoor app. I saved them from the chainsaw that the owner was going to take to them if no one wanted them. There are also Agave parryi (Zones 6–9) and large Agave 'Blue Glow' (Zones 8–11). Photo: Loree Bohl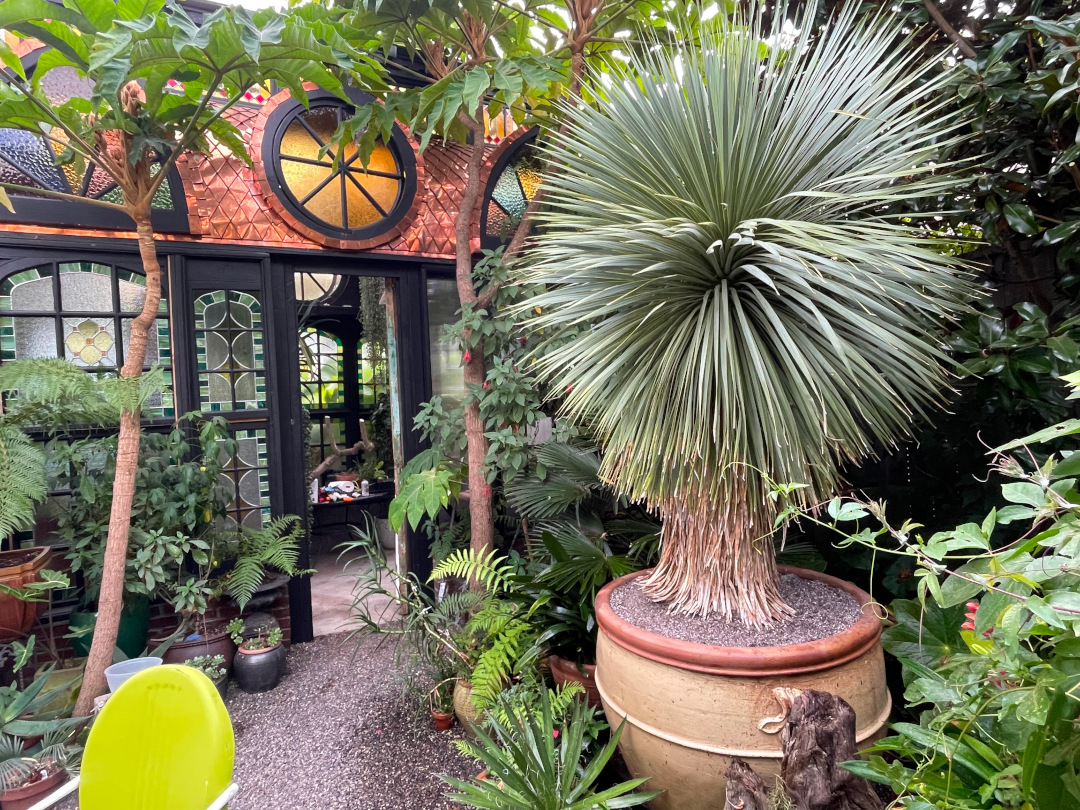 Most of the Yucca rostrata stand over 10 feet tall in their pots.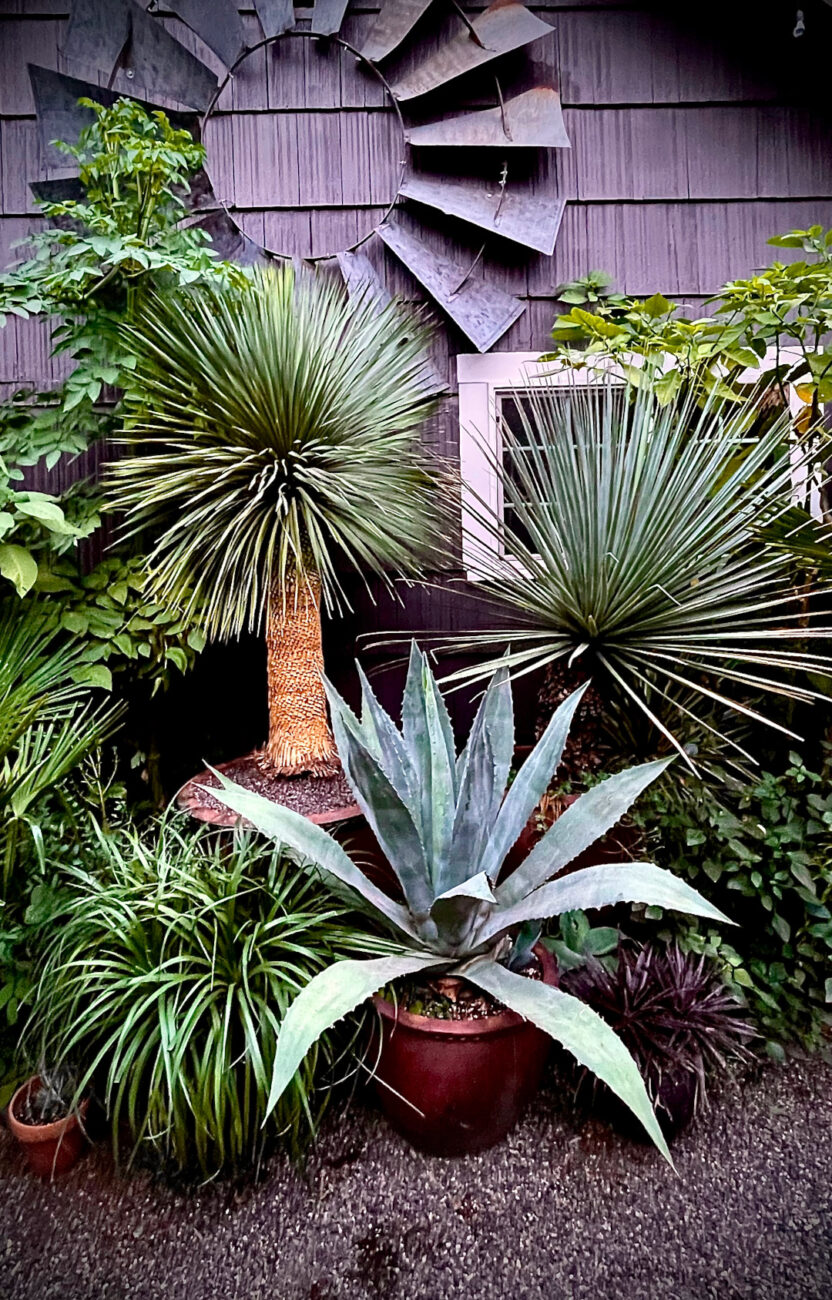 Another Yucca rostrata sits next to a Nolina nelsonii (Zones 7–10) and an Agave americana (Zones 8–10) underneath an antique windmill.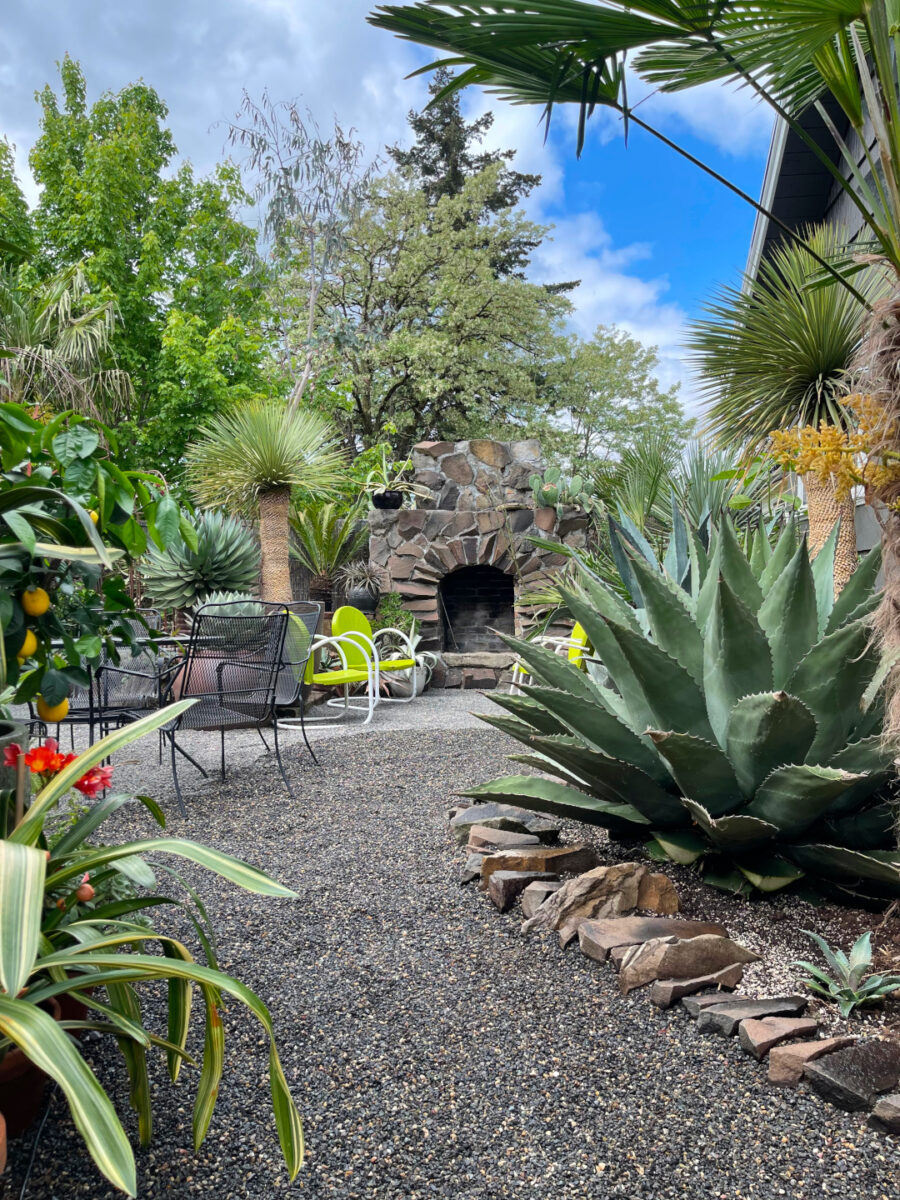 On the right there is a very large, very heavy Agave gentryi (Zones 7–10), another rescued plant. It took a small team of volunteers to help rescue this agave, as it weighed about 500 pounds. In the back there is a fireplace made out of recycled bricks and stone that were found for free on Craigslist.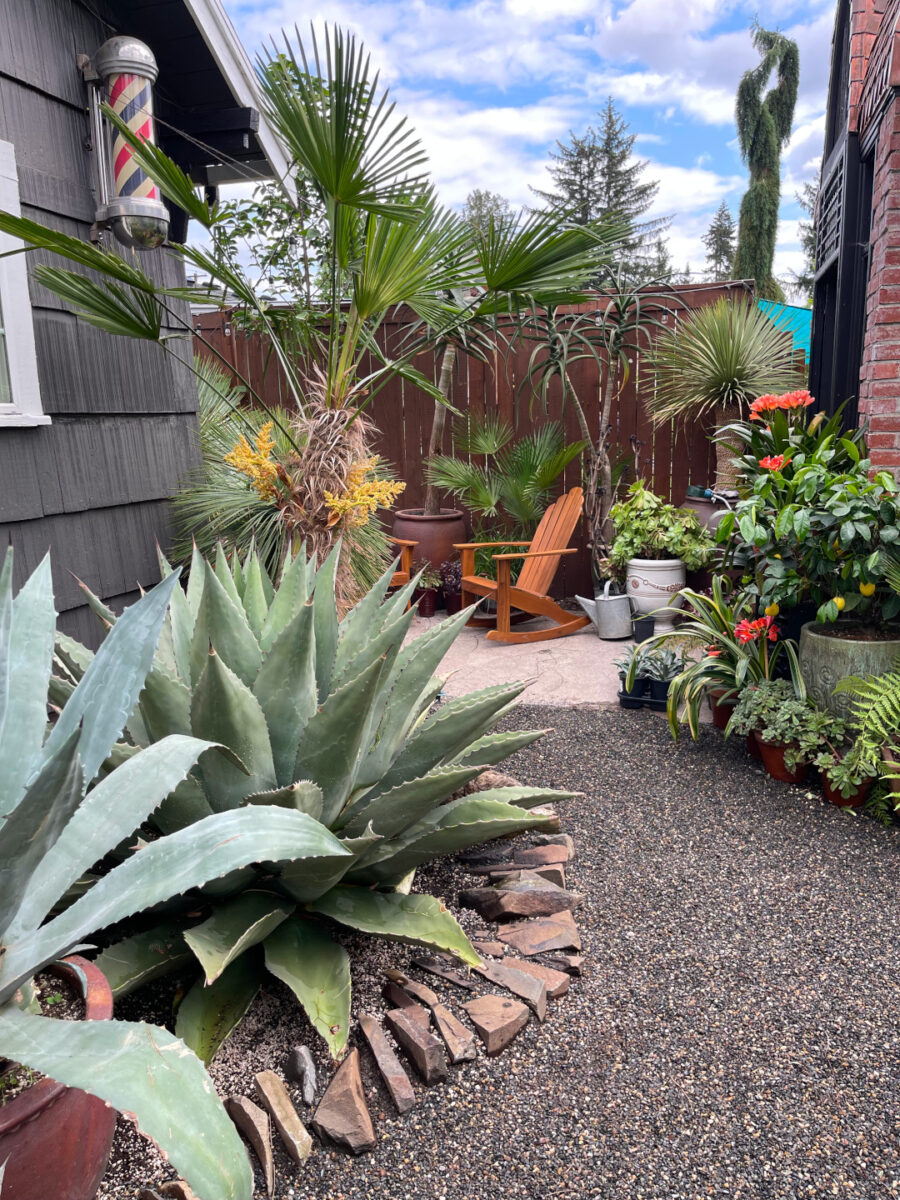 The rescued agave is about 6 feet wide and 4 feet tall. Behind it you can see a Trachycarpus fortunei 'Wagnerianus' (Zones 7–11). I've planted seven of them on my small lot. I'm hoping for a palm grove effect as they mature.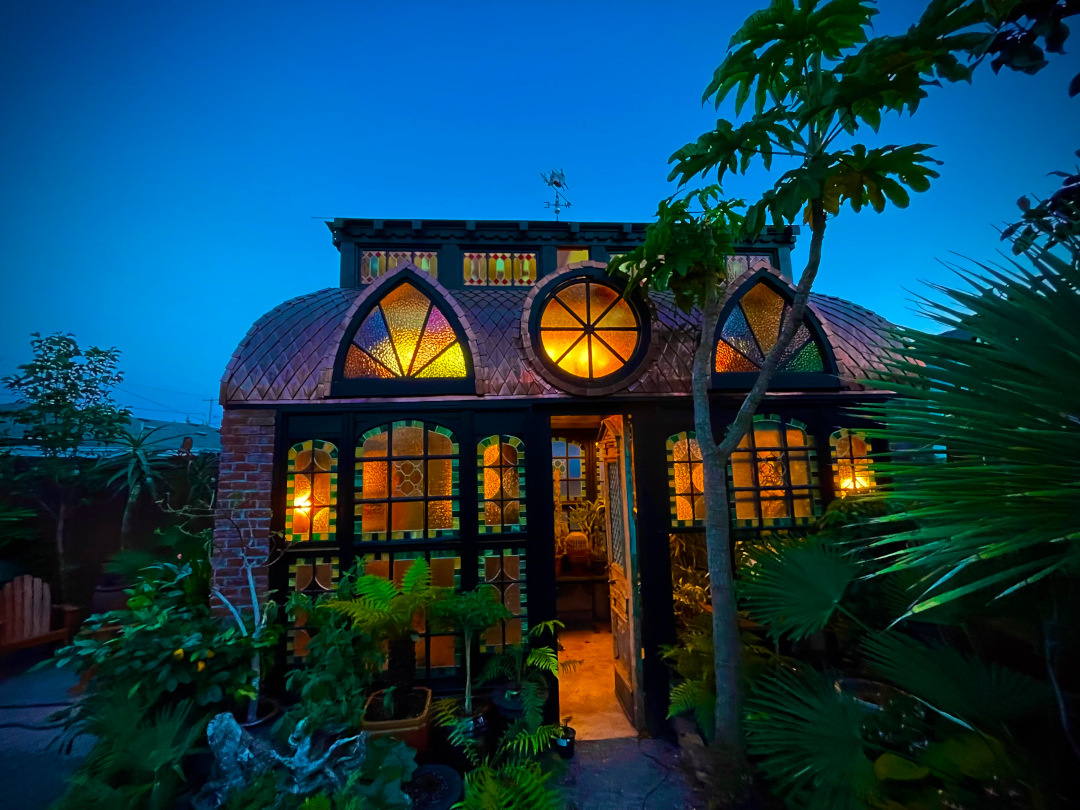 I added a lot of lighting in the greenhouse in hopes of catching NASA's attention with a glowing stained glass greenhouse.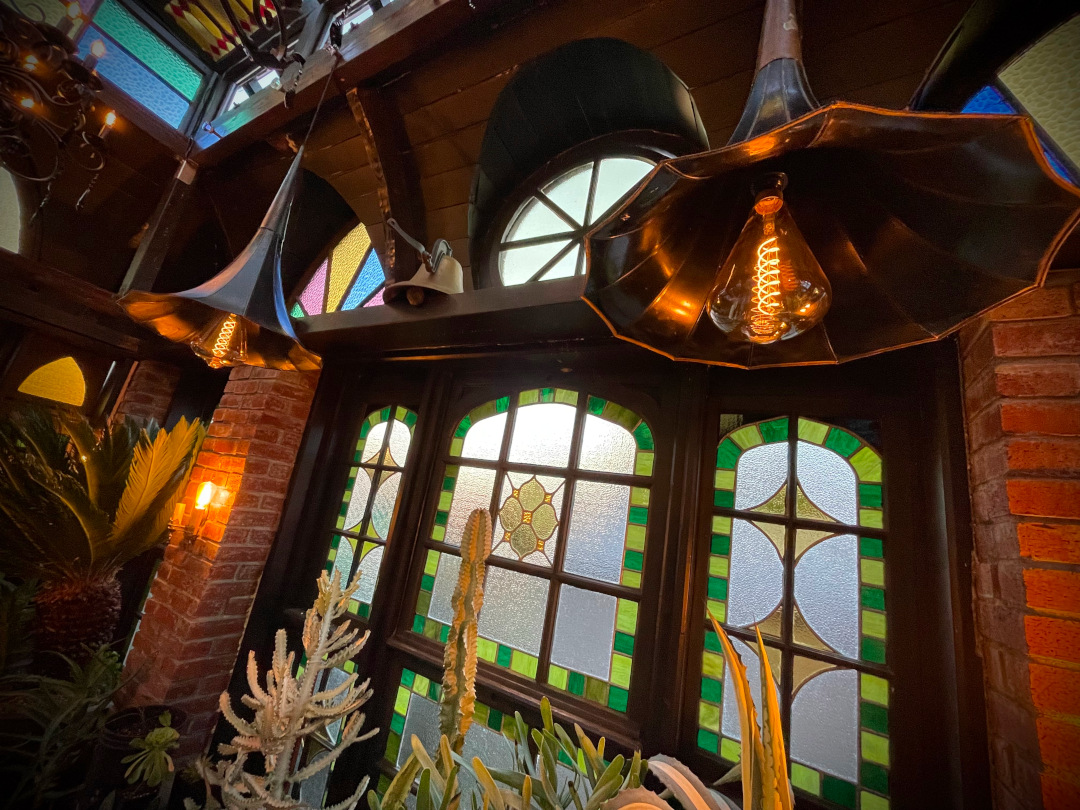 I've hung three large chandeliers and a couple of phonograph horns with oversized lightbulbs for a steampunk effect.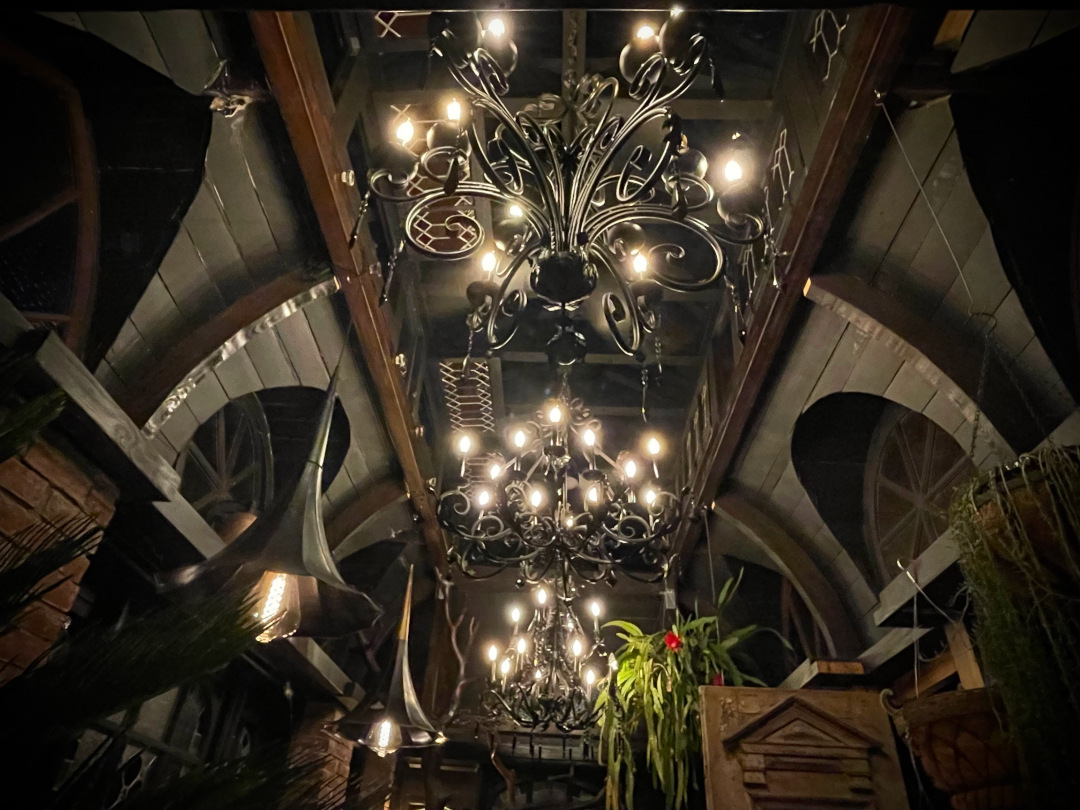 Chandeliers in the greenhouse
Thank you for letting me share my garden and greenhouse with everyone. Like any good gardener I'm not finished, and I'll have more for you to see later.
If you want to see more from Eric, check out his Instagram: @ericpeterson89
Have a garden you'd like to share?
Have photos to share? We'd love to see your garden, a particular collection of plants you love, or a wonderful garden you had the chance to visit!
To submit, send 5-10 photos to [email protected] along with some information about the plants in the pictures and where you took the photos. We'd love to hear where you are located, how long you've been gardening, successes you are proud of, failures you learned from, hopes for the future, favorite plants, or funny stories from your garden.
Have a mobile phone? Tag your photos on Facebook, Instagram or Twitter with #FineGardening!
Do you receive the GPOD by email yet? Sign up here.