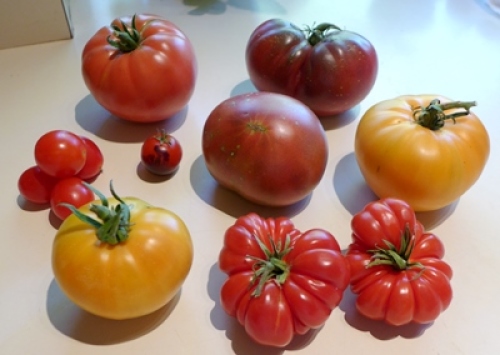 This season's tomato roundup includes a few familiar favorites and a few new-to-me varieties that I plan to grow again. Each of these eight tomatoes satisfied a certain requirement in my garden.
Some were easy to grow, while others matured quickly for faster eating. The late-season tomatoes had incredible flavor even if there were fewer on the vine. Here are my eight great and colorful tomato favorites for 2018 – in case you'd like to give them a try in your garden:
Pink Brandywine (Baker Creek Heirloom Seeds) 80 days; heirloom and potato-leaf tomato, large fruits that are a beautiful pink color; a smaller yield, but the flavor is worth it.
Black Krim (saved seeds) 80 days; heirloom tomato that I absolutely have to grow every year; gorgeous dark purple fruits with deep smoky flavor.
Garden Peach (Southern Exposure Seed Exchange) 75 days; heirloom tomato that's yellow with a hint of pink reminiscent of a summer peach; great flavor and a good producer.
Costoluto Genovese (Baker Creek Heirloom Seeds) 80 days; deeply fluted tomatoes with a rich red color; extremely flavorful and excellent production. Can be seedy, but are attractive when sliced.
Amana Orange (Totally Tomatoes) 90 days; a favorite heirloom for all of its attributes: vibrant orange color, deep tomato flavor, beefsteak size, dense flesh.
Piennolo Del Vesuvio (Portland Seed House) 70 days; one of the oldest tomatoes and a traditional tomato of the Vesuvius region of Italy. Slightly plum-shaped red tomatoes with intense sweet-to-sour flavor.
Midnight Snack (All-America Selections) 65 days; one of the AAS 2017 vegetable winners for its purple coloring, great taste, cherry-tomato size and ease of growing.
Black from Tula (Seed Savers Exchange) 75-85 days; heirloom tomato that's brownish-red with slightly green shoulders; deep rich tomato flavor on par with Black Krim.
If you had a favorite tomato this season, please share the details with us! We'd love to grow some of your recommendations.