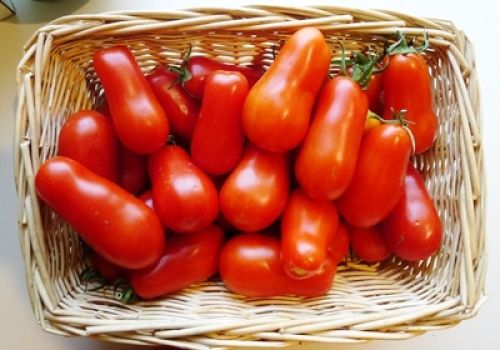 It's hard to believe that tomatoes were once valued for their ornamental features only. Because botanists were unsure how to categorize tomatoes, they grouped them in the nightshade family with poisonous plants, like deadly nightshade.
No wonder folks were afraid to try them.
Thankfully, a few brave souls eventually tasted tomatoes and lived to tell others about it. After years of being misunderstood, the tomato finally realized its potential as an important food crop in the mid-1800s.
Now nearly every gardener plants and grows these glorious fruits. In honor of their ornamental past, it seems fitting to salute the red, white and blue for Independence Day.
Red
it's too difficult to pick an all-time favorite red tomato. After all, my favorite may be waiting just around the corner. 
Instead of naming an all-time favorite red tomato, I'll just select my favorite from last season: San Marzano, the classic Italian-type cooking tomato.
San Marzano gets the nod for its rich tomato taste, but also because it was one of the most prolific tomatoes in my garden. I had colanders full of San Marzanos from the moment they started ripening until the first fall frost.
These tomatoes were also a top choice because I used them fresh, roasted and froze some, too. This meant I was able to simmer tomatoes into sauces through the winter. 
This season, I started San Marzano from seed and have several plants growing in the garden right now.
White
The only white tomato I've grown was a 'Great White' from Baker Creek Heirloom Seeds. This beefsteak size tomato produced just a few huge tomatoes in my garden, but what tomatoes they were!
They started off greenish-white but ripened to a nice mellow yellow. Great White's flavor was less tomatoey and more fruity, like a combination of fresh summer fruits. The folks at Baker Creek say the flavor is like fresh-cut pineapple, melon and guava.
Now that's a tomato that lives up to its billing as a fruit.
Blue
Indigo Rose was a new tomato when I first wrote about it in 2011. In just a few short years, this unusual cultivar has worked its way into the mainstream. I was surprised to be able to find 'Indigo Rose' in the garden center at my neighborhood Home Depot this spring.
Beneath the dark blue skin is a rosy interior. Apparently the blue tones form wherever the sun hits the skin. I'm seeing that happen with the tomatoes that are starting to take shape on my plant. One side is dark purple, the other is dark green.
Originally bred at Oregon State University using traditional methods, 'Indigo Rose's' color comes from its high amount of a naturally occurring antioxidant called anthocyanin. This is the same antioxidant found in blueberries, making the tomato as nutritiously appealing as it is eye-catching.
Have a great Fourth of July and be sure to enjoy a few tomatoes as part of the celebration.