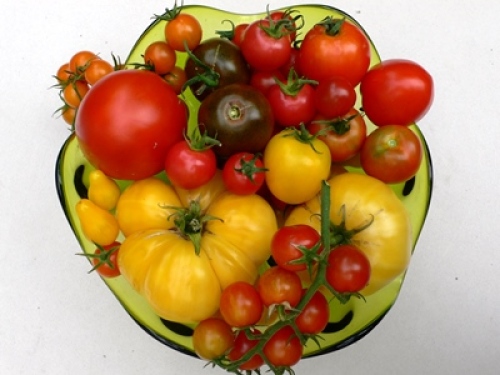 While I was setting up for a gardening talk this weekend at a garden center, one question made me stop to think about the answer: "Which tomatoes should I plant?"
It was during a Tomatopalooza event, where there were rows and rows of tomato transplants. I could understand that gardener's confusion. There were dozens of tomatoes in every size, shape, color and type.
After I asked her a few questions about where she planned to plant the tomatoes, her experience with growing tomatoes and the kinds of tomatoes she uses in her kitchen, I came up with this answer: Plant a variety of tomatoes and see what does well in your garden.
That's just one answer to a challenging question. Here are some other tips for selecting tomatoes to grow in your garden. 
Ask what other gardeners grow. Tomato-loving gardeners shared their ideas with me by tomato category a few years ago. There are medium-to-large tomatoes, cherry tomatoes and the most flavorful tomatoes in their tomato recommendations.
Plant to your area's number of frost-free days. If you garden in a short-season region with fewer than 100 frost-free days, select tomatoes with the fewest number of days to maturity, like 50 or 60.
Select tomatoes with some disease resistance. Many modern hybrids are "VFN" resistant meaning they resist verticillium wilt, fusarium wilt and nematodes. "TMV" means the tomato is bred to resist tobacco mosaic virus.
Look for tomatoes to fit your growing space. These days there are more small-space gardeners, so there are more small-space tomatoes. There are new tomato cultivars that are designed to grow well in containers and hanging baskets.
Remember the heirlooms. Heirloom tomatoes are tomatoes that have been around for years, and there's a reason for that. Some heirloom tomatoes are known for their terrific flavor, plus you can save the seeds to grow again next season.
Do you have any ideas for selecting tomatoes you'd like to recommend? Please add your comments!