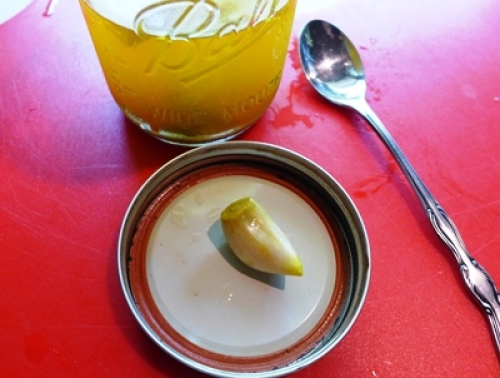 Even when I was growing up, I always felt homemade gifts were the best ones to receive. Some of my most treasured possessions were made by loving hands.
I feel the same way now whenever I give someone a gift made with something I've grown in my garden or made in the kitchen.
The inspiration for this year's gifts of pickled garlic came to me by accident. I had included a few cloves of garlic in a jar of pickled peppers and when the peppers were gone, I ate the garlic. It was surprisingly crisp, spicy, smooth and full of flavor.
I decided jars of pickled garlic cloves would make perfect presents. Besides being incredibly easy to make, these pickled garlics are versatile.
Add a whole chile pepper or some crushed red pepper flakes to create a hot batch; dried herbs and celery seeds for something a little milder. The spices can be added to the jars before the garlic and brine so they can be customized to the recipient's taste.
The pickled cloves can then make for some creative cooking. Add them to a fresh veggie plate, slice and toss on vegetable side dishes or mince and add to any dish that calls for fresh garlic. Garlic chicken, beef stew, minestrone soup, garlic bread, and many other cold-weather dishes will take on a nice new flavor with these pickled cloves.
To make five pints of pickled garlic, you'll need about three pounds of whole heads of garlic, peeled.
An easy way to peel this much garlic is to separate the heads into cloves, place them in a metal bowl, cover with another bowl and shake vigorously for about 15-20 seconds. The skins will peel away from the cloves like magic.
Fill a large pot with water and bring to a boil. Add the peeled cloves to the boiling water for about one minute; remove with a slotted spoon and place in a bowl of cold water to stop the cooking process.
In a stainless steel pot or pan, combine 6 cups white vinegar with ½ cup sugar and 1½ tablespoons Kosher salt. Bring the brine to a boil, stirring to make sure the sugar and salt are completely dissolved.
Add your choice of spices to the jars before packing in the garlic. Carefully spoon the hot brine into the jars to cover the garlic and seal with a lid.
At this point, you can prepare the jars for a hot water bath or simply refrigerate.
Add a label with the ingredients, ideas for how to enjoy the pickled garlic cloves, and any special instructions (such as keeping the jar refrigerated if not canned).