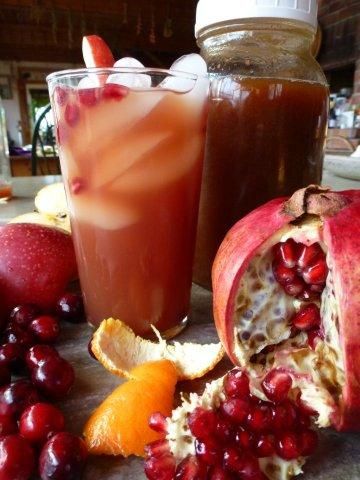 Ingredients:
Use fresh cider, not apple juice. Also do not use the juice blends with added corn syrup and sugar–look for 100% fruit juice–both the cranberry-pomegranate or the cranberry juice work well in this recipe. If you do not have the bitters, leave them out–I like the balance they bring to the sweetness of the cider and tartness of the cranberry.
For non-alcoholic punch:
This recipe makes about 24, 8-ounce servings
1 gallon fresh, apple cider
64-ounces 100% juice cranberry-pomegranate or cranberry juice
About 1/4 cup Apple Cider Molasses, optional
Peel of 1 orange or 1 large tangerine
4 or 5 allspice berries
2 or 3 mace blades or 3 small pinches ground mace
10 to 12 drops Maple Bitters or Orange Bitters, optional
Apple slices
Quartered orange slices
Pomegranate seeds
Ice
For a libation with alcohol:
This recipe makes about 30, 8-ounce servings
Follow the directions exactly as above.
Add to this punch:
3 to 4 cups Wray and Nephew Over-proof Rum or other rum of your choice
1 cup orange liqueur such as Triple Sec, Gran Mariner or Cointreau
In a large container or a few pitchers, combine the apple cider, cranberry-pomegranate juice, Apple Cider Molasses (recipe is within the text–click on the boldface title) if desired, allspice berries, orange or tangerine peel, mace blades and bitters, if you are using them. Stir to blend and refrigerate for at least a few hours and up to 24 hours (it is best made ahead).
When ready to serve, remove botanicals and pour into a punch bowl. If preparing the alcohol libation, pour in the alcohol now, taste the punch and adjust with Apple Cider Molasses, bitters, or the 4th cup of rum. Garnish the punch with thin apple slices, quartered orange slices, or pomegranate seeds. Fill glasses with a few ice cubes and ladle in punch, making sure each glass has some fruit for garnish.
Sometimes, I make an ice mold with equal parts cranberry juice and water and put some cranberries in it for decoration; then float this on the punch to keep it cold. 
Note: Although I have not tried it, I believe this could be made with spirits other than rum–like vodka or whiskey.