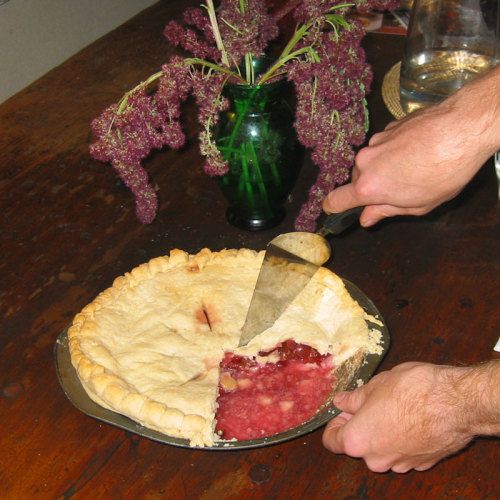 We've got a crabapple tree in front of the house, and every spring, it lights up the landscape with its blooms. These typically last about a week at most, that is, unless a heavy rain knocks them down prematurely. The fruit, which appears much later in the season, has been just an afterthought for us. Until now.
In the spirit of eating locally, my son Michael harvested a bunch of them and decided to make a pie. I warned him that it would be a lot of trouble to prep the fruit, but he shrugged his shoulders, picked up a knife, and got to work. I headed for the park to walk the dog, and when I returned a few hours later, the pie was in the oven, and the kitchen smelled wonderful.
Thankfully, the recipe called for unpeeled apples. He quartered the fruit first, then scooped out the seeds using a paring knife with a curved blade. The skins lent a beautiful color to the pie filling.
The recipe he used came from The Yankee Cookbook, a collection of New England recipes that was first published in 1939. Like most of my cookbooks, it's been out of print for a very long time, but used copies are still available.
Maine Crab Apple Pie
(contributed by Mrs. Merle Towle, Intervale, Maine)

3 cups unpeeled crab apples, cored and quartered
1-1/2 cups sugar
1/4 teaspoon salt
1/4 cup cold water

Have a pie pan lined with pastry. Put in apples. Sprinkle sugar and salt and water over them. Cover with top crust and bake in a hot oven (450°F) for 10 minutes; then reduce heat to moderate (350°F) and bake 40 t0 50 minutes longer. Makes 1 two-crust (8-inch) pie. The flavor is delicious and the color a lovely pink.

from The Yankee Cookbook by Imogene Wolcott (1963, Van Rees Press).