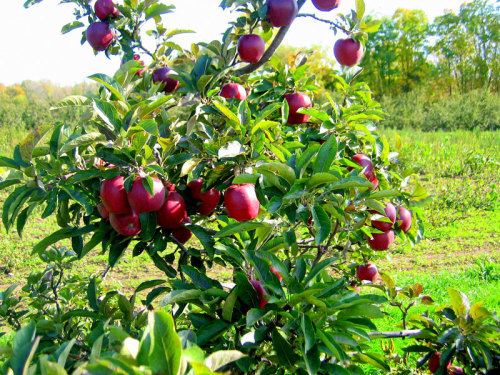 Apples are the quintessential fall fruit, and whatever your taste, there's an apple for you. Some swear by the sweet flavor of Honeycrisp apples; others prefer the tart taste of Ida Red or Granny Smith. Apples can be eaten fresh or used them to prepare all kinds of sweet and savory dishes, from soups to desserts.
Apple trees are widely grown in temperate regions, and they can do well in the backyard orchard if grown in full sun and well-drained soil. Apple trees are not self pollinating, so you will need at least two varieties.
Below you'll find links to information on apple varieties, apple growing, training apple trees, controlling apple pests, and apple recipes.
Growing, training, and caring for apple trees
How to Grow No-Spray Organic Apples
Apples are subject to lots of pests and diseases, but one grower has discovered a low-tech way to grow high-quality fruit you won't be afraid to eat.
 
Columnar Apple Trees for Suburban Yards
These micro-trees will produce normal-sized apples the first year you plant them! God bless the experimenters.
 
How to Grow Espalier Apple Trees
Produce more fruit in less space with this centuries-old technique. Ron Wade guides us step-by-step through the first three years in the life of an espaliered apple tree.
 
How to Prune an Old Apple Tree
Proper pruning can bring an old tree back to health and let you reap the fruit of your labor.

Pest Control for the Northwest: Apple Maggot                Stop these insects from destroying your fruit crops from the inside out. Learn more about controlling apple maggots here.