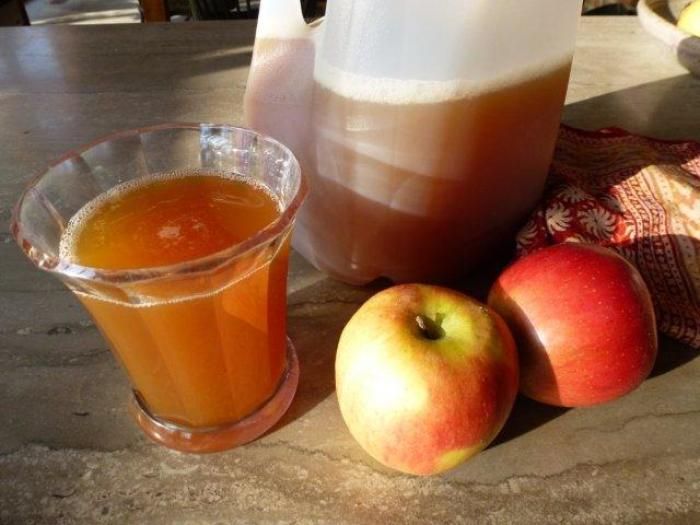 Apple cider is the unfiltered juice pressed from apples… that's it… nothing else added. Depending upon the variety(ies) of apples used, the cider can very tart, mildly so, or surprisingly sweet. The height of the season is autumn when apples are harvested and it extends into the cold winter months. Cider is good served both cold and hot. The latter is often heated with mulling spices and served at holiday gatherings, after sledding, ice skating or caroling. I sometimes keep the jug on my backporch and if it is quite cold out, it often partially freezes into a slushy, which I quite enjoy.
When I make applesauce, I generally pour apple cider over the apples rather than water, which gives added flavor and often makes it so the applesauce does not require any sweetener. Just a little, is also good added to the filling for apple pie, cobbler, crumble, crisp, etc. I like a little in rice pudding and oatmeal. Sometimes, I add apple cider to a winter squash soup or gratin.
Apple cider, like the apples from whence they come, help to cleanse the system and aid in digestion, elevates blood sugar and lowers cholesterol. Apples contain vitamins A, C, B2 and K; remember an apple a day keeps the doctor away–cider is good for us. 
Recently, I was working with my colleague and friend, Connor Rasmussan, who is a mixologist at Woodberry Kitchen. During the past year or so, Connor and I have been creating aromatic bitters, shrubs, cocktails and more–and we teach classes on these subjects in Baltimore (see https://www.creativealliance.org/events/2013/bitters-truth-aromatic-adventure for upcoming classes). Behind the bar, he had a squirt bottle of what he called Apple Cider Reduction and he prepared it from reducing apple cider down to a thick syrup–and it was delicious! So I made my own and here's how to do it.
Note: 1 gallon of apple cider will yield 1 quart of Apple Cider Molasses. Put the cider into a large, non-reactive pan over medium-high heat. When it comes to a boil, reduce heat to a simmer and cook for about 1 1/2 to 2 hours, stirring occasionally. The cider will turn a darker, brown color and thicken to a syrupy consistency. Once it has reduced down by three-quarters of the amount–to about 1 quart, very carefully blow on a spoonful until it is cool–and taste for sweetness. The reduced cider becomes quite tangy and I find that I need to stir in about 1/2 cup of organic cane sugar, until it is dissolved. You could use honey or maple syrup, which would require a little longer cooking time. Allow this to cool to room temperature, pour into a quart jar, label and refrigerate.
So what to do with apple cider molasses? I have found many ways to use it from all sort of beverages and libations, drizzled over ice cream or cake, in rice pudding, hot cereals, in baked beans, mashed sweet potatoes, winter squash dishes, soups, sauces and salad dressings. I bet it would be great in a marinade or barbecue sauce. I created a punch for Thanksgiving and served it both with and without alcohol–and it was a hit both ways–lets say that there was none leftover! Click this link for Harvest Punch with Apple Cider.
Meanwhile, go out and buy a gallon of fresh-pressed local apple cider to toast the solstice, holidays or new year!