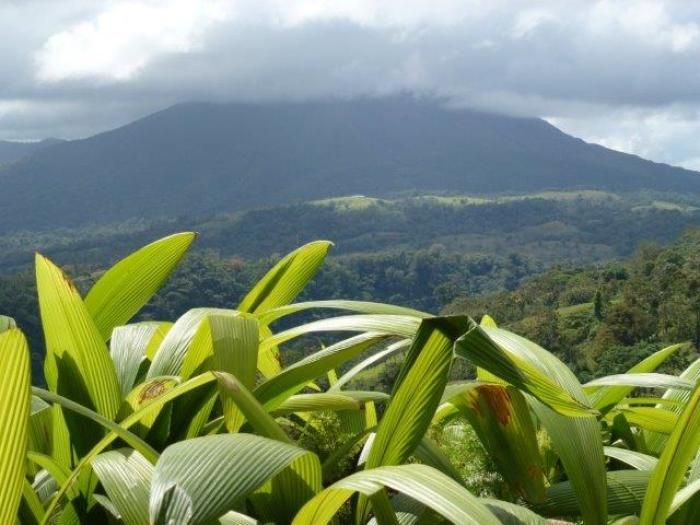 Okay, I know three blogs on Costa Rica when we are all dealing with snow and freezing temps is a bit much, however I would be remiss if I did not show you the cloudforest and volcano!
I really love the beach and tropical plants, palm trees, however when in Costa Rica, I felt one must take the opportunity to visit the rainforest, which is more often referred to as the cloudforest. It was a long drive from the south Pacific coast up to San Jose, which is the capitol city, and from there we headed northwest towards the famous Volcan Arenal, which is in a resting stage, although it is still active underground, so it does emit steam occasionally. Usually the top is shrouded in clouds. As we ascended the mountains, the air became noticeably colder and the winding roads became bumpier. The nearest town to the Arenal volcano is La Fortuna, where we booked a room in some little cabins, where we heard the sound of a waterfall all night. While out gazing at the night sky, the clouds lifted briefly–long enough for us to see the peak of the volcano–as a silhouette against the night sky. That was after we drove to the Springs and soaked in the hot springs warmed by the volcano–such a treat! The springs ranged in temperature from cool body heat to about 115 degrees F, so you could go back and forth from one to another.
The next morning as we ate a Tico-style breakfast (eggs, rice and beans, toast and fruit)  on the veranda, we watched all kinds of birds feed; the owner had fashioned a bird-feeding station and hung chunks of plantain on nails hammered into boards (this was so they didn't fall off onto the ground) and the birds flocked to it, which was quite entertaining. We left early for the ride around Lake Arenal, which gave us a constant view of the volcano from every direction.
The lake is quite large, so it took us a few hours to get to the other end, especially stopping along the way to take photos. One of our destinations, TicoWind Center, was at the far west end of the lake, where the wind picks up and it is a popular place for windsurfers and kiteboarders. After another long, bumpy dirt road, we arrived at an opening on the lake which was festooned with kites and sails strewn across the ground. There were quite a large number of avid windseekers gathered there from around the globe. We watched for awhile–the wind was blowin 15 to 20 knots and there were whitecaps on the water. They also had many windmills along the hills at that end of the lake.
We moved on to have lunch at a local scenic spot, Lake Arenal Brewery, which had great food and two kinds of beer brewed on premise. Then headed south towards Monteverde Cloudforest, the road was one of the longest, bumpiest dirt roads I've been, however the views were neverending and breathtaking. We arrived at Monteverde Inn just in time to catch a magnificent sunset over the mountains.
We got up early to eat breakfast before catching the bus (ecotourism at work) to Monteverde. We arrived en masse with the rest of the tourists and let them go ahead so as not to be in a crowd. We opted for the walk, rather than zip-lining, which crossed eight hanging bridges starting at ground level to above treetops. The lowest bridge was at 187 feet and the highest was 515 feet above the forest floor. We had on layers of clothes with rain parkas overall and the forest was dripping as we entered. It was also sort of dark and misty, with great huge dark trees, dangling vines of all kinds, bromeliads, ferns, orchids and other blooming exotics growing from all kinds of host trees. Everywhere you looked was another ooh or aah… fascinating and totally awesome.
The most amazing thing was walking through the cloudforest at different heights–you could be looking up at one type of tree–and then walking eye level looking at the foliage and pods close-up and personal–and then look down upon it. Views from the bridges were stupendous. We saw howler monkeys and all sorts of birds. And then occasionally a person on a zip-line hanging on for dear life, would fly by above our heads. At a certain point, I noticed I was holding my breath… it was all so incredible and somewhat overwhelming. This is something one has to experience as the feelings cannot really be described in words. I was constantly straggling behind my fellow travelers since I was looking at everything…
Dewy with cloudmist, we descended and walked back down through the amazing flora which we had viewed from above. My prize siting of the day was a string of rare orchids hanging from a tree just off the path. They were tiny, like a string of large beads–and the people before me just passed them by. There was so much to see and look at intently, I just couldn't take it all in. It was everything I imagine and more. As they say in Costa Rica: Pura Vida!