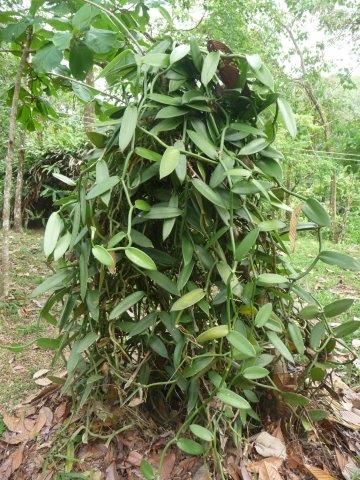 The smells in Costa Rica are incredible. The casita of my cousin has two ylang ylang trees and their perfume is in the air day and night; most especially though after dusk and when it rains. It is very floral and rather ethereal and it distracts one's mind every so often. One is right next to the pool so it is a rather exotic experience to float around with that fragrance wafting around.
One of my main desires was to visit Villa Vanilla Spice Plantation, which is a tropical laboratory for sustainable agriculture with 27 acres of agricultural prodcution and 125 acres of primary and secondary rainforest. We had to travel about 1 1/2 hours to the spice farm and half of that was on the coastal highway and the other half on gravelly dirt roads at about 5 to 10 miles an hour for about 14 kilometers. It was bumpy and hot and dusty, especially with the windows down. There was a tour and I'd say there were about 12 other people. We had a handsome young Costa Rican guide named Roy and he was very knowledgeable and did a great job explaining all of the processes of cultivating vanilla bean orchids, cacao trees, Ceylon cinnamon, pepper vines, chile coffee, peppers, cardamom, ginger, turmeric, allspice, and Tulsi basil–all crops that they cultivate and process and sell. We saw fresh vanilla beans and fermenting ones drying in the sun; cacao beans drying in the sun and white and black peppercorns as well as turmeric root; we watched as Ceylon cinnamon was barked; and we saw cacao pods on the tree and sucked on the beans covered with a wet, slippery membrane, then tasted the dried nibs and some chocolate made there.
I took so many photos my camera ran out of battery and used my Iphone for the rest of the hike. We hiked up the Epiphyte Trail through plantings of vanilla and pepper vines, ginger, cardamom and turmeric plants, waist-high tulsi basil plants, to an overlook with an open-air building (bodega), which had an incredible view of valleys and cloud-covered mountain tops where we tasted a bright red-, iced Ceylon cinnamon decoction which was immediately refreshing; vanilla bean cheesecakes; chocolate allspice cookies with vanilla bean ice cream and chile-infused hot chocolate with cacao nib shortbread cookies. Yum and a spice and sugar buzz! I thoroughly enjoyed the tour and the fascinating new info and photo ops besides the delicious spice-infused desserts. Many plants like the vanilla orchid and the pepper grow on host plants; it is amazing how they grow native crops interspersed with the exotic spices and they work symbiotically. I was delighted to be able to purchase organically-grown, Costa Rican-grown whole vanilla beans, ground beans and extract, cinnamon bark, whole cacao beans and nibs, ground cacao, and mangosteen extract at the little shop there. www.rainforestspices.com
For another excursion, we drove to San Isidro de General which is in the central valley and they have an open air market there under cover since it would bake the produce sitting out in the hot sun all day. The ride there was up a windy mountain road and as we ascended the air became immediately cooler and the flora became more lush and greener. We passed the usual palms of every type, bananas, bamboo, hibiscus and heliconia however then we saw huge brugmansias in shades of coral, brilliant bougainvillea, frangipangi and more.
The market had every type of veggie from huge carrots, beets, cabbages, cauliflowers and broccoli, radishes, taro–they grow lots of onions here and potatoes along with camotes which are similar to potatoes only they look like a white sweet potato–they are starchy and slightly sweet. And then there were piles of all of the tropical fruits like mango, papaya, watermelon, cantaloupe, banana, plantain, passion fruit, etc. We had to control ourselves from buying too much, since we had upcoming travel plans to go to the rainforest.
The perfect way to end the day was lovely glorious rain nourishing the parched earth–watering all of the crops, trees and flowers, which we had seen on our excursions–then sitting on the veranda with a tropical libation and watching the clouds and the waxing moonlight on the ocean. Pura vida!