Outdoor dining is, to me, a feast for all the senses. There's the taste of the food, of course, but also the trill of tree frogs and the clatter of crickets, the fragrance of flowers, the allure of flickering candles and twinkling lanterns, and the warm caress of an evening breeze. It nourishes more than just my body—it feeds my soul.
 So it probably goes without saying that I enjoy dining outside as often as possible. I have two outdoor dining rooms: one close to the house for quick, convenient weeknight meals, and a second, more private place farther out in the garden, where I can linger over dinner with friends on the weekend.
Find the right spot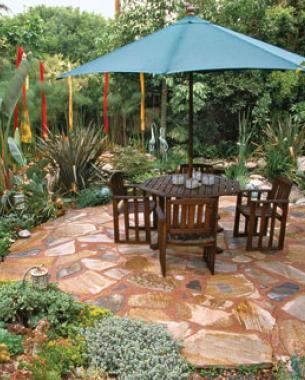 When I'm planning an alfresco dining room, I take a cue from the home buyers' mantra: location, location, location. Positioning is important because the site must be convenient to the house and kitchen to minimize the hassle of shuttling food, plates, and tableware to and from the table. An outdoor dining area must also look inviting from afar so that you're drawn to it as a destination. And finally, there should be a pleasing perspective from the dining area itself, such as a view over a garden.
The most alluring outdoor spots boast all these qualities, but the key is to make the most of what you have. Start searching for a suitable spot near the house, and gradually expand your range until you find a candidate or two. At this point, convenience is most important. You can always make your outdoor area more alluring by adding plantings or structural elements, such as a gazebo. And likewise, you can create a handsomely planted scene to enjoy from within the dining area. Eventually, your outdoor dining room will become a major focus for activity in your yard, and by then, all three elements of a good location will come into play.
 You'll also want to keep protection from the elements in mind as you search for a site. An area sheltered from prevailing winds, searing sun, or the unexpected cloudburst is something everyone will appreciate. To some degree, exposure to the elements also depends on your preferences and local climate. You might prefer a spot in deep or dappled shade or one in full sun.
Plan for a couple or a crowd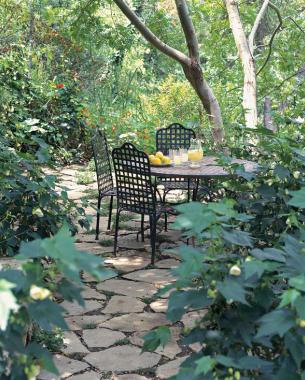 One of the trickiest parts of planning is deciding how much space to allow. At the very least, you'll need space to move around the table and slide chairs in and out. I like the notion of designing for maximum use. Just as you might plan a kitchen around the year's largest meal—say, Thanksgiving—you can plan an outdoor area big enough for the annual Fourth of July picnic or a block party. So you might select a spot that will accommodate a dining table that expands with an extra leaf or two, or one with enough space to place a few picnic tables end to end when you're hosting a crowd. In both cases, it's simple to scale back for smaller groups. If space allows, you can also plan a second, more intimate area for family dinners or smaller dinner parties. Because a modest area is likely to get the most frequent use, it would be best served by a location convenient to the house and kitchen.
 Decide at the outset whether to place an outdoor kitchen, grill, or fireplace adjacent to your dining area. Cooking near your outdoor dining area is fun and practical, especially for chefs who enjoy socializing while barbecuing. More important, though, these elements take up a fair amount of space and must be planned to complement the dining area rather than overwhelm it.
Define where you dine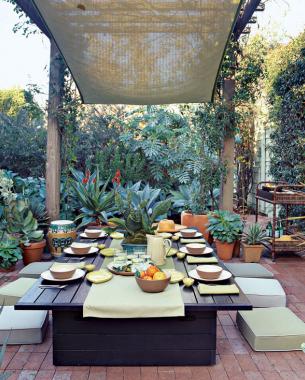 Once you've picked out a space, you'll want to define the area by making it more roomlike and, therefore, more appealing from within and without. Locating a dining space in the shelter of two wings of the house provides an instant sense of privacy and enclosure. For a dining room on a patio, on a deck, or out in the yard, a low wall of stone, wood, or even potted plants can serve as a frame, as could a hedge or a mixed border. (I always include fragrant plants near a dining area to enhance the sensory experience of being outside.) A dining area's floor should be distinct, too—be it stone paving, gravel, or wood chips. Overhead, you can let the stars serve as a ceiling, or if you're in the woods, create a cathedral-like feel by limbing up the lower branches on nearby trees. For a festive mood, set up a large umbrella, pergola, or canopy.
Room to dine comfortably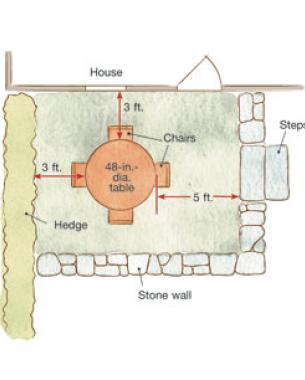 There are some guidelines on how many people an outdoor table will accommodate and how it will fit into your backyard.
 A 26-inch-diameter bistro table will seat two, a 48-inch-diameter or 48-inch-square table will seat four to six, and a 72-inch-long by 36-inch-wide rectangular table will seat up to eight.
 Although tables tend to stay put, chairs are often pushed in and out and even shuffled about. A good rule of thumb for a comfortable space is the width or length of the table plus at least 3 feet on each side. That provides ample room for getting in and out of chairs and space for someone to slide by for serving or clearing dishes. For a more open feel or greater flexibility in the arrangement of furniture, allow extra room. If there are steps nearby, be sure to leave at least 5 feet between the table and steps for safety.
Consider the style of your house or garden in planning your outdoor dining area. A cottage-style garden might dictate different choices for furniture and other decor than a formal garden would. Likewise, you might not equip the alfresco areas of a Colonial-style house in the same way you would a Craftsman-inspired or a modern, multilevel design. Furniture should complement the house, too. My outdoor dining room has a large, rough-sawn plank supported by two logs that serves as a sideboard; it makes a great staging area for a casual, buffet-style dinner and fits in well with the Colonial style of the house.
 To make your outdoor dining room more homey, pay attention to the amenities. Because you are likely to be dining after dark from time to time, you will need some kind of lighting. If you are fortunate enough to have an electrical outlet at your site, you might want to install low-voltage lighting or to hang strands of electric lights; other­wise, arrange clusters of candles or hang lanterns from nearby trees.
 Comfortable furnishings are also important. For a minimalist setting, a picnic table flanked by a couple of benches is enough, but with the wide range of outdoor furniture available today, you can upgrade to something far more comfortable and stylish. I also like having a separate seating area nearby so that my guests and I can retire from the table for coffee and dessert in a more relaxed and comfortable setting. My outdoor dining room features Adirondack chairs and a large swing, so when we're outdoors, we can enjoy all the comforts of home.