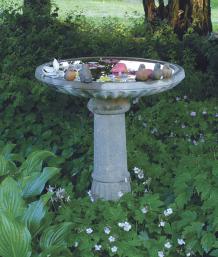 Every time I walk past the 75-year-old birdbath in our garden here in southern Vermont, I recall when I first saw that cast-stone ornament as a boy in my late grandmother's garden near Oyster Bay, Long Island. It sat in the center of a boxwood-edged rose garden that was crisscrossed with crushed-oyster-shell paths. While visitors to our garden don't know what associations I hold with that birdbath, they can tell that it's old, that it anchors the broad curve of a hosta bed, and that birds do surely visit it. Objects such as this, rife with history and meaning, make our garden feel personal, anchored, and peaceful.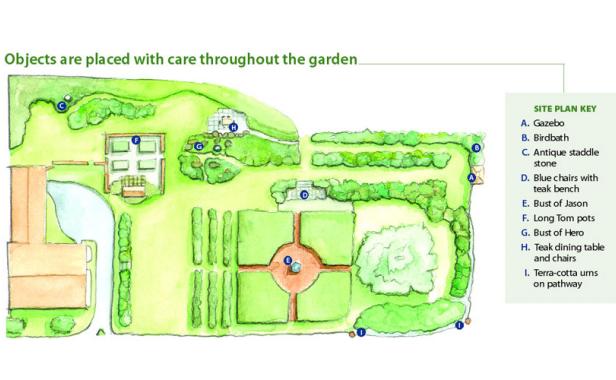 Photos in this article key to letters on the plan. Site-plan design by Gordon Hayward; illustration: Bob LaPointe.
While design elements and plant choices contribute to making a garden feel comfortable and coherent, the restrained use of ornaments and furniture plays an equally important role in creating inviting and distinctive areas within that garden. At the same time, carefully chosen objects underpin the many moods and feelings of different parts of a garden to create spaces in which family and guests will want to linger.
Select objects to reinforce a mood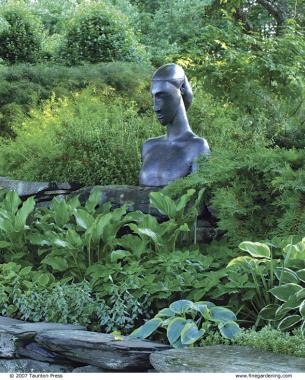 Visitors to a garden experience the varied moods caused by shade and sun, drama and intimacy, the expected and the unexpected. Throughout our garden we use objects that carry emotional weight to support the mood of each section.
At the edge of our pool, a cast-concrete sculpture of Buddha sits on a flat mossy rock, reinforcing a contemplative spirit in the space. In another area, guests sit on royal-blue chairs looking out over the colorful display of our perennial border. Elsewhere, sculptor Patricia Volk's black ceramic female bust of Hero, from Greek mythology, looks down from her place on a stone retaining wall onto the shady quiet of our dining area.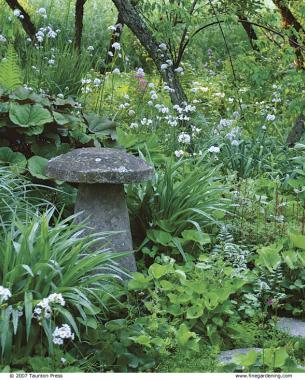 Our old birdbath reminds me of my childhood, and an English staddle stone in our garden reminds my wife, Mary, of hers. She grew up on a farm in the north Cotswold hills of England where, until the mid-1950s, her father and brother used a circle of 16 such stones, shaped like 32-inch-high mushrooms, with boards stretched across their tops, to support drying sheaves of wheat or barley. When a friend, Theodora Berg, gave Mary the 100-year-old English staddle stone several years ago, Mary momentarily lost her composure at the sight of this reminder of her childhood. A few days later, we set it at the beginning of a stepping-stone path that leads into our spring garden. Being an agricultural artifact, it fits appropriately into our rural setting and now draws visitors across the lawn to the path.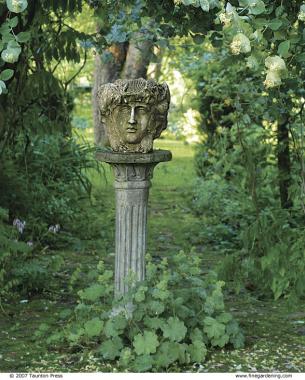 One of the first areas Mary and I developed in what has become a 1-1/2-acre garden around our 200-year-old farmhouse was a 50-foot-square garden. Its center is directly in line with our front door to the north and a 100-year-old apple tree—a reminder of my childhood growing up on an orchard in Connecticut—to its south. Four brick paths bisect the square, meeting at right angles in a 12-foot-diameter circle in the center. One day years ago, Mary and I were in an art gallery in Vermont and found a modestly priced 18-inch plaster vase in the form of the head of the mythical character Jason. We placed a cast-stone pedestal in the center of the brick circle and set Jason atop it facing our front door. A handsome sculpture on a finely crafted pedestal, Jason draws visitors into the garden. At the same time, he reminds us of the two months we spent on the island of Naxos in the Aegean on less than a shoestring shortly after we were married.
Furniture invites lingering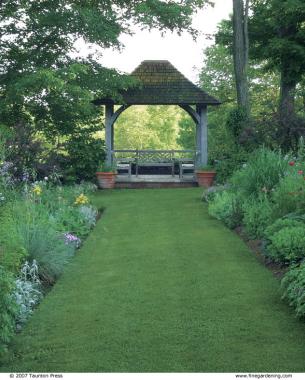 Once people are drawn into our garden, we want them to be able to sit comfortably in places from which they will look at attractive but different views. We placed two old teak chairs, now silver-gray and dotted with lichen, in our pool garden to make it easy to see and listen to the water bubble up through an old Danby-marble wellhead. Another weathered teak bench went under a rustic grape arbor in the herb garden. We also set a bench and two chairs under the gazebo at the bottom of the garden so guests can sit comfortably, even during a light rain, and look down a straight lawn path between two mixed borders. But nowhere can we see more than one set of furniture at a time, so the garden doesn't look too busy.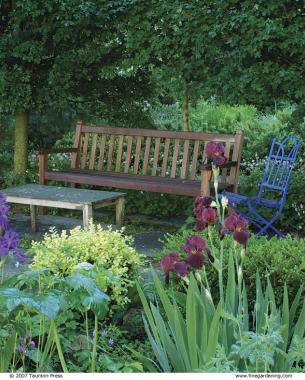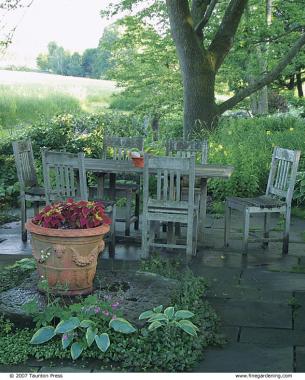 To create a greater sense of permanence, we set furniture on stone, brick, pea stone, or the wooden floor of the gazebo, but rarely on lawn. Furniture set on lawn feels temporary and has to be moved for mowing. Most often, we set it on stone or brick surfaces within the garden that are connected to a nearby path. In that way, visitors sit nearly surrounded by plants, which are kept at an appropriate distance from the furniture. We set low plants between the paving edge and the rest of the garden so guests can see into the beds; a hedge or taller plants go behind the furniture so guests feel supported from behind. For example, when we first started planting a pair of shrub and perennial borders 12 years ago, our son, Nate, suggested we make a sitting area on a slightly raised spot at the north end of one of the borders. So, near an evergreen hedge, we created a bluestone-paved area that would be roomy enough for a 5-foot bench, three or four chairs, and a coffee table. Now when guests come, we often put a bouquet on the table and sit there in the late afternoon.
If they're staying for dinner, we then walk across the lawn and along a stepping-stone path through the top section of the other border to get to our outdoor dining area, under mature ash and maple trees. There, we used bluestone again to pave an area large enough to accommodate a teak dining table, six chairs, and two large terra-cotta pots planted with an orange-pink coleus (Solenostemon scutellarioides 'Alabama Sunset').
Repetition fosters unity
To further encourage familiarity and a sense of unity, we've limited our choice of furniture to teak (but always with the SmartWood certification so we know that it's made of plantation-grown wood, rather than from native trees). While the design of the chairs and benches changes from area to area, we use teak because we can leave it out in all weather during the gardening season, because it ages to a silvery gray—the same color as our house—and because over time gray lichens grow on it, adding to the feeling that the garden is established and settled.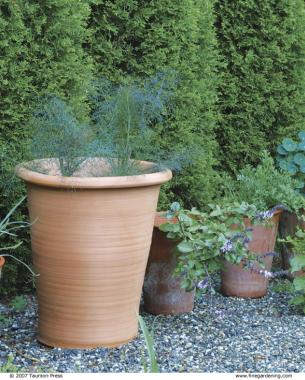 There is one exception. Last year, Mary painted all four of my grandmother's folding metal chairs royal blue. We put two in the sitting area at the top of one of the borders and the other two in the herb garden. These striking blue chairs look terrific against the greens and grays of the garden and add an unexpected punch of color.
We also limit our containers to terra-cotta pots in varying forms. By repeating the one material, we underpin a settled, familiar feeling. In the herb garden, for example, we set out a row of 24-inch-tall narrow terra-cotta pots called long Toms against the arborvitae hedge, then plant each with a different annual herb. We fill other terra-cotta pots with Fuchsia 'Billy Green' and Helichrysum petiolare 'Limelight' and set them at both ends of the bench under the grape arbor.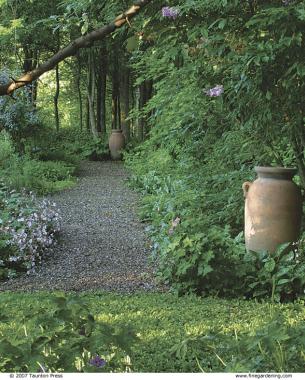 Again, there is one exception: For just a bit of added color, we placed a royal-blue ceramic pot on the pea-stone path to pick up the color of the nearby blue chairs. In another part of the garden, we set one unplanted 42-inch-high Columbian terra-cotta urn at the beginning of a pea-stone path and its mate 40 feet along the path to draw people down the length of this infrequently visited area at the west edge of the garden.
We also repeat other materials throughout the garden to foster coherence. Because black locust (Robinia pseudoacacia) is native to our part of Vermont, and because the locals tell me that a black locust in the ground lasts one day longer than a rock, we've used 6-inch-diameter, 8-foot-long black locust posts with their bark still on in any number of ways. They serve as gate posts and as supports for chain swags dangling from one post to the next to create a gentle separation between two garden areas. Buried 2 feet in the ground, they form 6-foot- high portals in a break in a yew hedge. We even use the same posts horizontally as 3-inch-high steps by setting half their diameter into the ground. We keep the bark on to establish a visual relationship between naturally occurring locust trees bordering the meadow and locust posts in the garden. By repeating this material throughout, we create continuity as well as a reassuring link between the garden and the surrounding landscape.
Objects in the garden are a personal expression of the gardener. Mary and I try to use them with restraint to keep our garden from getting too busy with things. And, most of all, we cherish these furnishings and ornaments because they make us and our guests feel at home in our outdoor rooms.