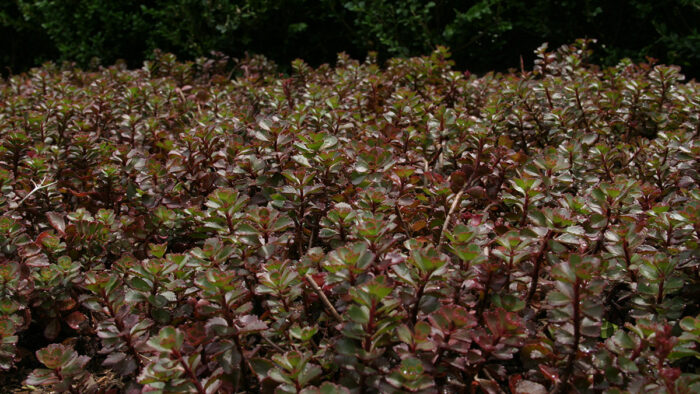 While succulents have been all the rage in recent years as easy-care houseplants, I've been planting hardy varieties in my garden for years. Sedums (Sedum spp. and cvs., Zones 3–11) have become my favorite succulents, as they are drought tolerant, have little to no disease or pest issues in our dry climate, and require very little maintenance. Sedums have been increasing in popularity over the years, and you will find many varieties from which to choose at your local garden center. In fact, there are so many great ones that I am going to focus exclusively on the creeping ground-cover types in this article. Each of these plants will do well in dry areas of your garden, in your rock garden, or in places where you want a cascading effect. They also do well in containers. Here are a few great sedum ground covers for the Mountain West.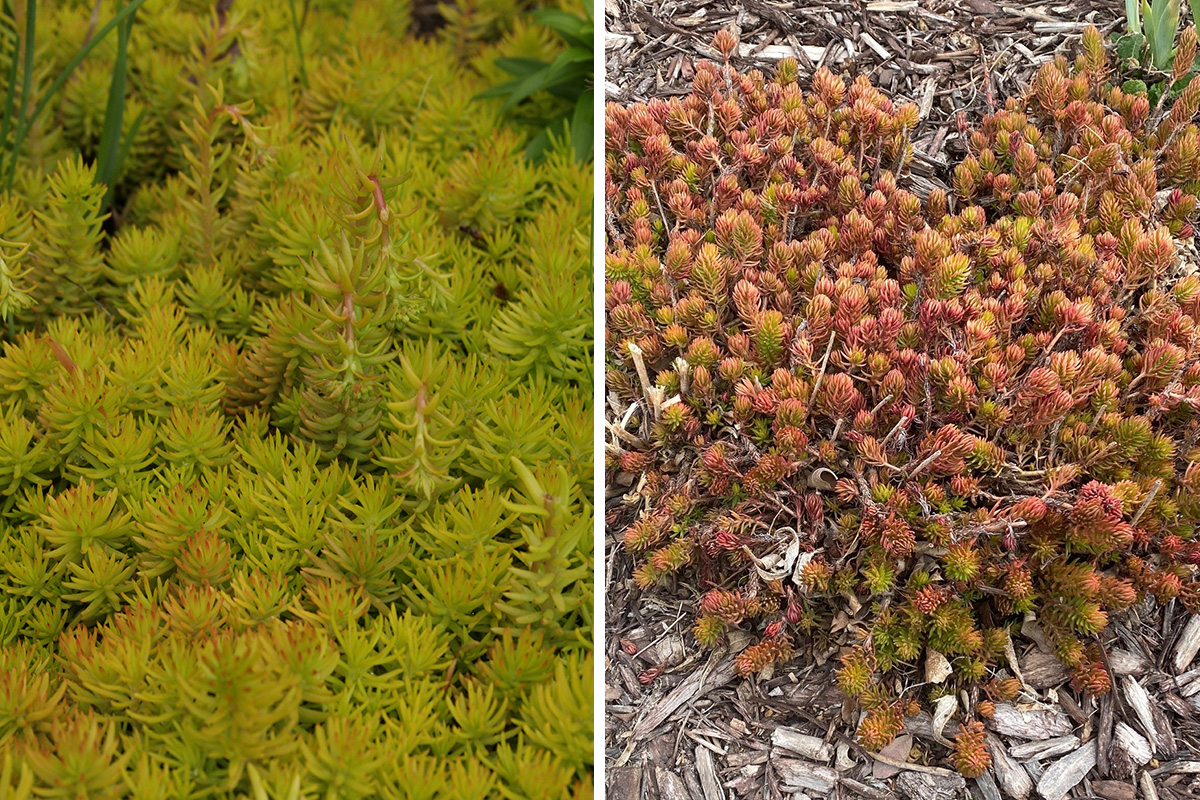 'Angelina' sedum changes color dramatically from summer to fall
Sedum rupestre 'Angelina'
Zones: 5–9
Size: 4 to 6 inches tall and 12 to 24 inches wide
Conditions: Full sun to partial shade; well-drained soil
This quick-growing sedum garners attention all year long. It has bright green to chartreuse needle-like foliage in the growing season that turns a golden orange-red in fall. That color lasts through winter. In early summer, it is covered in clusters of bright yellow flowers, which I deadhead when they are spent so that I can enjoy the foliage beneath. I have this sedum in my rock garden, but I also put it in a dry spot in the beds in my front yard, where it is thriving. This sedum will occasionally spread by seed to other spots in the garden, but it's easy to remove if not desired.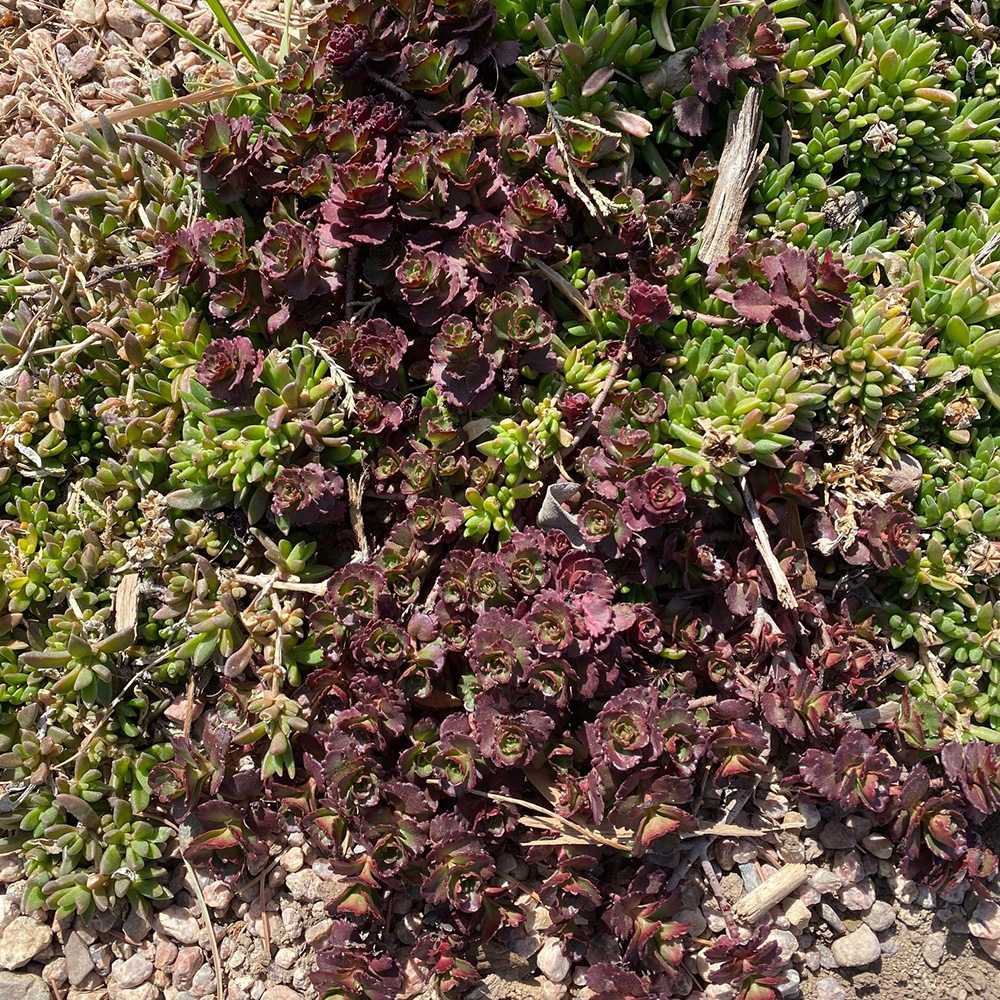 'Dragon's Blood' sedum has fiery red flowers and stunning fall foliage
Sedum spurium 'Dragon's Blood'
Zones: 4–9
Size: 4 to 6 inches tall and 12 to 24 inches wide
Conditions: Full sun; well-drained soil
I first discovered this sedum when I lived in Colorado Springs 25 years ago. A neighbor had it growing in abundance and let us dig up some clumps to put in a parkway strip between the sidewalk and the street. We wanted a low-maintenance, low-growing, drought-loving plant, and we found it! It rapidly covered the large area. This variety has rounded, bright green leaves that are tinged red or burgundy along the edges. The leaves then turn an eye-popping reddish purple in the fall. In summer it has clusters of small, red, star-shaped flowers.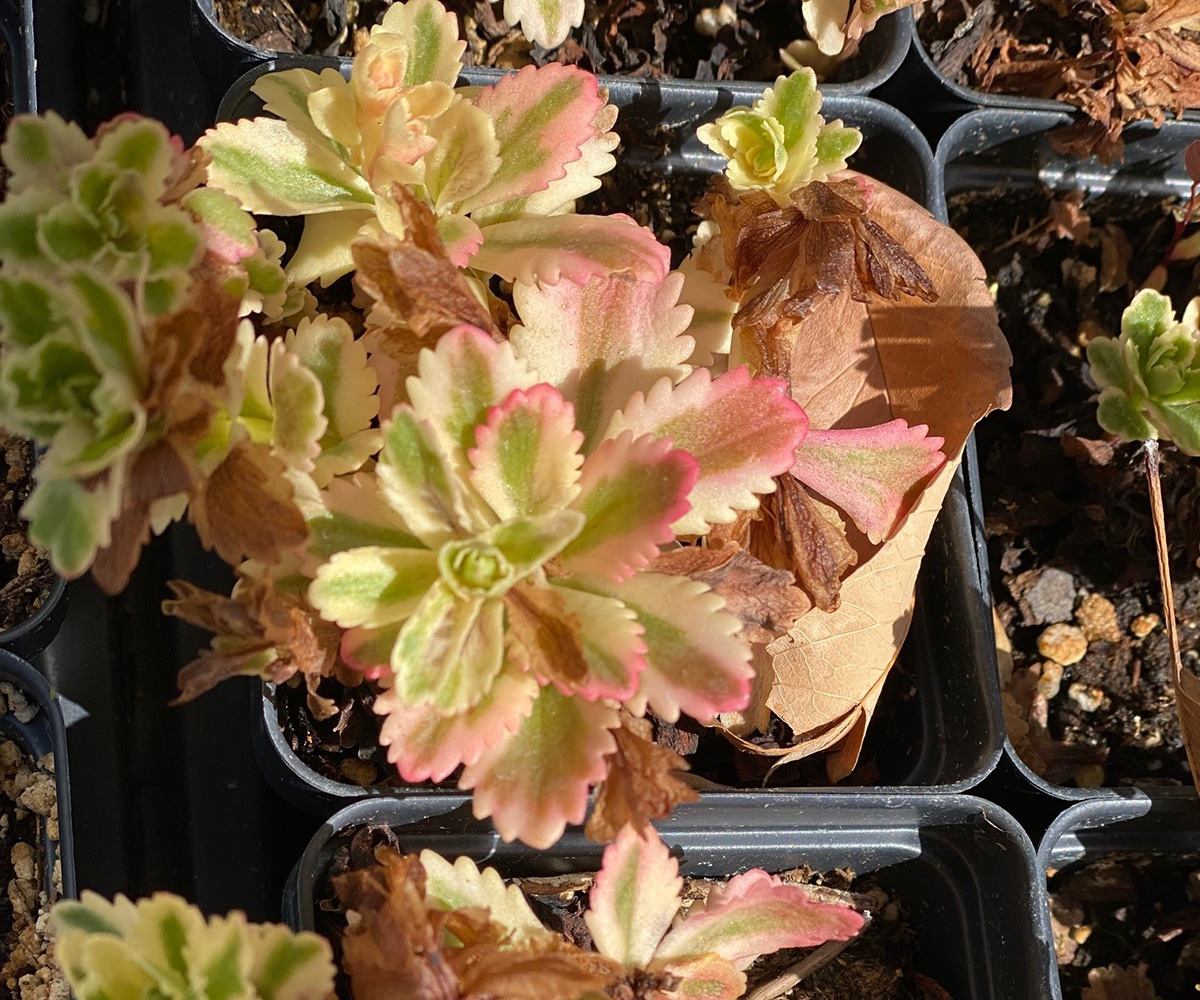 'Tricolor' sedum sports unique variegation
Sedum spurium 'Tricolor'
Zones: 4–9
Size: 4 to 6 inches tall and 12 to 18 inches wide
Conditions: Full sun; well-drained soil
The mostly green leaves of this variety are slightly narrower than those of 'Dragon's Blood'. But as the plant's name implies, they have creamy white and light pink margins, giving the foliage a tricolor appearance. 'Dragon's Blood' is covered in clusters of light pink blossoms in early summer. This variety stays a bit more compact than its relative listed above.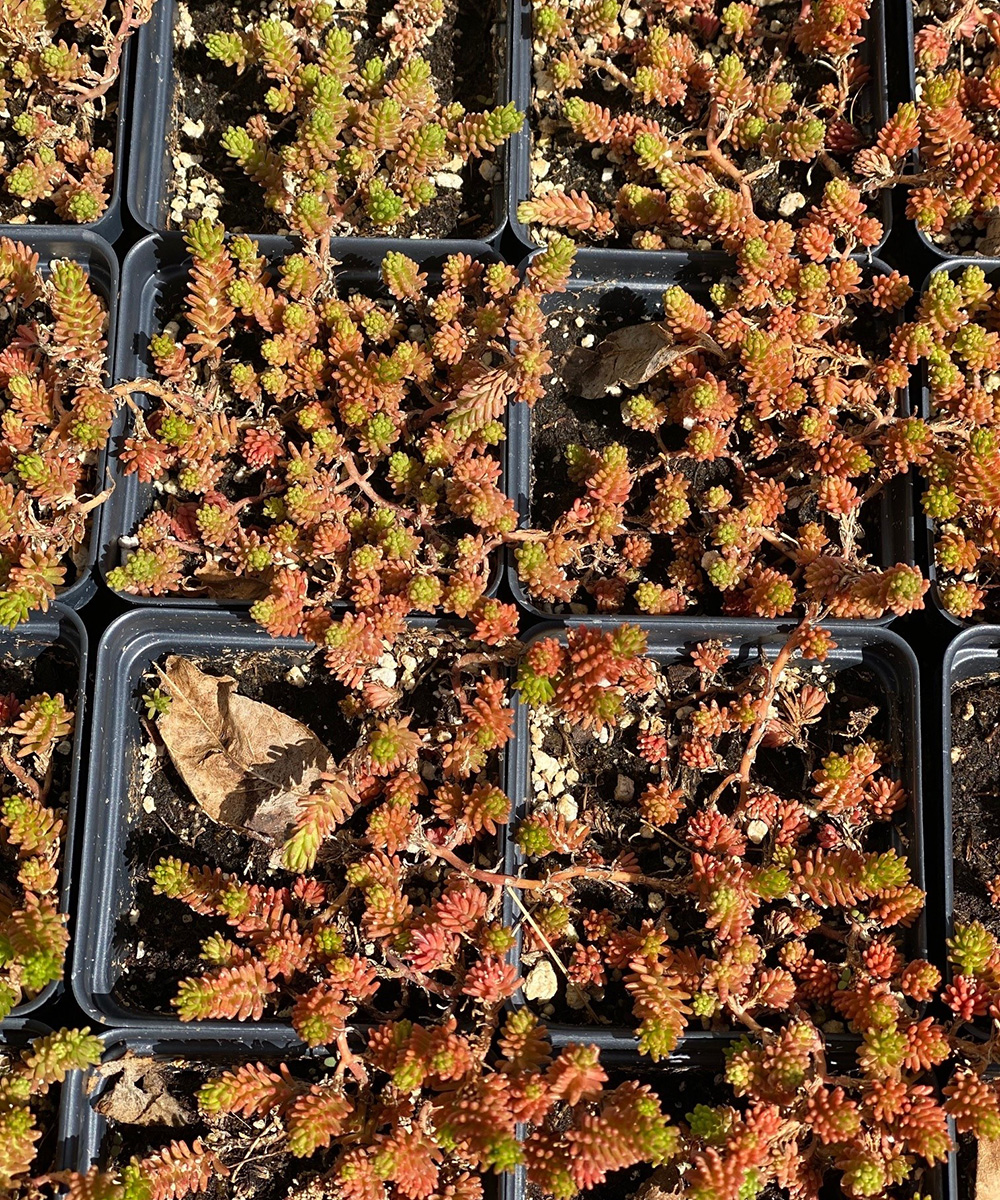 The foliage of six-sided sedum spirals up the stem
Sedum sexangulare
Zones: 4–9
Size: 3 to 4 inches tall and 12 to 24 inches wide
Conditions: Full sun to partial shade; well-drained soil
Also called tasteless sedum, six-sided sedum is smaller than the other sedums featured here, with diminutive, bright green, oblong-shaped leaves. The foliage twists in a spiral up the stem, giving it a distinctive texture and a six-sided appearance. The leaves turn a bronze color during fall that lasts through winter. Six-sided sedum has tiny, yellow, star-shaped flowers during summer. It also grows very quickly.
While each of these sedums looks beautiful on its own, I've seen some interplantings of various ground-cover sedums that form a sort of tapestry in the garden to stunning effect. I hope you will give some of these easy-care ground covers a try in your garden.
For more information on ground covers, check out:
And for more Mountain West regional reports, click here.
—Michelle Provaznik is executive director of the Gardens on Spring Creek in Fort Collins, Colorado.