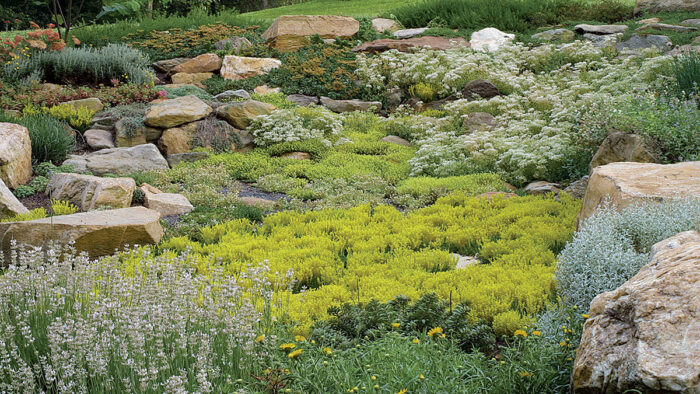 Since sedums thrive in less-than-ideal conditions, the author adorns a stone wall with a wide assortment of them (identified in the chart below).
If you're looking for a beautiful plant that thrives with virtual neglect, a creeping sedum just might fit the bill. Sedums strut their stuff where many other plants dare not venture. They make themselves at home, for example, in the cracks of a garden wall or walkway, on roofs or the tops of gently sloping birdhouses, or even under massive trees where enormous roots monopolize most of the soil's moisture. They also perform well in rock gardens, borders, and containers.
As seasonal and prolonged droughts make regular appearances across the United States, many gardeners have begun to take a closer look at members of the genus Sedum. Although Sedum 'Autumn Joy' has become popular for its late russet blooms, its ground-hugging relatives are also gaining favor.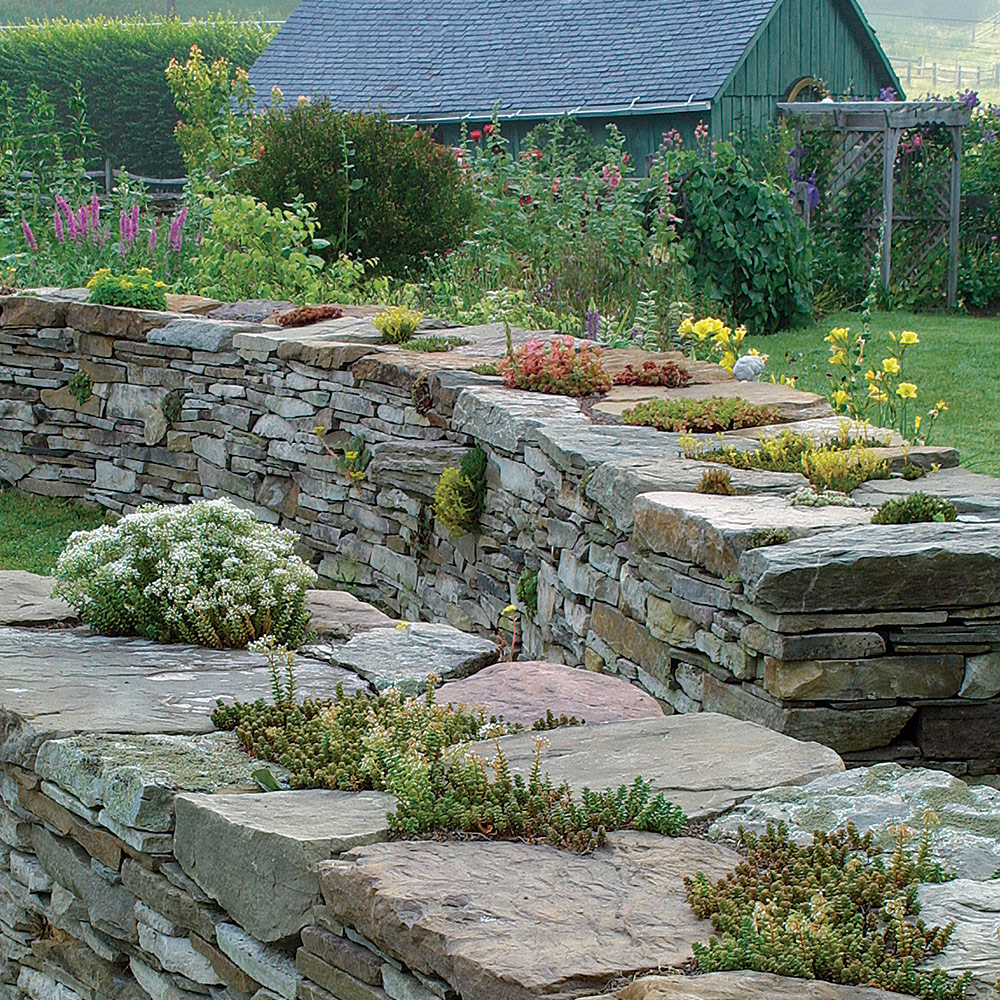 Creeping sedums, also commonly known as stonecrops, offer unending interest throughout my garden. They are among the most versatile, drought-tolerant, and easy-to-grow perennials I've ever cultivated during several decades as a gardener. Sedums actually decrease work for a gardener as they increase in square footage. Renowned for their ability to spread quickly, these low growers thus keep weeds from taking hold. Although it's not necessary to deadhead the spent blooms since they eventually just fade away, it's easy to remove old flowers with a string trimmer. As long as they're not overwatered, they rarely suffer from any diseases or pests.
While even the poorest soil can nourish sedums—and poor or little soil is actually their preferred medium—good drainage is the key to growing them. Too much moisture, especially standing water, will do what no drought can: It will quickly kill a sedum.
Once established, sedums require virtually no supplemental water to thrive, even in the driest circumstances. Although they are an ideal choice for gardens in hot, arid climates like the western United States, sedums perform well nearly anywhere—as long as they get good drainage. In fact, they are common in cold, alpine regions, where they can be found poking out from boulders or sprouting from just a few inches of scree. There's at least one Sedum species for virtually every USDA Hardiness Zone. Most creeping sedums prefer full sun but will tolerate partial shade. S. ternatum, a native of North America, is one sedum that prefers the shade and a bit more moisture than its relatives.
Creeping sedums, also known as stonecrops
Sedum spp. and cvs.
(SEE-dum)
Hardiness
The genus Sedum includes more than 400 species of succulent annuals, perennials, biennials, subshrubs, and shrubs native to the Northern Hemisphere. Many sedums in cultivation are creeping ground covers. There is at least one species hardy to each USDA Hardiness Zone. Most are hardy in Zones 4 to 9.
Appearance
Mats of succulent leaves ranging from green to blue-gray to reddish bronze are topped with five-petaled flowers in yellow, white, or pink. The leaves of evergreen species turn shades of red and russet in winter.
Propagation
Propagate by seed in spring or fall or by division or cuttings from spring through midsummer.
Uses
Plant in rock gardens, walls, pathway niches, and containers; as edging for borders; or in sweeps on hillsides.
Conditions
Most creeping sedums thrive in full sun but will tolerate partial shade. They like poor or average well-draining garden soil; no supplemental watering is needed once they are established. They will not survive standing water for any length of time.
Creeping sedums change from season to season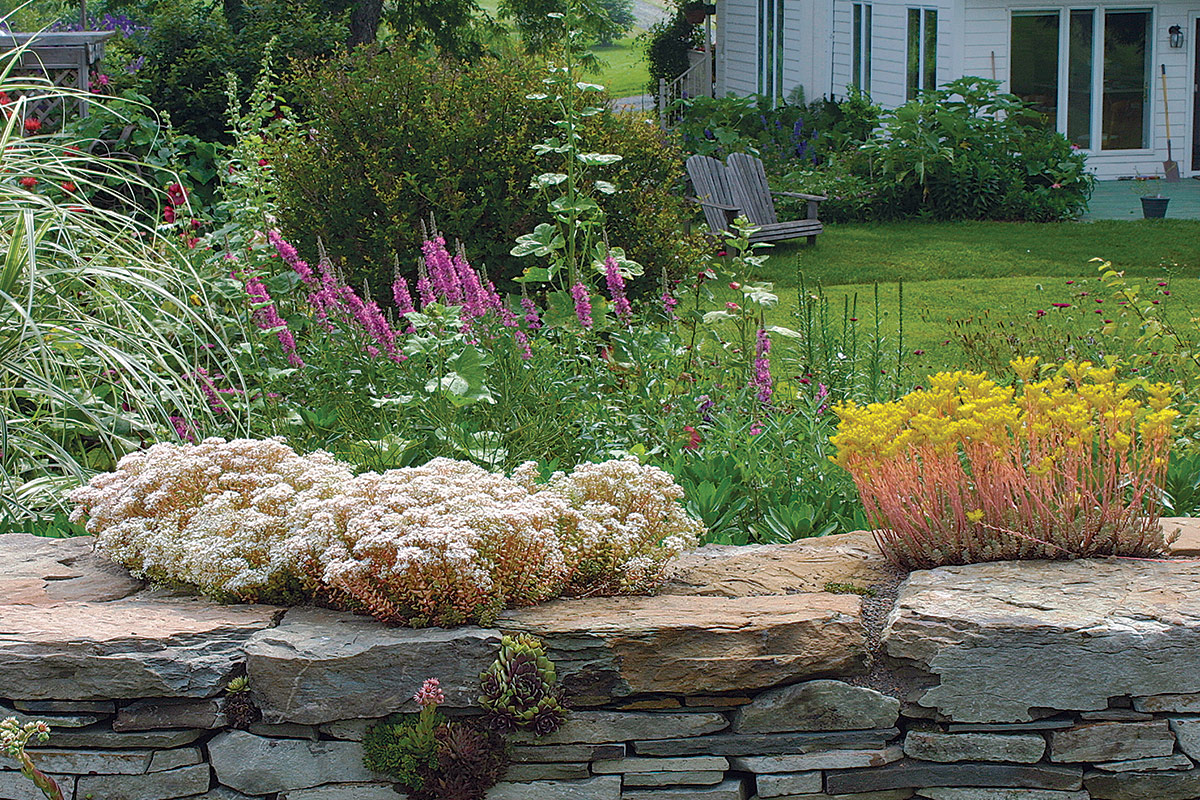 While reliability and lack of fussiness are perhaps the most compelling traits of creeping sedums, I'm just as drawn to them for their other virtues: their succulent leaves, long blooming cycles, and, in some cases, year-round interest in the garden. Tending to whites, yellows, purples, and pinks, sedum blooms are generally small, starlike clusters, usually no more than an inch in diameter and 4 inches or 5 inches in height. Planted in mass, the carpets of blooms they produce look spectacular. In the fall and even in winter, many evergreen sedums, like S. album 'Murale' and S. stenopetalum, blush to a deep red or bronze hue that endures until early spring, providing dramatic counterpoints to an otherwise dormant landscape. They are especially pleasing against a backdrop of snow.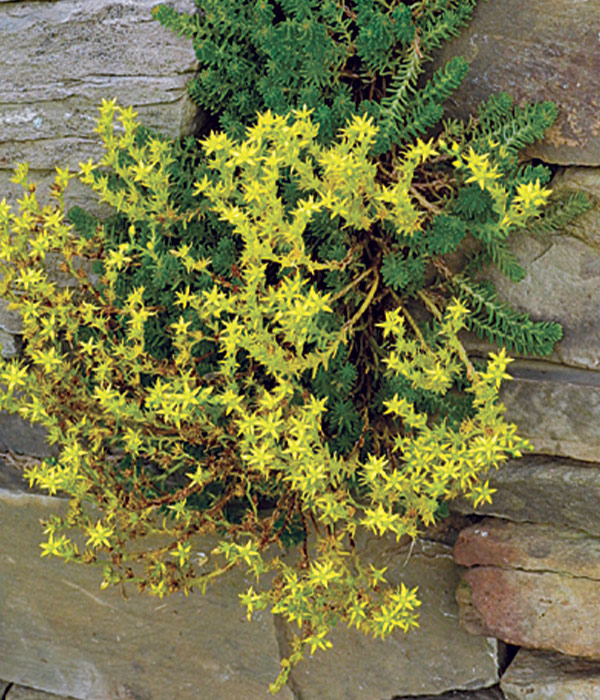 Sedums are among the easiest plants to propagate, either from seed, cuttings, or divisions. Sedums don't always come true from seed, so stem cuttings or divisions will ensure the maintenance of the qualities of a plant once you've found one you like. Although sedums are rapid spreaders, they are not invasive. Because they are shallow rooted, they can be easily lifted and moved. And they will overwinter in most planters—provided there is ample drainage—and emerge from dormancy in early to midspring.
As a boy on my family's farm in northeastern Maryland, I grumbled as I removed rocks from the cultivated areas of my father's fields. Decades later, in fitting irony, I roam those same fields in search of interesting stones to serve as backdrops and accent points for my ever-expanding collection of sedums.
A few ways to use creeping sedums
Rock gardens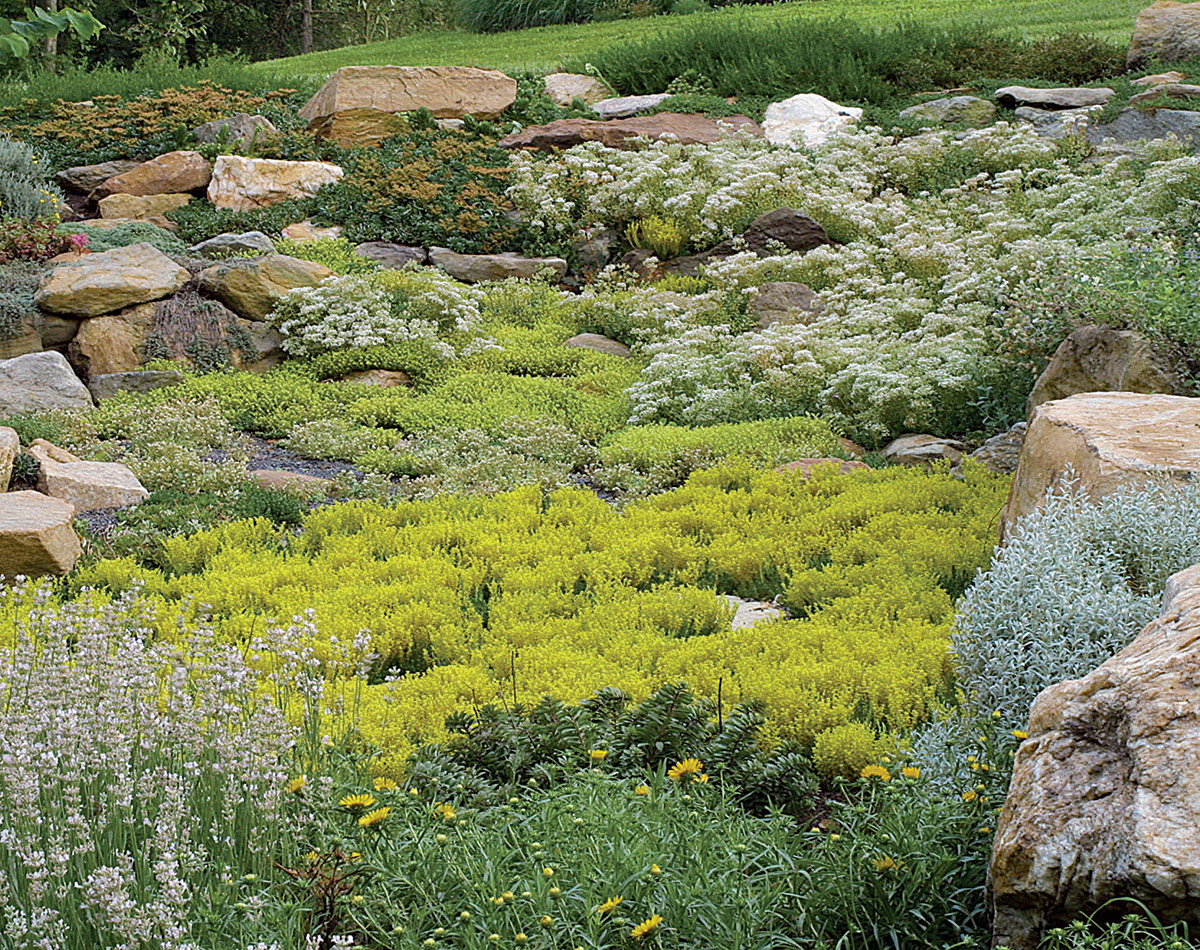 Sturdy sedums make attractive mainstays. I use masses of sedums in an area of my rock garden to create the illusion of a waterfall. You can combine a variety of sedums, such as yellow-flowered S. sexangulare (foreground, first photo below), S. grisebachii (middle ground), and white-flowered S. album (background). They work especially well in an area that is viewed from above.
Containers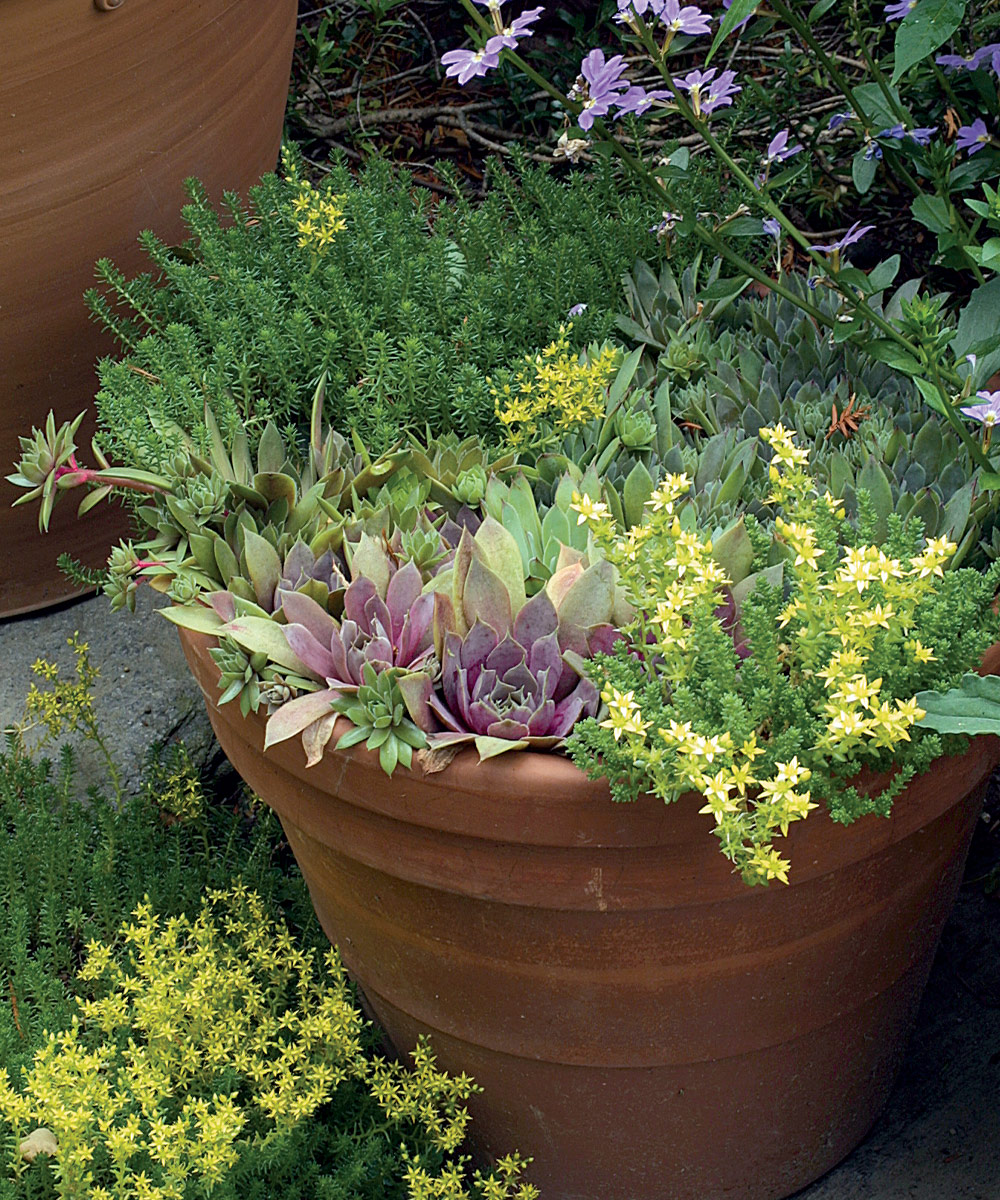 These low-care, all-season plants are perfect for pots. Since creeping sedums overwinter well in pots, you won't have to lug the containers inside for the winter. And their tolerance of drought means you won't have to find someone to water them while you are on vacation. Plant sedums, such as yellow-flowered S. sexangulare, with other succulents like hens and chicks (Sempervivum spp. and cvs., Zones 4–10, second photo, below) or use them as underplantings.
Cracks and crevices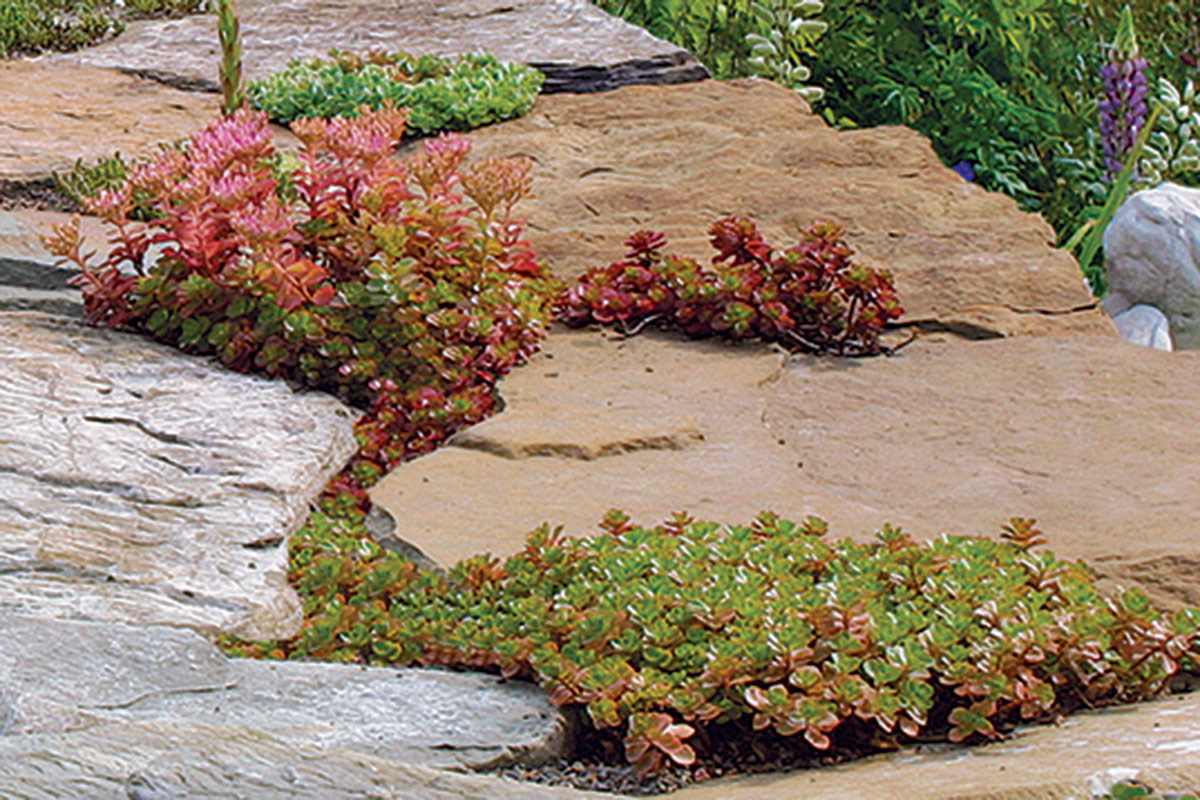 Soften the hard edges of rock walls or stepping stones. Sedums, such as S. spurium 'Fuldaglut', grow with almost no soil within crevices of a stone wall or between stepping stones (third photo, below). Use established small seedlings, also known as plugs, and mix in a bit of fine gravel and soil.
Slopes
Tame a tough site with a patchwork of sedums. Perhaps you have an area that has always defied both mowing and gardening, such as a slope with compacted soil. It could be an ideal spot to interweave patches of color and texture using creeping sedums such as pink-flowering S. spurium 'John Creech' and others. The "quilt" will change three times a year as the sedums display their early-season foliage colors, then flowers, and finally winter foliage in different shades.
---
A gallery of sedums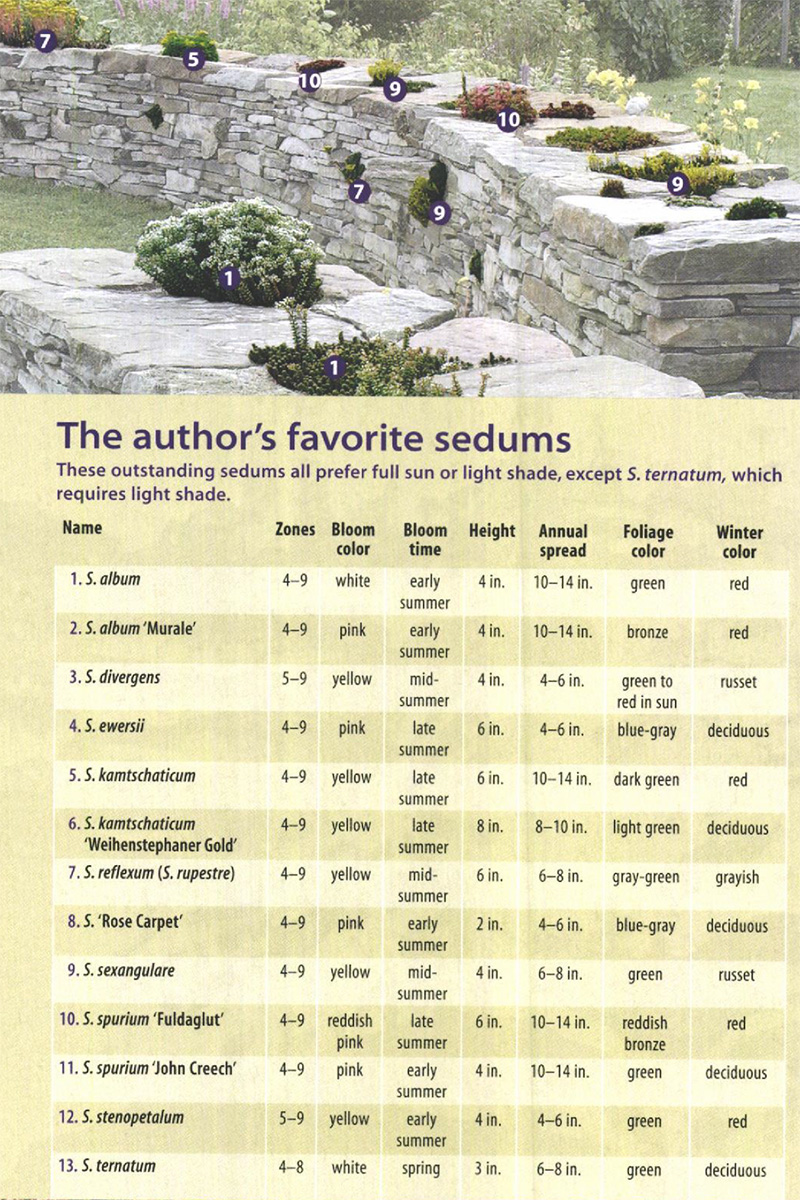 ---
Ed Snodgrass is a horticulturalist and owns a nursery in Maryland called Green Roof Plants.
Photos: Virginia Small