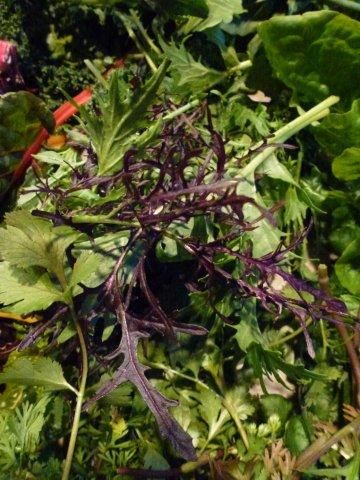 Every year, I grow plants that I have grown before which I really like–and each year I try new plants. I make a list in my garden notebook so I know what I grow each season and also the source of the seeds; I also note sowing date, germination date and if I am together enough, date of transplanting. That way I can refer back, if I do not recall the plant or source the following year. Right now I am looking at catalogs and ordering seeds and remembering last year's garden bounty. Here are three plants which I grew last year that I will be sure to grow again this year.
Like most gardeners, I sow some of my own seeds, and I receive and trade plants with friends and purchase some too. This is part of the joy of gardening–sharing with others–passalong plants and inspiration. Every year, my gardening friend Deborah Hall starts enough seed to provide for more than a few of us. By mid-spring her back porch deck is impressively covered with flats of greens and brassicas, alliums and more, awaiting transplanting.
Last year, she grew 'Scarlet Frills' mustard (Brassica juncea) and we both loved it for many reasons. First off, plants with red leaves appeal to gardeners visually because of their contrast in the garden. This plant grows easily from seed and according to seed source, Johnny's Selected Seeds, baby leaves are ready to eat in just 21 days, with full-size leaves ready in only 37 days. The leaves are thin and ruffly and are spicy–they add zest to green salads, are colorful and tasty when chopped and added to grain or pasta salads and even egg salad, and are also good on sandwiches in place of lettuce. Plants were heat tolerant in the hot weather and cold tolerant in the fall garden when covered with row cover to avoid frost. I will defintely sow seed for 'Scarlet Frills', product # 2530, www.johnnyseeds.com.  
Another closeby neighbor is Denise Sharp of Sharp Farm, who has greenhouses and grows all kinds of herbs, vegetables and flowers for the community as well as nursery-related businesses and restaurants in the Baltimore-Washington area (www.sharpfarm.com). She provides me with an assortment of plants so I can try lots of heirloom tomatoes, peppers, eggplants and interesting new things. Well, I've known about long beans for a long time, however I always thought that they'd get big and tough quickly, so never tried them. So I brought six 'Gita' pole bean plants home from her one day and planted them and let me tell you, I had beans galore for weeks!
Not only did they produce massively, the beans were easier and quicker to pick and stayed tender for longer than the average green bean. My beans ranged from about 15 to 25-inches in length! You do need a tall, sturdy trellis to grow these beans on, and since they are a subtropical Asian specialty, they prefer warm days and nights. According to Johnny's web site, 'Gita'  (Vigna unguiculata), ID# 2619  matures in 78 days. Beans that I missed harvesting and were left too long on the vine, I allowed to dry and then shelled them and left them out to completely dry and have used them in bean soup this winter. I also saved some to try and plant.
My third plant that I want to be sure and grow again is 'Wasabi' Arugula (Diplotaxis erucoides) from Renee's Garden Seeds. Renee must like arugula as much as I do; she offers six different kinds of arugula seed for sale (www.reneesgardenseed.com). 'Italian', 'Runway' and 'True Italian' are all Eruca sativa, while 'Rustic' and 'Rustic-Style' are Diplotaxis tenuifolia. In the past, I have grown three of them, so this year I decided to just go ahead and order all six of them and grow them out in beds next to one another so I can do a plant and taste comparison. (I'll be sure to blog on that down the line!)
I find 'Wasabi' arugula to be a robust and weather tolerant plant. The flavor of this unique Italian native is pungent like wasabi in both flavor and heat. In spring the leaves aren't quite as hot. To harvest, I cut larger outer leaves or cut the entire plant back about an inch aboveground; it will grow back. Once the weather becomes hot, the leaves also become hotter. I cut them back before their white flowers appear and I kept this plant going under row cover until December in my zone 7 garden.
I hope that I have inspired you to try something new in this year's garden. Next blog, I will tell you why you need to try fish peppers, so stay tuned!