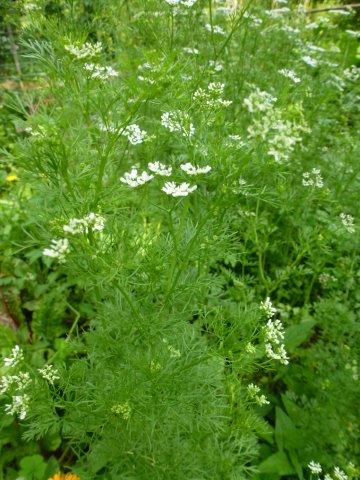 This year we celebrate Cilantro & Coriander (Coriandrum sativum) as Herb of the Year 2017. The leaf of the coriander plant is known as cilantro throughout much of the western world. It is often called coriander leaf and Chinese parsley in other parts of the globe. The seed is known as coriander and has been used as a spice–from as far back as the ancient Egyptians and was mentioned in the Bible. It's time to order your seed to have it in time for early spring planting.
I just ordered 12 different cultivars of cilantro! This year I plan to plant a mini, trial bed full of the different cultivars in my vegetable garden. I usually sow cilantro directly into the garden earth in early spring along with lettuces, greens and kale-about the beginning of April in my Maryland zone 7 garden.
Richters 2017 Herb & Vegetable Seed Catalogue (www.Richters.com) is offering seven varieties of cilantro this year (way to go Conrad!)! I am especially curious to try 'Desert Blush' which is an improved slow-bolting variety with red stems and 'Hacor' which is a spicy Russian variety. Baker Creek Heirloom Seeds (www.rareseeds.com) has four offerings of cilantro. I am looking forward to 'Dwarf Lemon' to see if it really does have a citrus flavor and to 'Large Seeded' which is purported to be "an early-bolting seed type intended for use of the seed."
Here is a descriptive excerpt regarding the aroma and taste of cilantro and coriander from The Culinary Herbal: Growing & Preserving 97 Flavorful Herbs coauthored with Arthur Tucker, Timer Press 2016: "This is an herb with two faces, one is the leaf that smells of stink bugs, the other the fruit that smells of a flowery spice. While the odor of the leaves may be repulsive to some, the taste becomes muted when cooked and provides a deep flavor rather than a sharp accent to accompany food. The leaves are used in cuisines around the globe, from Latino-inspired recipes to African dishes to spicy Thai foods and Chinese fare; they combine well with spicy and pungent food, most especially chile peppers.
The leaves are sometimes described by some as tasting soapy or cloying; rather, they are better described as green and herbaceous, slightly resinous. Green fruits smell and taste of the foliage, along with a resinous citrus endnote but acquire a spicy, floral aroma and a chestnut-like color when dry."
This is just a taste of things to come… I will be blogging more about this herb of the year and how to cultivate it. Also, the International Herb Association's new book Cilantro & Coriander, Herb of the Year 2017 is at the printers as I write this-and that is something to look forward to!