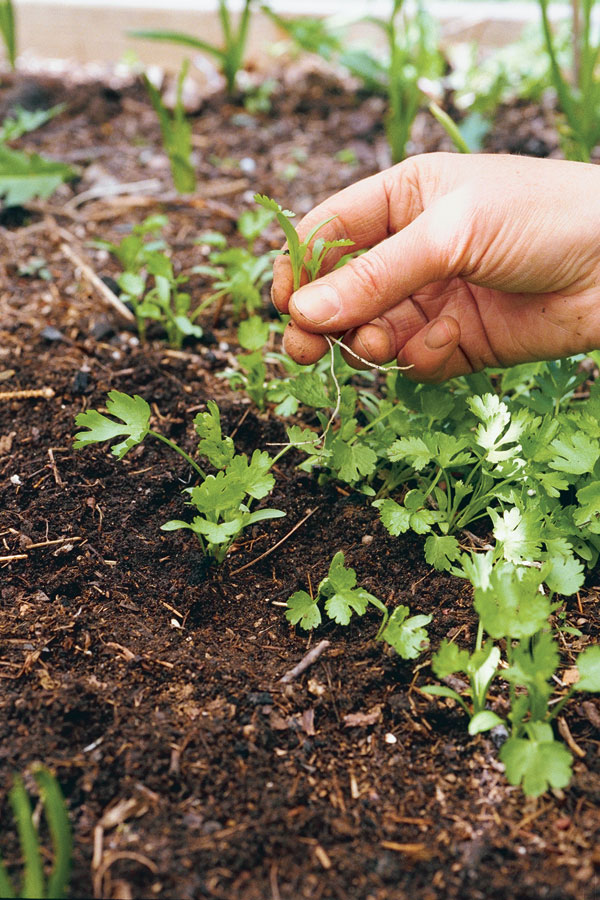 There's no doubt: Cilantro's flavor elicits strong reactions in people. For those who love it, it enlivens many dishes, acting as a cool foil for spicy seasonings.
One way to highlight this herb is in festive cilantro-seasoned potatoes. This dish can be served warm or cold, accompanied by small bowls of additional chili powder, sea salt, shredded Parmesan cheese, and lime wedges. The recipe keeps for several days and is delicious reheated in ramekins with crumbled bacon and Parmesan. Try it with icy cold shots of premium silver tequila. Add a few fresh green coriander seeds to each glass.
The lively and robust taste of cilantro shines when it's used as an edible garnish. When used in cooking, especially in soup or stew, cilantro should be added at the end of the cooking time to retain the integrity of its flavor. Remember that fresh cilantro leaves and dried coriander seeds are not interchangeable; they have distinct characteristics and uses.
To store cilantro, put the stems in a glass of water and refrigerate, loosely covered with a plastic bag, for up to a week, changing the water every few days. Small amounts may also be stored in airtight plastic bags. Do not even attempt to dry cilantro, as its fresh and pungent flavor is not easily preserved. I also do not recommend freezing it except in a pesto blend with olive oil and chiles.
Ground coriander seeds are highlighted in a citrus rub for fish. You can grind coriander seeds along with the dried chile in a small electric coffee grinder or spice mill, or do it the traditional way with a mortar and pestle. A tangy marinade adds even more flavor. These filets are great hot off the grill or served cold in salads with fresh cilantro sprigs for garnish. Serve accompanied with a bowl of cilantro salsa verde. Salud!
This article originally appeared in Kitchen Gardener #8 (April 1997).