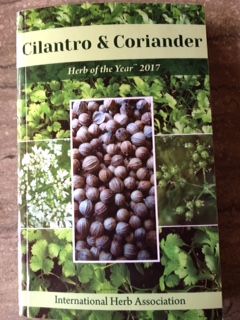 Every year the International Herb Association chooses an herb of the year to feature, as well as publishes a book on the selected herb so we can all get to know the particular herb up close and personal. This year we celebrate cilantro & coriander (one is the herb leaf and the other is the herb seed–both from the same plant–so we get two for one this year!)
Here is some info from the back cover: "With aromatic leaves, seeds and roots, this two-for-one plant offers variety as both herb (cilantro) and spice (coriander). Love potion, medicinal aid, fragrant herb, and legendary culinary spice–there is much that is alluring about Cilantro & Coriander, Herb of the Year 2017." Kudos goes to Gert Coleman for compiling and editing this year's herb of the year book.

This year's publication is thick–nearly 300 pages with black & white photos and illustrations–as well as a color insert with photos of the plants, seedlings, roots, leaves, flowers, green and dried seeds and dishes featuring the leaves and seeds. There are 45 articles contributed by members and fellow enthusiasts from fun facts and stories to fragrance and flavor, botany, cultivation, lore and history, poetry, crafts and medical information. And we musn't forget the recipes! Perhaps, I'll share a favorite recipe highlighting this pungently flavorful herb in an upcoming blog–so stay tuned.
In the meantime, you can see from the photo that I have acquired a large number of coriander seeds so I can do a cilantro comparison. I've planted 14 different cultivars out in the garden as well as some pepicha (Porophyllum tagetoides), which is an herb that has a flavor very similar to cilantro. I will keep track of germination, leaf size and amount harvested, height, flowers and seed, as well as smell and taste.
For those of you who want to grow your own it is an easy annual to sow from seed. Just remember to harvest the leaves to keep up production and that it will bolt and send up flower stalks as soon as the weather gets hot; so don't expect it to last all season. This species is a crop for cool spring weather.Moderating heat with 30 to 50 percent shade cloth also extends the period of foliage harvest.
Coriander/cilantro is grown from fruits sown in near-neutral garden loam where it will receive full sun. Fruits sown directly in the field or the garden exhibit a low germination rate, usually less than 50 percent. My dear friend, colleague, and co-author of The Culinary Herbal: Growing & Preserving 97 Flavorful Herbs, Art Tucker, is an advocate of germinating by the following method. Germination may be enhanced above 60 percent by rubbing the fruits until the fruit-halves, or mericarps, separate. The fruit is then soaked for three or four days and dried for eight hours before planting.
For the home gardener, the fruits may be broadcast or planted in rows or raised beds, allowing 9 to 32 inches between rows for cultivation. Sow as soon as soil can be worked and after danger of heavy frost is past. Germination begins about four days after sowing when the scraping and soaking method is used or after about twenty-five days otherwise. Coriander/cilantro does not successfully compete with weeds so mulch or cultivation are important cultural factors. Maintain an even moisture during growth.
If you'd like a just-released copy of Cilantro & Coriander, Herb of the Year 2017, you can go online and order it from the International Herb Association's website www.iherb.org. I will also have it available on my website in the near future although I have not had time to post it there. Better yet, come to the Herb Society of America's annual conference, (www.herbsociety.org) which will be held in Little Rock, Arkansas on May 5, 6, and 7th. there is a great line-up of speakers and a marketplace where we will have copies for sale and signing!