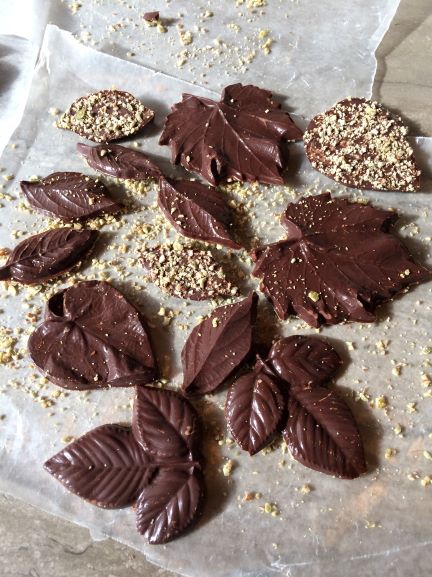 While flowers are the number one choice of gifts for Valentine's Day, chocolate follows as a close second. Instead of a box of store-bought chocolates, why don't you make something scrumptious, simple and unique for the one(s)you love?
There are not many foods that people feel so passionate about as chocolate. Just thinking about chocolate, can produce a pleasurable response in certain individuals. The dictionary definition of a chocoholic is a person who craves chocolate choc(olate) + (alc)oholic. Many would agree that the name Theobroma cacao, the name Linnaeus gave to chocolate meaning 'food of the gods" could not be more appropriate. There is a feeling of well being that accompanies the consumption of chocolate and it has been considered an aphrodisiac since it was first introduced to us by the Aztecs.
It is traditonal to combine chocolate with nuts and fruits, however the herbarist in me, makes me want to combine herbs and spices and other botanicals with chocolate–I've even been making hot cocoa with medicinal mushrooms lately–blending unusual flavors and healthful benefits to make delicious desserts and beverages.
Some herbs make bold statements and can stand up to the strong flavor of chocolate. Others tend to lend a subtlety of flavor, then the chocolate takes over, and finally one is left with a nuance of herb flavor that lingers on the tongue. Herb leaves or flowers pulverized with sugar or chopped herbs can be added to recipes, however, sometimes a smooth texture is important–say in a chocolate truffle–so I capture the essence of the herb in an infusion. This can be done quite simply in milk, cream, butter or a sugar syrup and is a wonderful way to get the maximum flavor and aroma from the fresh herbs and flowers.
Some herbs that partner with chocolate: Angelica, Anise hyssop, Basil-Anise, Cinnamon, and Genoa green, Bay, Cannabis, Chiles, Damiana, Garlic, Lavender flowers, Mints-Orange mint, peppermint, and spearmint, Oats, Rose, Rosemary, Scented geraniums such as rose, coconut, mint, nutmeg, and orange, Tarragon and Tea.
As far as combining spices with chocolate, they can be ground fine and added to the chocolate. Spices are so intense with essential oils that they should be used in small amounts–more of a hint or suggestion–you don't want them to dominate the chocolate. Whole or crushed seeds, sticks of cinnamon, gingerroot, mace blades, and vanilla beans can be used in cream or milk infusions, butters and syrups, and then strained out. The fragrance and flavor of the vanilla bean can be captured in sugar and used as ingredient, though pure vanilla extract is the most common way to use vanilla.
Some spices that partner with chocolate: Anise seed, Cardamom, Cinnamon, Clove, Coffee, Coriander seed, Ginger, Mace, Nutmeg, Star anise, Vanilla.
Use candied flowers, petals and leaves for an impressive and tasty garnish on desserts. Be sure your flowers and leaves are organic and not sprayed with pesticides.
Candied edible flowers and leaves that partner with chocolate: Rose petals, Pansies, Violets, Lilacs, and Scented geraniums; leaves of Lemon balm and Lemon verbena, Mint and Anise hyssop.
Here a few links to recipes that combine chocolate with herbs and spices:
For a rich and creamy hot cocoa with a hint of spice: /item/60686/chocolat
My favorite chocolate pudding recipe ever: /item/4455/chocolate-pudding-with-bay
Here's a mint brownie (add a little cocoa powder and vanilla sugar to cream before whipping to make an awesome topping) or for a double whammy serve with chocolate mint chip ice cream!:  /item/4069/chocolate-mint-brownies
Happy Valentine's Day!
Recipes are from not just desserts–sweet herbal recipes by Susan Belsinger, herbspirit, 2005.