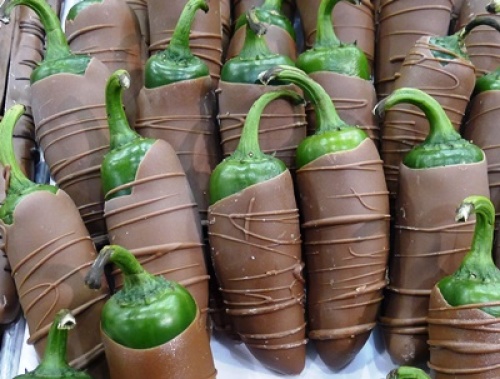 After a long morning touring the gorgeous exhibits at the Chicago Flower and Garden Show last week, I spotted the Gourmet Goodies shop and made a beeline for it. I needed a chocolate pick-me-up, and I needed it fast.
As I was trying to decide which chocolately confections would end up in my hot little hands, I saw something I'd never seen before: chocolate covered jalapeno peppers. I've made my share of candied jalapenos, but I've never tried anything like this. 
These weren't just any peppers. These were oversized jalapenos dipped in dark Belgian chocolate with swirls of milk chocolate on top. Talk about a specialty item!
When I asked about them, the retailer told me these are one of the most popular candies they sell. "We sell out of them every time," she said.
The chocolate jalapenos sold for $3 each and I had to have one. The combination of sweet chocolate and hot pepper worked surprisingly well flavorwise. It was a tasty combination, but the flavors didn't meld quite as well as Mexican chocolate and red chile peppers do in a classic mole sauce.
The first bite was a little shocking, in a good way, because I wasn't prepared for a pepper with that much crunch and so much bite. The chocolate was sweet and creamy.
The only downside to this confectionary treat was the chocolate didn't stick to the pepper as well as I had hoped. After the first few bites, I kept trying to concoct a method for making the chocolate adhere to the pepper better. Perhaps a smaller pepper? Precook the pepper slightly? I'm not sure what will work, but I'm going to give it a try this summer as soon as the peppers start producing.
Even though the chocolate didn't stick to the pepper, these hot candies had enough presentation value to make up for it.
What ideas do you have to improve on this special gardener's treat? Please add your suggestions here.