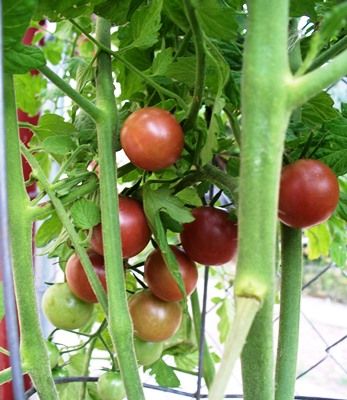 Varieties of chocolate tomatoes have been around a while, but there are more this Valentine's Day than ever before.
Chocolate tomatoes start just like other tomatoes, but they turn to delicious chocolatey colors as they grow and mature. Dark tomatoes have deep, complex and earthy flavors that make them a favorite for vegetable gardeners who want something a little different. 
If you want to impress your vegetable gardening sweetie on Valentine's Day, fill a basket with an assortment of chocolate tomato seeds like these, along with a few other gardening goodies:
Tasmanian Chocolate tomatoes from Renee's Garden Seeds are new this year. These heirloom tomatoes are meant for growing in containers or small gardens because plants grow to around 3 feet tall. They'll be ready to eat 80-85 days from transplanting.
The Jung Seed  catalog offers a cherry-sized hybrid called Chocolate Sprinkles. The fruits mature in 50-55 days. They get their chocolate-like appearance from their dark red color with green striping.
For those who'd like a beefsteak tomato, John Scheepers Kitchen Garden Seeds  has a Chocolate Stripes tomato in its catalog. The larger fruits can grow to one pound and have a deep mahogany-red skin with dark green stripes.
In addition to Chocolate pear and Chestnut chocolate tomatoes, Sweet Chocolate peppers from Baker Creek Heirloom Seeds are another lovely fruit. These sweet peppers grow into medium-sized semi-bell shapes with a dark red color. They ripen early and will be ready to enjoy about 75 days from planting.
Because tomatoes are also known as "love apples," it makes sense some would lead to long-term relationships. Heirloom Marriage 'Genuwine' is a tomato from Territorial Seed Company  that's a cross between two heirloom tomatoes, Brandywine and Costoluto Genovese, that are known for their rich tomato taste. 
Heirloom Marriage series is a new idea for crossing two heirloom tomatoes to develop a new cultivar that makes the most of the best qualities of each. Just like any good love story.