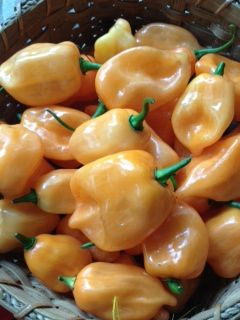 Right about now, we chileheads are in chile heaven (think hotter than hell!) since it is the peak of the chile harvest. I have a bumper crop of habaneros–big ones–and here is what I am doing with them.
Before I go any further, I will give this serious warning right now: if you are handling hot chiles like habaneros (or fish peppers, jalapenos, serranos, etc.)–Be Sure to Wear Gloves! I am here to caution you since I have experienced the serious burn. Do not touch your eyes, nose, lips or other mucous membranes when handling chiles.
I am eating chiles, especially habaneros, everyday. Yeehawl! Since habaneros are one of the hottest capsicums, sometimes I do not even use a whole one in a dish. However I do use a whole one in my fresh salsa, which I make every day or so. You can find that recipe using jalapenos at /item/9647/quick-and-easy-homemade-salsa–just substitute 1 or 2 finely diced habaneros for the 6 to 8 jalapenos.
Another salsa which highlights habaneros is my Mango Habanero Salsa, which I make with ripe mangos, red bell pepper, habanero, lime juice, onions, garlic and cilantro. It is sweet and hot and tart and pungent and oh-so-good. I am also canning whole habaneros besides making salsa and processing both in a hot water bath. See these easy instructions: /item/7237/whole-pickled-peppers
Last night, I tested a African-Influenced Sweet Potato and Peanut Soup and added a habanero and it was quite a taste sensation. It will be served at the upcoming Herb Harvest Fall Festival at the Ozark Folk Center State Park the first weekend in October. https://www.ozarkfolkcenter.com/events/?isofc=1&id=1438 I also created a Spicy Stewed Okra featuring garden tomatoes, okra, onions, garlic and yes, a habanero. I'll post these recipes closer to the event.
Last month, I attended the Women's Herbal Conference in New Hampshire, where 600 women from around the world gathered to learn about and celebrate herbs. One of the classes that I taught was "Hot, Hot, Hot: Why We Love the Capsicums!" There, I demonstrated how to make Habanero Shrub. I will post the recipe so that you can make this yourself. It is in the creative herbal home which I co-authored with Tina Marie Wilcox. I also entered it in the cordial and elixir contest at this year's International Herb Symposium and came away with a Simply Delicious Herbal Products Award. /item/14282/habanero-shrub
Celebrate the chile harvest season and get your endorphins secreting–it makes you happy!