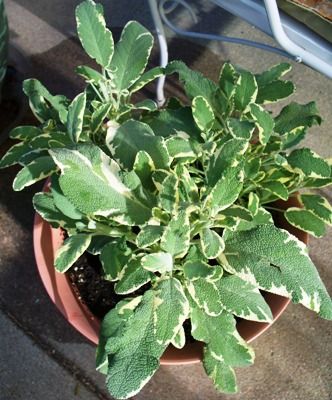 When I planted a container of sage last spring, I had big plans. It was nice to have fresh sage through the summer to whirl into pesto and I appreciated its beautiful variegated leaves as a patio plant. But now the sage has come full circle and is ready for its close up in my Thanksgiving Day plans.
I've been looking forward to making a delicious old-fashioned sage dressing with a small handful of this dried herb ever since I first planted it. I can't wait to crush the dried leaves and add it to my mom's recipe for a traditional sage dressing.
After all, if it weren't for sage this old-fashioned bread dressing would just be bread, celery, and onions. It's the culinary sage that adds an earthy flavor and helps me recall warm childhood memories helping to prepare this simple holiday dish.
Sage Dressing
Ingredients

1 loaf of sliced bread (day old works fine)
4 tablespoons butter
1 large onion, chopped
4 stalks celery, chopped
1 teaspoon seasoning salt
1 tablespoon (or more) dried sage (crushed)
2 cups chicken, turkey or vegetable broth (or water)
Salt and pepper to taste
Cut bread into cubes and let sit out until dry or toast in a 400 degree oven for 10 minutes turning often. Melt the butter in a large skillet and add the onion and celery. Cook over medium-high heat for about 10 minutes or until the onion and celery mixture is softened, stirring occasionally. Stir in the sage, seasoning salt, salt and pepper. Cook for 5 more minutes. Remove skillet from heat and add to the bread cubes, tossing gently to combine. Slowly add broth to moisten mixture to the desired consistency—the more broth added, the moister the dressing.
This recipe could be used to stuff a turkey, but I prefer to bake it separately as dressing. To bake, grease an oven-safe casserole dish and fill with dressing. Cover the casserole and bake at 350 degrees for 25 minutes. Remove cover and bake an additional 20-30 minutes or until the dressing is lightly crisped on top.