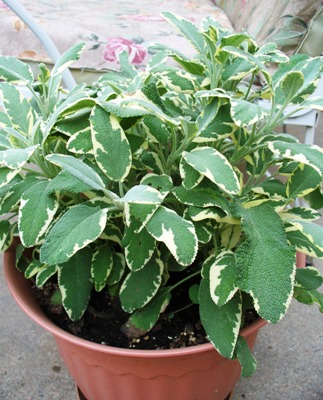 Horticulture and high fashion have mingled to create a new brand for independent plant retailers and their customers. Hort Couture, in association with C. Raker & Sons, put together a sophisticated blend of plants for its 2010 season and the results are chic, stylish and definitely delicious.
In early spring I was invited to participate in the Hort Couture sample program and I jumped at the chance to try so many new plants in my garden. One of the free six packs I received was the Culinary Couture sample pack that included three Sage 'La Crema' plants.
The instructions with the sampler recommended using the sage as an ornamental in the garden or combining it with other plants in a mixed container to add color and texture. Because I was already short on garden space, I planted the sage in pots and used them as accents in my large patio garden.
I love any plant that's as beautiful as it is functional and 'La Crema' fits this description perfectly. Its unusual variegated leaves are light sage green with creamy yellow touches around each leaf.
Like other sages I've grown, this one is aromatic, but its taste is less intense. I've enjoyed using the fresh leaves in a number of summer-time recipes, like sage pesto, but I'm also drying some with plans for using it to flavor my sage stuffing at Thanksgiving.
The folks at Hort Couture say 'La Crema' is a form of the popular Berggarten Sage, a variety that's specially bred not to produce flowers.
The 'La Crema' I have growing seems quite hardy. It has stood up to hot, dry days without wilting and is equally perky following a drenching rain. Because it doesn't need to flower, this variety has consistently produced new leaves throughout the season.
I'd recommend 'La Crema' to any gardener who likes to use fresh herbs in cooking and is always on the lookout for something new or different. The Hort Couture marketing program is featured at independent retailers in some areas of the country and is identifiable by its attractive signage featuring the fashion-based icon called Lady Couture.