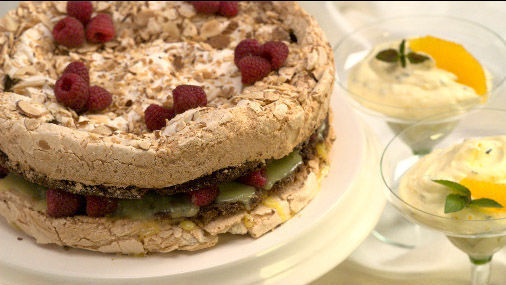 As chefs, lecturers, writers, and consultants on the herbal arts, we are always encouraging people to use herbs in both traditional and innovative ways. Several years ago, we embarked upon a mission to come up with new ways to use some of the less-appreciated herbs. We realized that herbal desserts were a vast and relatively untapped gold mine of possibilities, so we experimented with ways to use herbs in cakes, cookies, and other desserts.
We found that some varieties of basils, mints, and scented geraniums, among others, lent themselves to sweet foods more than to savory dishes. These plants are common garden herbs, but most gardeners and cooks seldom use these so-called "sweet herbs," except in tea. After many test runs, we have narrowed our favorites to just three: rose geranium, cinnamon basil, and orange mint. These have intense yet complex essential oils that hold up during cooking. And the three are interchangeable in many dessert recipes.
Other herbs, like 'African Blue' basil and lemon basil, we found too sweet and perfumey. Lemon grass and lemon verbena, with leaves that are quite tough and fibrous, have more limited use. They do best when steeped in liquids, for custards and beverages. Lemon balm has extremely volatile oils (as do many citrus-flavored herbs) that dissipate when exposed to heat and is best used in cold dishes.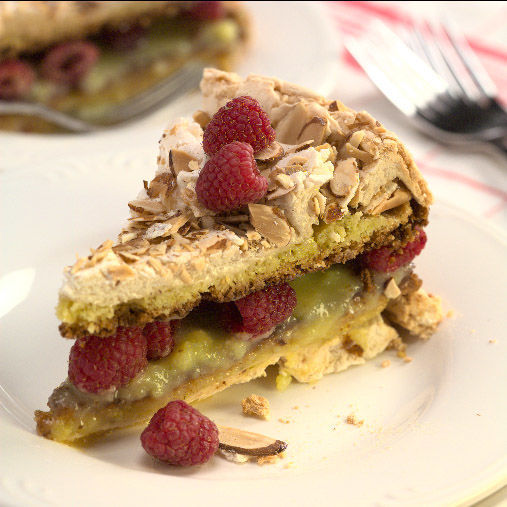 Most scented geraniums (except rose geranium) are better enjoyed in the garden than in food. Spearmint seems to suffer from its association with chewing gum; we prefer it in savory dishes, both hot and cold. Surprisingly, we discovered that the classic Mediterranean herbs—rosemary, sage, and thyme—with a nudge from sugar, honey, citrus peel, and spices, each can provide a mysteriously good "What is it?" flavor to sweet recipes.
Though we often blend robust herbs with mild ones in savory dishes, we rarely ever use more than one sweet herb, because each taste is so distinctive and intense. Sweet herbs can be enhanced with spices, citrus peel, and herbal seeds (like coriander or fennel), which serve to strengthen their flavor and add other dynamics to the dish.
Herbal oil concentrates preserve flavor
We use chopped fresh herbs in the kitchen as often as we can, but when we don't have any on hand in the winter, we use concentrated oil mixtures (similar to pesto), which are stored in the freezer (photo, below). Making herbal oil concentrates works far better than drying to preserve the essential oils in herbs. Frozen concentrates will keep fresh and safe, holding the wonderful flavor of the oils, for up to two years. They are convenient and can be used in almost any recipe, except those with a liquid base, like beverages; use fresh whole leaves for those.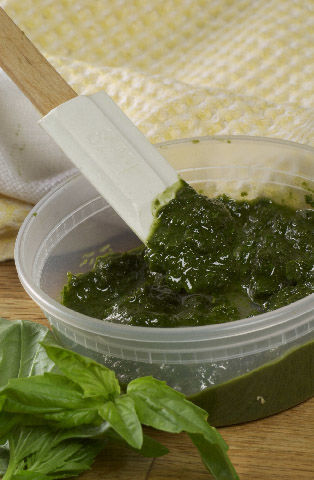 Though we had preserved cinnamon basil and orange mint as concentrates before, rose geranium is a fairly new addition to the freezer pantry. A few years ago, while preparing for a huge lunch buffet, we received an enormous supply of fresh rose geranium leaves. We couldn't stand to see the leftovers go to waste, so we made rose geranium oil concentrate for the freezer. Then we looked at favorite dessert recipes, especially cakes and cookies, to see how we could use it.
To substitute herbal oil concentrates for fresh herbs, we use a third to a half of the amount of fresh herb called for. As with any seasoning, it is better to have too little than too much. Even though the color of oil concentrates is quite dark, this is not noticeable once the concentrate is distributed in the recipe. The chopped herbs— whether fresh or oil concentrated—should be flecked evenly throughout the dish. A good rule of thumb is to start with 2 teaspoons of chopped fresh herbs for each cup of flour in cakes or cookies, adding more as needed. To experiment, try changing the seasoning in a recipe that you already know. Once you are comfortable with changing your favorite sweet dishes, search out new ones to try.
Cakes, cookies, biscuit dough, uncooked frosting, and creamy puddings are good candidates for sparking up with herbs and spices. As long as a recipe doesn't cook for long periods at high temperatures, the sweet herbal flavor should hold well.
Straightforward Growing Requirements
Sweet herbs have the same growing requirements as other herbs: good drainage and lots of sun. The only exception is lemon balm, which will be happier with afternoon shade in hot climates. Sweet herbs will all do well planted in large containers as well as in the garden. Fertilize with a balanced formula (like 10-10-10 or 14-14-14) at least twice yearly, more often for containers. We use a slow-release fertilizer called Osmocote.
Basil and mint flowers must be cut off to keep foliage growing, because there will be a change in essential oils if the plants begin to set seed. In addition, you can use a heavy knife to cut through mint stolons (the rootlike growth on top of the ground or just below the surface) in early spring and fall to stimulate new shoots.
Rose geranium is such a vigorous grower in warmer climates that you must be merciless and cut it back several times a year to keep it shaped. None of the scented pelargoniums will be hardy in extremely cold temperatures. Pelargonium graveolens, which includes the rose and lemon varieties, freezes to the ground when temperatures drop below 26˚F, but usually comes back from the roots in the South.
The following recipes will serve as guidelines for experimenting with sweet herbs. Try them multiple times using different herbs until you find your favorite.
Recipes
Herbal Oil Concentrate
Makes 2 cups
Any herb or herb combination can be made into a concentrate. To substitute the concentrate for fresh herbs, use a third to half the fresh amount. Use concentrates in sauces, soups, salad dressings, basting mixtures,
vegetable salads, sour cream, and desserts.
2 cups tightly packed herb leaves and tender stems (parsley may be added to savory herbs to make measurement)
1⁄2 cup good-quality vegetable oil (we do not recommend olive oil)
Combine the herbs and oil in a food processor or electric blender, using the pulse control. It may be necessary to stop and push down the material in the blender. A processor creates a mixture with more texture; a blender makes a purée. You can store the concentrate in the freezer for up to two years.
30 cal, 3.5g fat, 0mg sodium, 0g fiber; per Tbs.
Orange Mint Mousse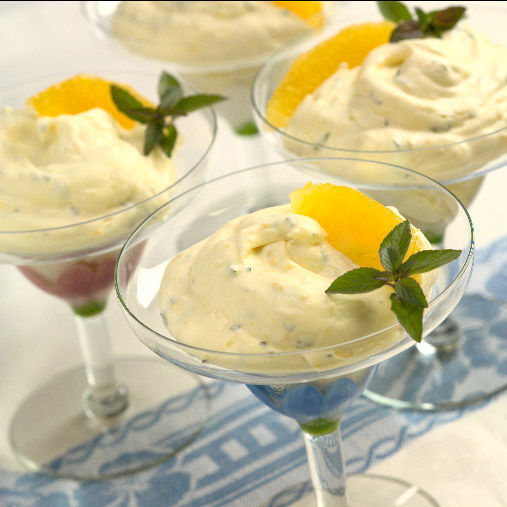 12 servings
1⁄4 cup fruity white wine, like Chenin Blanc, Sauvignon Blanc, or white Zinfandel
1 Tbs. unflavored gelatin
3⁄4 cup undiluted frozen orange juice
concentrate
2 to 3 Tbs. finely chopped orange mint or other sweet herb (or 1 to 11⁄2 Tbs. herbal concentrate)
2 Tbs. finely minced orange zest
1⁄2 cup egg whites, about 4 large
3 Tbs. granulated sugar
1 cup heavy cream
1⁄2 cup sifted confectioner's sugar
Fresh orange sections and mint sprigs for garnish
In a small saucepan, combine the wine and gelatin and let stand for a few minutes. Heat the mixture, stirring well, until the gelatin is dissolved, then add the orange juice concentrate. Remove the pan from the heat and stir in the orange mint and the zest. Chill until the mixture begins to thicken.
While the mixture is chilling, place the egg whites in a clean mixer bowl. Beat until frothy, then gradually add the granulated sugar. Continue beating until peaks form and the meringue is stiff but not dry. Gently mix about a third of the meringue into the orange mixture to lighten it; use a wire whisk if necessary. Fold in the remaining meringue with a rubber spatula.
In the same mixer bowl, beat the heavy cream until it begins to thicken, then gradually add the confectioner's sugar. Continue to beat until stiff peaks form. Using a rubber spatula, fold the whipped cream into the orange/meringue mixture,  until no traces of white cream remain.
Transfer the mousse to a large serving bowl or individual dishes. Cover and chill at least 2 hours or overnight. Garnish with orange sections or slices and mint sprigs.
150 cal, 7g fat, 30mg sodium, 1g fiber
Cinnamon Basil

and Lime Cookies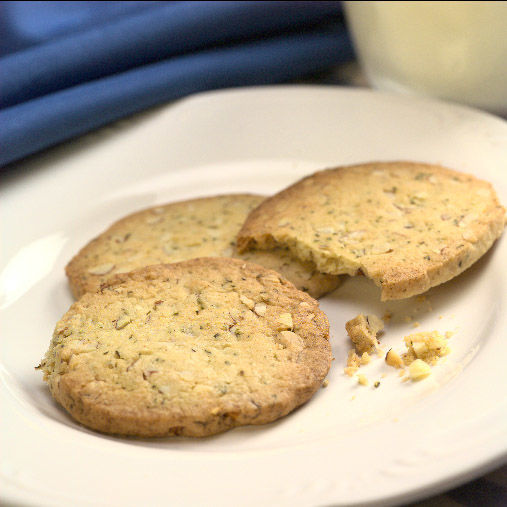 Cinnamon Basil and Lime Cookies are unusual, crunchy refrigerator cookies. You can experiment with different combinations of herbs and nuts (try rose geranium and almonds) for variations on this recipe
Makes 4 dozen
This recipe appeared in Southern Herb Growing, by Madalene Hill and Gwen Barclay (Shearer Publishing, Fredericksburg, Texas, 1987 and 1997).
2 cups sifted flour
11⁄2 tsp. baking powder
1⁄2 tsp. salt
2⁄3 cup softened butter or margarine
1 cup sugar
1 egg
1 tsp. vanilla extract
3 Tbs. chopped fresh cinnamon basil
(or 1 to 11⁄2 Tbs. herbal concentrate)
1 Tbs. finely chopped lime zest
1 cup pistachios, chopped
Granulated sugar as needed
Sift together the flour, baking powder, and salt; set aside.
In a large mixing bowl, beat the butter at medium speed until light. Gradually beat in the sugar; add the egg, vanilla, cinnamon basil, and zest, beating until very light and fluffy. At low speed, mix in the dry ingredients in three or four additions. Add the chopped nuts, mixing with your hands if necessary.
Turn the dough out onto a lightly floured surface and divide it in half. Shape each half into a roll 6 to 7 inches long. Wrap the rolls in plastic wrap and refrigerate until firm, at least 8 hours. Rolls of dough may also be frozen. Thaw them for a short time in the refrigerator just before baking.
When you are ready to bake the cookies, preheat the oven to 375˚F. Cut the dough into 1⁄4-inch slices and place them  2 inches apart on an ungreased cookie sheet. Sprinkle lightly with granulated sugar. Bake 8 to 10 minutes or until lightly brown (do not overbake). Immediately remove from the cookie sheet and place on a wire rack to cool. When completely cool, store in an airtight container.
70 cal, 4g fat, 60mg sodium, 0g fiber; per cookie
Rose Geranium

Meringue Torte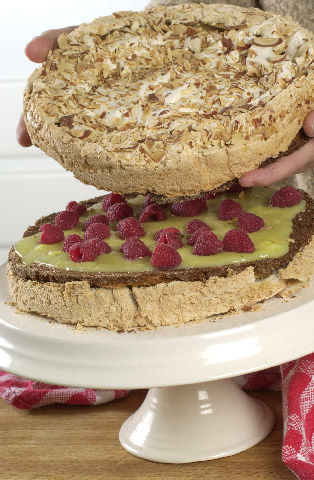 12 servings
Cake:
1⁄3 cup toasted sliced almonds or
whole pine nuts
1⁄2 cup butter
1⁄2 cup sugar
4 egg yolks, beaten lightly
1 tsp. vanilla
3 Tbs. chopped rose geranium leaves, stems removed (or 1 to 11⁄2 Tbs. herbal concentrate)
1 cup cake flour, sifted before measuring
1 tsp. baking powder
1⁄8 tsp. salt
Meringue:
4 egg whites at room temperature
1 cup sugar
1 tsp. vanilla
1 cup blueberries, strawberries,
or raspberries
Lime Curd (recipe follows)
Additional berries and whole rose geranium leaves for garnish
Preheat the oven to 325˚F. Lightly crumble the toasted almonds and set aside. With an electric mixer, cream the butter and sugar until light. Add the egg yolks and vanilla, beating well. Stir in 2 Tbs. of the chopped rose geranium.
Sift the cake flour, baking powder, and salt together. Stir the dry ingredients into the butter mixture, beating at low speed until well combined. Line two 9×2 round cake pans with parchment paper, then butter and flour the paper. Spread the batter smoothly in the pans and set aside. The batter will be very thick, and the cake layers will be very thin. The batter spreads easily with an icing spatula.
In a clean mixer bowl, with clean beaters, beat the egg whites until stiff but not dry. Gradually add the sugar, a tablespoon at a time, beating continuously. When all the sugar is added, continue to beat for several minutes, then fold in the vanilla.
Divide the meringue in half and spread on top of the cake batter in each pan, smoothing it out carefully. Top one pan with the crushed almonds.
Bake for about 40 minutes. If the meringue browns too soon, reduce the heat slightly. When done, the meringue should be dry and lightly browned.
Remove the cakes from the oven and let them cool in their pans. Avoid damp drafts or the meringue will become gummy.
Prepare the Lime Curd as directed in the recipe that follows.
Shortly before you are ready to serve the torte, place the layer without almonds on a cake plate, meringue side down. Spread this layer with some of the Lime Curd, being careful not to let it run over the sides. Add the remaining 1 Tbs. of chopped rose geranium to 1 cup of berries, then sprinkle the berries over the Lime Curd. Top with the second layer, placing the almond side face up. Sprinkle with additional berries and drizzle with more Lime Curd in a crisscross pattern, if desired. Garnish the top with whole rose geranium leaves or berries and keep the torte cool until served.
470 cal, 28g fat, 310mg sodium, 1g fiber
Lime Curd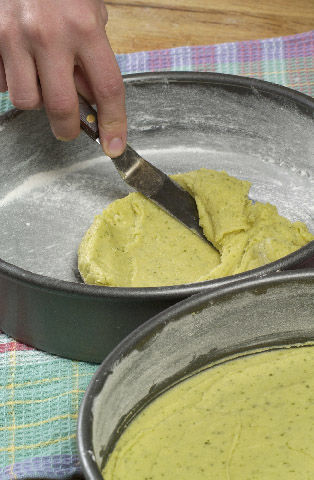 Makes 2 cups
Once the sauce is thickened, you can
add fresh herbs or an herb concentrate, or
for a lighter finish, fold whipped cream
into the curd.
2 whole eggs
2 egg yolks
1 cup sugar
2⁄3 cup fresh lime juice
1 cup butter, cut into small pieces
1 Tbs. lime zest
Mix all the ingredients in an electric blender or mixer until smooth. Transfer to a nonreactive saucepan or double boiler and cook over medium heat until thickened, stirring constantly. Serve warm.
Refrigerate any leftover sauce and reheat it in a double boiler to serve.
80 cal, 6g fat, 65mg sodium, 0g fiber; per Tbs.
Madalene Hill is curator of the McAshan Herb Gardens, and Gwen Barclay is the director of food service, both at Festival-Institute in Round Top, Texas. ƒ