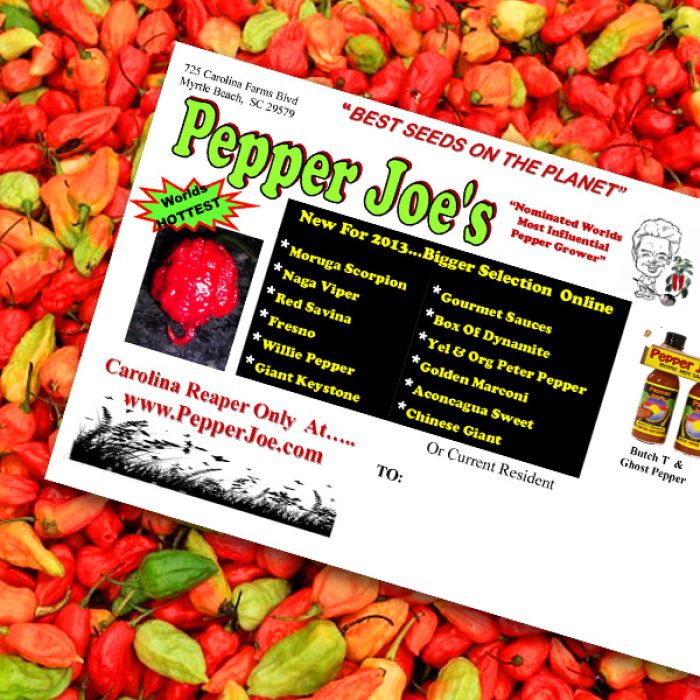 Peppers have always had a place in my heart, and as a result, a regular place in my garden. Whether it's a sweet bell pepper for a salad, an Anaheim for grilling, or a jalapeño to kick up a marinade, my uses for them never seem to go away. You will find pepper seeds in every seed catalog you come across, but there is one company that's "on the leading edge of heat," Pepper Joe's.
Pepper Joe's started in 1989 by well, both father and son (Pepper) Joe. Located in Myrtle Beach, South Carolina, they offer a large selection of pepper seed varieties, spanning the full length of the Scoville heat scale. All of their seeds are non-GMO and inspected by Pepper Joe. They also offer organic varieties. 
Pepper Joe's 20-page catalog is very simple, and displays the company's seed and other product offerings. After an intro about Pepper Joe themselves, the company's pepper seed offerings include: world champion, super hot, habanero, jalapeño, cayenne, exotic, and sweet. Want more? They have several seed collections including Garden In A Box (various vegetables), Fire In A Box (Habaneros), Volcano In A Box (various super hot varieties), and finally, their Box of Dynamite (all 5 world-champion varieties). They also offer several gourmet sauces made from their peppers.
World-Record Varieties
The hallmark of Pepper Joe's is that it carries seeds from the hottest pepper varieties in the world. They are one of the exclusive producers of the current Guinness Book of World Record's (Nov. 2013) hottest pepper variety, HP22B, also known as the Carolina Reaper. Developed by "Smokin' Ed" Ed Currie of PuckerButt farm, the Carolina Reaper averaged 1,569,300 on the Scoville scale with peak levels of over 2,200,000 Scoville Heat Units (SHU). Let's put this into perspective folks. Sweet bell peppers have a SHU number of, well, zero. Jalapeño peppers average only 2,500-8,000 Scoville Heat Units! I cannot possibly imagine what would happen if I ate one of these chiles. All I do know is that my wife would probably be taking me to the emergency room!
They offer other top-five world-record varieties, including:
'Second Hottest'
Moruga Trinidad Scorpion
Formerly the hottest on the planet, burning up the scales at over 2 million SHUs at its hottest. Rumor has it that its capsaicin level can burn through latex gloves… handle with extreme caution.
'Third Hottest'
Butch "T" Trinidad Scorpion
Also a former Guinness Book of World Record holder, weighing-in at around 1,450,000 SHUs.
'Fourth Hottest'
Bhut Jolokia (a.k.a. Ghost Pepper)
This is the one you've probably heard about. It's the hottest commercially grown pepper in the world at around 970,000 SHUs.
So, if you live on the (extremely hot and) wild side, try growing some these amazing pepper varieties.
To request a copy of their catalog, or to order their seeds and products, visit www.pepperjoe.com.