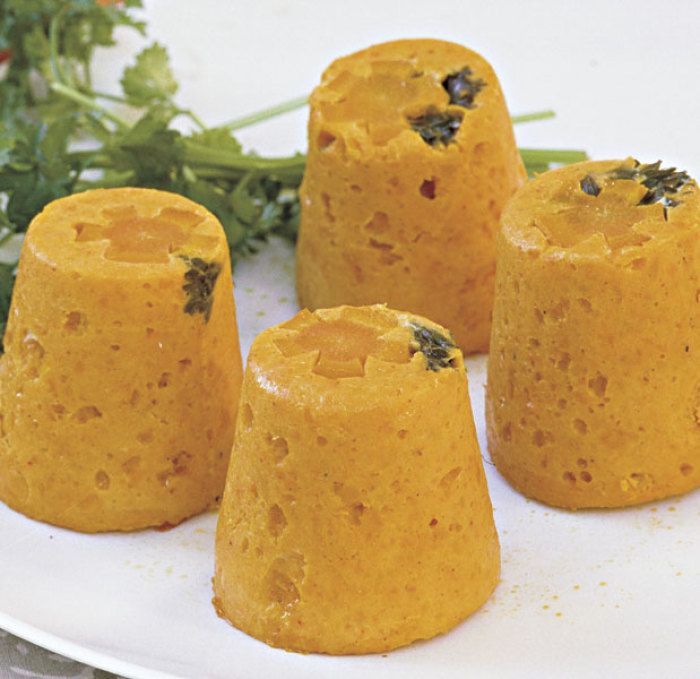 Ingredients:
1-1/4 lb. carrots, peeled
3 Tbs. oil or butter
3 eggs
1/4 tsp. salt
1/2 tsp. paprika
1/3 cup plain yogurt
Parsley or scallion for garnish
6 servings
You can substitute 1/2-cup soufflé dishes for the timbales.
Thinly slice all but one carrot. Cook the remaining carrots, with the oil or butter, in a heavy, covered saucepan over a low flame for 30 to 40 minutes. Allow the carrots to cool slightly, then purée.
Preheat the oven to 325°F. Stir the eggs, salt, and paprika into the puréed carrots. Add the yogurt and purée together for 1 minute.
Prepare six 1⁄2-cup timbales by greasing them lightly with butter. Using a sharp knife, cut five or six lengthwise grooves in the remaining carrot, then slice it horizontally so the cut pieces resemble flowers. Place a carrot slice in the bottom of each timbale and add small pieces of parsley or scallions so the carrot pieces resemble flowers. The bottom of the timbale cup will be the top of the finished timbale.
Making carrot flowers for the Carrot Timbales takes only a few cuts with a knife. Cut five triangular wedges out of the carrot's length (left), then slice the carrot crosswise into small disks that resemble flowers (right).
Carefully spoon the carrot purée into the timbale cups until they are full. Place the timbales in a pan just large enough to hold them all. Bring a kettle of water to a boil, then remove it from the heat. Fill the pan with enough of the hot water to come 2⁄3 to 3⁄4 of the way up the sides of the timbales. Bake in the hot water bath for 30 to 35 minutes. Unmold gently by running a knife around the sides of the timbales. Serve warm or slightly chilled.
Recipe by William E. Brown
December 1999
from issue #24