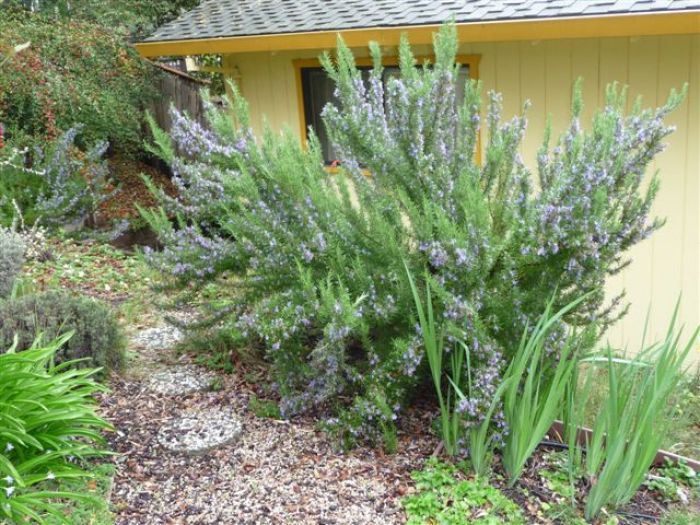 I've just been in Santa Cruz, California, where my dear friend and co-author Carolyn Dille resides with her husband, Dick Walvis. Carolyn and Dick live in a lovely old neighborhood, with very hilly terrain and a distant view of the Pacific. Their gardens are way ahead of mine back in Maryland, since my daffodils were about 3-inches high and just starting to bud when I left, while theirs are at their peak, with some of the earlier varieties already spent. Rosemary and salvias—everything from 6-foot ornamentals to the culinary Salvia officinalis and bright-red blooms of pineapple sage (Salvia elegans) are in full flower, while in my zone 7 garden it is too early to even set out my pineapple sage.
Their backyard garden which is on a slope, is home to blooming plum, almond, California bay, olive trees, and a lemon tree laden with fruit. Planted amongst these trees are huge blooming rosemary bushes, many herbs, flowering bulbs, rose bushes, garlic, artichokes, and numerous perennials. Walking around the neighborhood, I was astounded at the number of sedums and cacti that grow exuberantly in that foggy climate.
I couldn't wait to visit the Santa Cruz farmers' market, which was crowded and colorful—with produce and people. Greens of every color were piled high, some of them with purple hues (kale) and brilliant rainbow stems (chard). Brassicas were on display from broccoli and cauliflower to baby Brussels sprouts and pointed cabbages. Tables full of artichokes, asparagus spring onions, leeks and radishes showed the harbingers of spring in full regalia. The array of citrus was incredible—every type of orange that I could think of, and more—from sweet tangelos and mandarins to juicy, blood-red fruits. Yellow spheres from large to small were carefully stacked in pyramids: grapefruits, pommelos (huge and sweet!) and lemons.
We left the market, after drinking shots of amazing homemade sauerkraut juice; our choices were dill pickle, smokey jalapeno, or leek and horseradish sauerkraut! Of course, I had to try the latter since horseradish is herb of the year for 2011 and it is delish! Our bounty of locally-grown vegetables and fruit inspired us to create many memorable meals. I will post a few favorite recipes in the next day or two. Meanwhile you can savor springtime in California with some of the following photos. For those of you in cooler parts of the country, know that spring is coming soon!