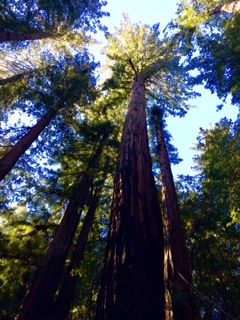 On my recent visit to California, I hiked in the majestic redwood forest, walked on the beaches of the Pacific Ocean, and visited gardens from the San Francisco Botanic Garden to the arboretum at the University of California at Santa Cruz. Come take a little trip with me…
I went to California to visit my daughter Lucie and her partner, Matt, as well as my dear friend and co-author, Carolyn Dille, all of whom reside in Santa Cruz. The kids live in the hills outside of Santa Cruz, up some really windy roads through the redwoods. Their place is surrounded by large trees and California natives, mostly in the shade, although they have a few citrus trees that are laden with Meyer lemons and limes. Carolyn lives in a hillside neighborhood within walking distance of town, where she cultivates a garden of Mediterranean natives on a steep slope. She has olive trees, a gorgeous, huge specimen of bay, a number of woody rosemary bushes in peak of bloom, lavenders, artemesias, thyme and an assortment of flowering perennials.
Presently, the area has had large amounts of rain. Perhaps the drought will subside? In fact, we were going to head to Big Sur for the weekend, however there were mudslides, so the roads were closed.
The California coastal forest is so very different from our East coast forests. First off, there are those mighty redwoods, the tallest trees on earth and members of the Sequoioideae, which take my breath away. These ancient trees (some over 1000 years old) are powerful and humbling-to walk amongst them is a blessing as well as an inspiration.
On a trip to Big Basin State Park, we headed away from the crowds on well-maintained trails that ascended and descended through massive redwoods and other conifers. Huge tan oaks (a species I have not seen on the east coast–Notholithocarpus densiflorus, also called the tanoak or tanbark-oak-it is an evergreen tree in the beech family native to the western U.S.) often draped in moss, with an understory of manzanita, madrone and the evergreen California huckleberry (Vaccinium ovatum) were companions along the trail. In some of the redwood groves, the bottoms of the trunks were black-burned from forest fires-that they survived. There is not much ground cover in those moist damp woods, there are ferns and a lot of rocks and logs, so we found a number of mushrooms and lichen. We crossed back and forth across some streams and walked in quiet serenity, punctuated by an occasional bird call. Quite a magical experience to be standing with those mighty giants.
On another adventure, we decided to head up to San Francisco via the coastal highway, Route 1, departing from Santa Cruz. The roadsides thinned of trees as we headed north and we road with the thundering Pacific on the left side and fields of artichokes, brightly blooming yellow flowers atop fields of mustard to the right. Ice plants line the road along with endless masses of creeping wood sorrel (Oxalis corniculata) with pale yellow flowers.
Of course we stopped and walked along the beach that was littered with driftwood and large amounts of sea kelp. I had to dip my toes in the frigid water of the Pacific Ocean as we watched prehistoric-looking pelicans soar on the wind currents and dive for the occasional fish. Nothing like filling ones lungs with fresh sea air! Then back on the road, destination San Francisco, where the eye-catching median strip coming into the city is planted with extraordinary three-foot aloes in full regalia with bright orange blooms! We were headed for ethnic restaurants, farmers' market and stay tuned for the next stop: San Francisco Botanic Garden.