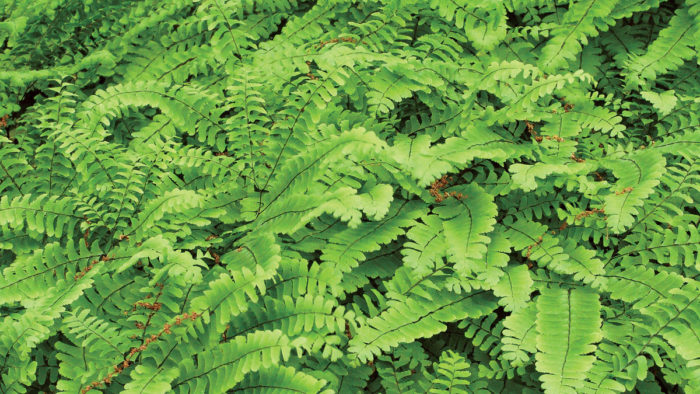 Top pick: Northern maidenhair fern is a textural wonder for the shade
Name: Adiantum pedatum
Zones: 3–8
Size: 1 to 2 feet tall and wide
Conditions: Partial to full shade; moist, rich soil
Like native grasses are to the prairies, ferns are an iconic part of the Northeastern landscape. Their soft texture and soothing colors knit together shade gardens. We are blessed with nearly 50 native ferns in our area, but few are as distinctive as northern maidenhair. The fronds emerge from a tight nest of rhizomes on 12-to-16-inch-tall ebony stems and grow in a circular, one-sided arrangement like the spokes on a wheel. The arrangement is most obvious in deep shade, where fronds are sparse. Grow these ferns in partial shade and they will eventually stack one atop the other to resemble a green, frilly sea urchin by midsummer. Transplant from containers in early spring, and water the plants regularly the first season. They take a year or two to establish, but once settled in they will double every year. Northern maidenhair resents division, but if you wish to divide your clumps, do so conservatively in early spring before the fronds begin to show. As with some other ferns, moisture encourages additional flushes of foliage through the summer, keeping northern maidenhair looking fresh and spring green.
More favorite picks
Great merrybells
Name: Uvularia grandiflora
Zones: 4–9
Size: 18 to 24 inches tall and 12 to 18 inches wide
Conditions: Partial shade; well-drained soil
Great merrybells is one of my favorite native perennials for shade. Unlike its close relatives, this woodlander does not ramble but instead forms a tight clump of tall stems clothed in alternating leaves. As the ground warms in spring, the stems emerge tipped with 1½-inch-long, twisted yellow bellflowers. The flowers adorn the drooping stems like fish dangling from the end of a bent rod. Eventually soft, pale green leaves unfurl, and the stems stiffen just as the flowers fade. In the right conditions, great merrybells becomes a very dense mass of overlapping stems and leaves. If you space clumps 16 inches apart, you can create a ground-covering mass that shades out all but the most pernicious weeds. Ridged, green capsules split and drop large seeds at the base of the plant later in the season; after several years, crops of little seedlings skirt the parent plant, ready for transplanting.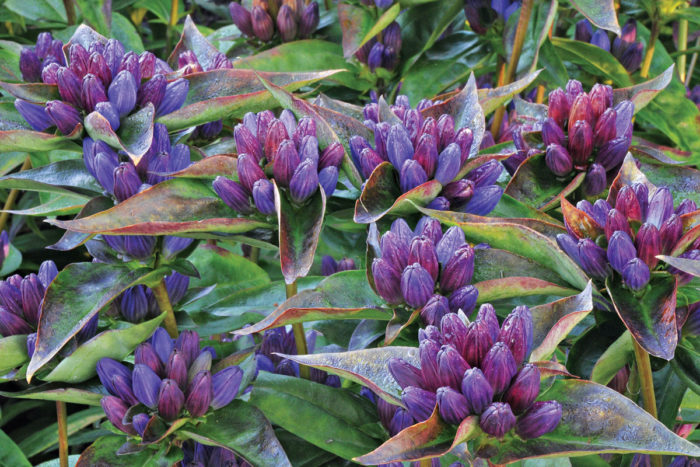 Bottle gentian
Name: Gentiana clausa
Zones: 4–7
Size: 2 feet tall and wide
Conditions: Partial shade; average soil
I love blue flowers, but I admit I have tried and failed with many gentians. However, there are some that are relatively easy and satisfying to grow. A case in point is bottle gentian. It seems to prefer alkaline soils in the wild, but I do not find it very particular about pH in the garden. Clustered stems bearing crinkled, paired leaves rise up through the summer. As the days begin to shorten, clusters of blunt-pointed buds appear and go from green to purple to blue as if about to open in a sapphire starburst that, alas, never comes to be. Bottle gentian flowers remain closed except for a tiny opening at the top just big enough for a bumblebee to squeeze its head into and lap up some nectar before awkwardly backing out again. Even closed, the little blue footballs are a visual treat.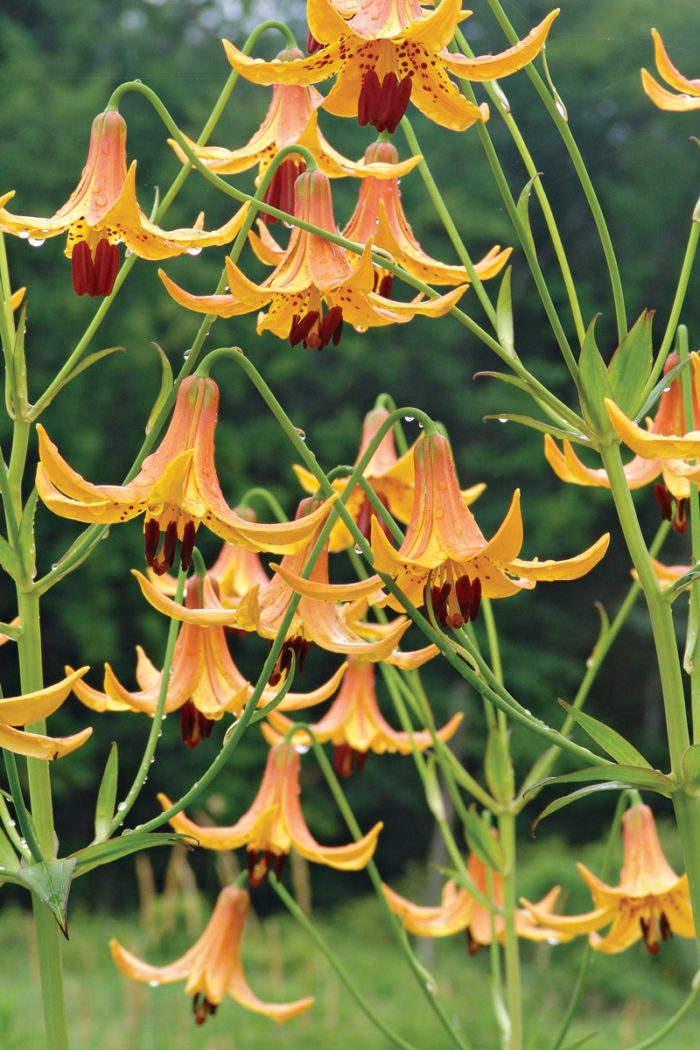 Canada lily
Name: Lilium canadense
Zones: 4–8
Size: 4 to 6 feet tall and 1 to 2 feet wide
Conditions: Full sun; moist to wet, fertile soil
I suspect that 100 years ago, when the Northeast was more farmland than forest and deer populations had been decimated by hunting, Canada lilies were a common sight in damp meadows and hedgerows. Now, sadly, this spectacular plant is increasingly uncommon—all the more reason to grow it in your garden. Mature stems of whorled leaves can top 6 feet, with the last 2 feet ringed by 3-inch-wide, downward-facing flowers that grow from each whorl to form a magnificent orange candelabra in early summer. The brilliant color of the flowers attracts hummingbirds, and as they feast, a tassel of red-velvet anthers dabs pollen on the birds' heads. Canada lilies take several years to reach flowering size, but mature plants readily form offsets.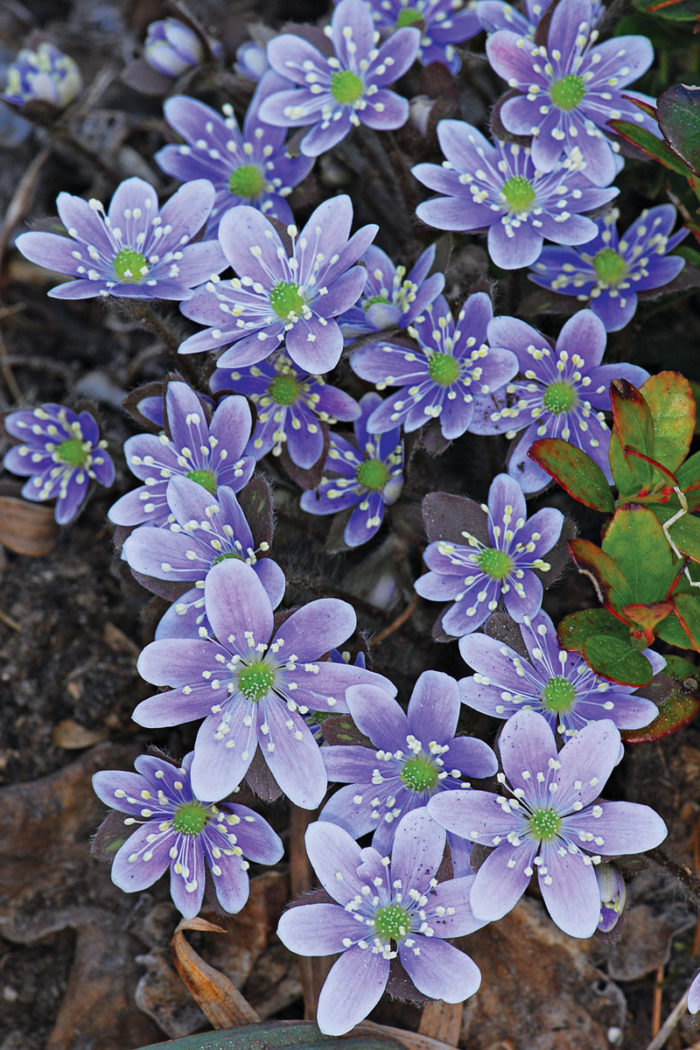 Roundleaf liverleaf
Name: Anemone americana (syn. Hepatica americana)
Zones: 3–8
Size: 6 to 8 inches tall and wide
Conditions: Partial shade; well-drained soil
Roundleaf liverleaf appears soon after the vernal equinox. First, a cluster of folded leaves adorned with a glistening coat of fur emerges, followed quickly by violet, pink, or white flowers. The fur that clothes its stems and buds traps the heat of the spring sun and thus warms the plant as much as 10 degrees above the air temperature. In the wild this plant is typically found on damp ledges or steep hillsides and gets only a few inches tall. But give it better soil and light, and it can grow to comparatively enormous proportions. The three-lobed, evergreen leaves are often patterned with silver and gray-green. Established clumps can produce over 100 flowers and nearly as many leaves.
Noteworthy Native nurseries in your area
• Earth Tones Native Plants, Woodbury, CT; 203-263-6626; earthtonesnatives.com
• Nasami Farm (Native Plant Trust), Whately, MA; 508-877-7630; nativeplanttrust.org
• Native Haunts Nursery, Alfred, ME; 207-604-8655; nativehaunts.com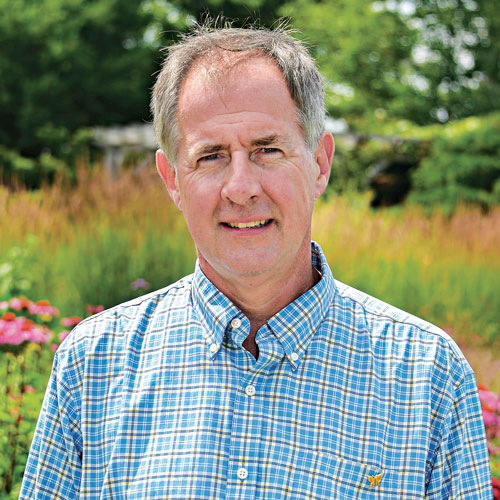 The expert: Tim Becker is the director of horticulture for the Theodore Payne Foundation for Wild Flowers and Native Plants in Sun Valley, California.
From Fine Gardening #196