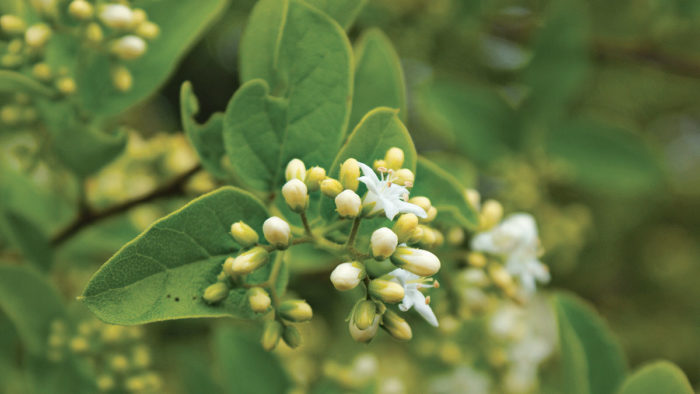 Gardeners love native plants, and for good reason. They are built to thrive in the conditions of a specific region, often without complaint, and are an essential component in the preservation of wildlife and the overall ecology of a region. The world of native plants, however, can be a complex one to navigate. Just because you live in an area where a native plant occurs naturally, doesn't mean it will thrive in your beds and borders. Here are trees and shrubs, for various different soil and light situations, recommended by a qualified native plant expert from the Southern Plains.
---
Mexican Plum
Name: Prunus mexicana
Zones: 6–8
Size: 15 to 20 feet tall and 10 to 15 feet wide
Conditions: Full sun to partial shade; average,well-drained soil
Native range: Southern and Midwestern United States
Mexican plum is a regional all-star native woody plant selection. It is tolerant of drought and heat, is moderately fast growing, and has striking characteristics throughout the year. One of our earliest blooming trees, it signals the arrival of a new season with a canopy full of bright, white blossoms. Honeybees especially love these blooms. After persevering throughout a long, hot summer, this tree produces small, tart plums that develop into a treat coveted by wildlife. Throughout the year, the gray and brown peeling bark is another noteworthy feature.
Texas Barometer Bush
Name: Leucophyllum frutescens
Zones: 8–10
Size: 6 feet tall and 8 feet wide
Conditions: Full sun; well-drained soil
Native range: Texas and Mexico
Texas barometer bush is known as "cenizo" to gardeners in Central Texas but also is called "Texas Ranger" in other parts of the Southern Plains. A highly adaptable and interesting evergreen plant, Texas barometer bush has several cultivars that provide variable foliage color, flower color, and growth habits, but the straight species is quite attractive as well. This shrub hints at its uncanny tendency to flower right before or after a rainfall, with a profusion of colorful blossoms. This can happen multiple times a year, making it a go-to for reliable color throughout summer and into fall.
Anacua
Name: Ehretia anacua
Zones: 7–10
Size: 25 to 45 feet tall and wide
Conditions: Full sun to partial shade; well-drained soil
Native range: Central and South Texas, south into Mexico
Anacua (pronounced AN-ah-kwah) is a great choice for a medium-size tree. Also known as "sandpaper tree," anacua has leaves that are very rough to the touch. The foliage is dark green and gives the tree character even in late summer when other trees are shedding their leaves. Over time it develops a tight, multitrunk habit that under no circumstances should be reduced, because it resents pruning. These multiple trunks fuse together as the tree grows and produce a gnarly, interesting look as it matures. Anacua has fragrant white flowers and sweet fruit that attract a multitude of pollinators and wildlife.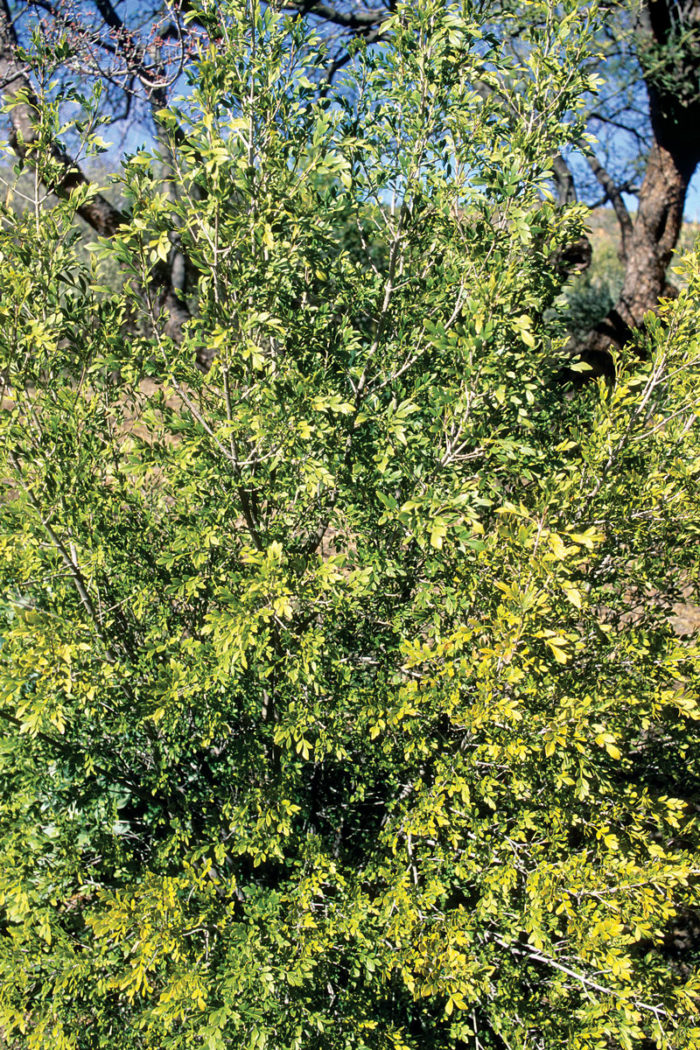 Little Leaf Ash
Name: Fraxinus greggii
Zones: 7–10
Size: 20 feet tall and 15 feet wide
Conditions: Full sun to partial shade; well-drained soil
Native range: West Texas, New Mexico, and Arizona
This stunning evergreen can be classified as a large shrub or a small tree. It has a shapely growth habit with tight, dense foliage of pinnately compound leaves. Little leaf ash is extremely heat and drought tolerant, making it an ideal shrub for the hot and dry conditions of Central Texas. It grows quickly, especially with adequate watering, and can act as a screen or accent plant. Its light gray bark offers a nice contrast to the dark green leaves, usually on
a multistem trunk.
---
Andrew McNeil-Marshall is a woody plant expert in Central Texas, most recently working as an arborist and horticulturist at the Lady Bird Johnson Wildflower Center in Austin.