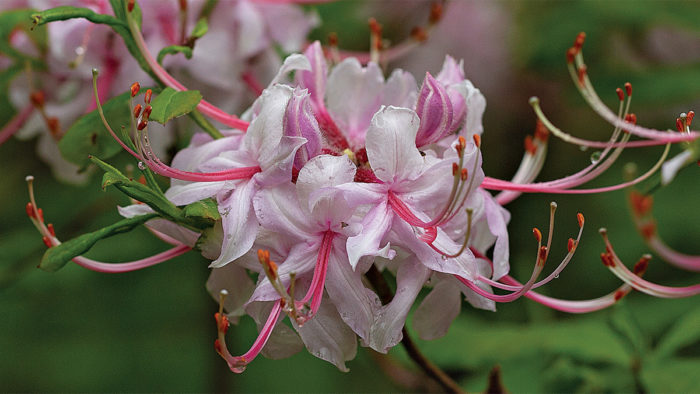 Gardeners love native plants, and for good reason. They are built to thrive in the conditions of a specific region, often without complaint, and are an essential component in the preservation of wildlife and the overall ecology of a region. The world of native plants, however, can be a complex one to navigate. Just because you live in an area where a native plant occurs naturally, doesn't mean it will thrive in your beds and borders. Here are trees and shrubs, for various different soil and light situations, recommended by a qualified native plant expert from the Northeast.
---
1. Downy Shadbush
Name: Amelanchier arborea
Zones: 4–9
Size: 15 to 25 feet tall and wide
Conditions: Full sun to partial shade; moist, well-drained soil
Native range: Eastern North America
Unlike its more shrubby cousins, the downy shadbush has the grace and stature to become a stately tree over time. It's often one of the first things to bloom in spring, long before other trees begin showing any green color. The new leaves, folded at first, begin to make their appearance as the tree flowers. The foliage is velvety soft and downy underneath, and the flowers are a crisp white. Together the effect is magical. Precocious pollinators rely on this species to provide fuel for the season ahead. The best thing about downy shadbush, however, is that the fruit is eaten by over 40 species of birds and several mammals, including humans. A rather common species in the wild, downy shadbush deserves wider attention from gardeners.
2. Pinxterbloom Azalea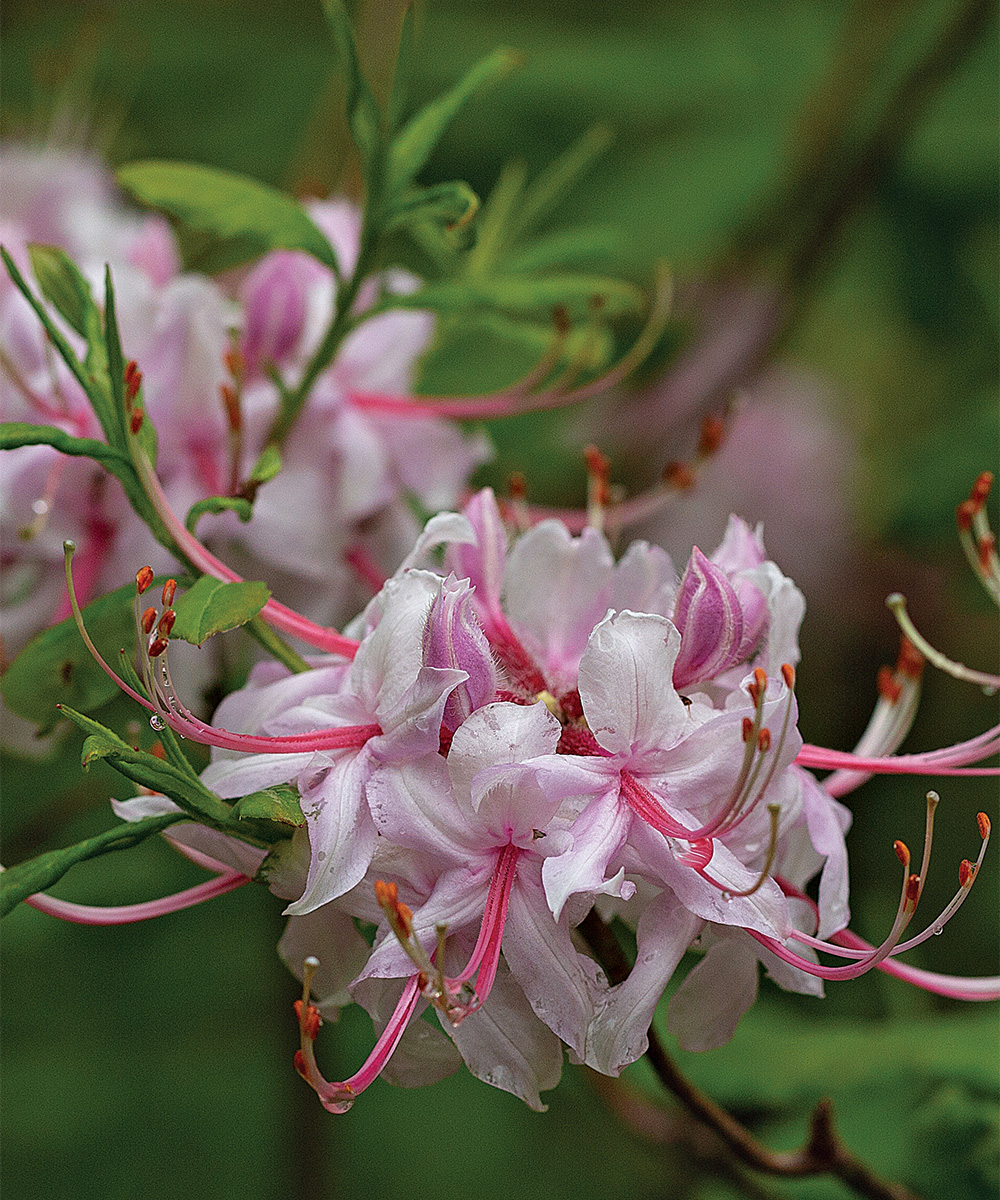 Name: Rhododendron periclymenoides
Zones: 4–9
Size: 3 to 6 feet tall and 4 to 7 feet wide
Conditions: Partial shade; acidic, rich, moist, well-drained soil
Native range: Eastern United States
Sweet, aromatic, and graceful with long eyelashes— who wouldn't want a shrub like that in their garden? Pinxterbloom azalea fits the bill perfectly. This shrub will easily become the queen of May in your garden. It grows respectfully to form a dense copse of branches that are bedecked with trusses of white, pinkish white, or all-pink blossoms in midspring. The aroma of the flowers is heavenly, with hints of bubble gum, and each flower bears long stamens resembling eyelashes. The long tubular shape of the flowers is best matched with the long tongues of butterflies and moths. Pinxterbloom azalea prefers partial sun or high canopy shade and will provide years of enjoyment if sited correctly.
3. Spicebush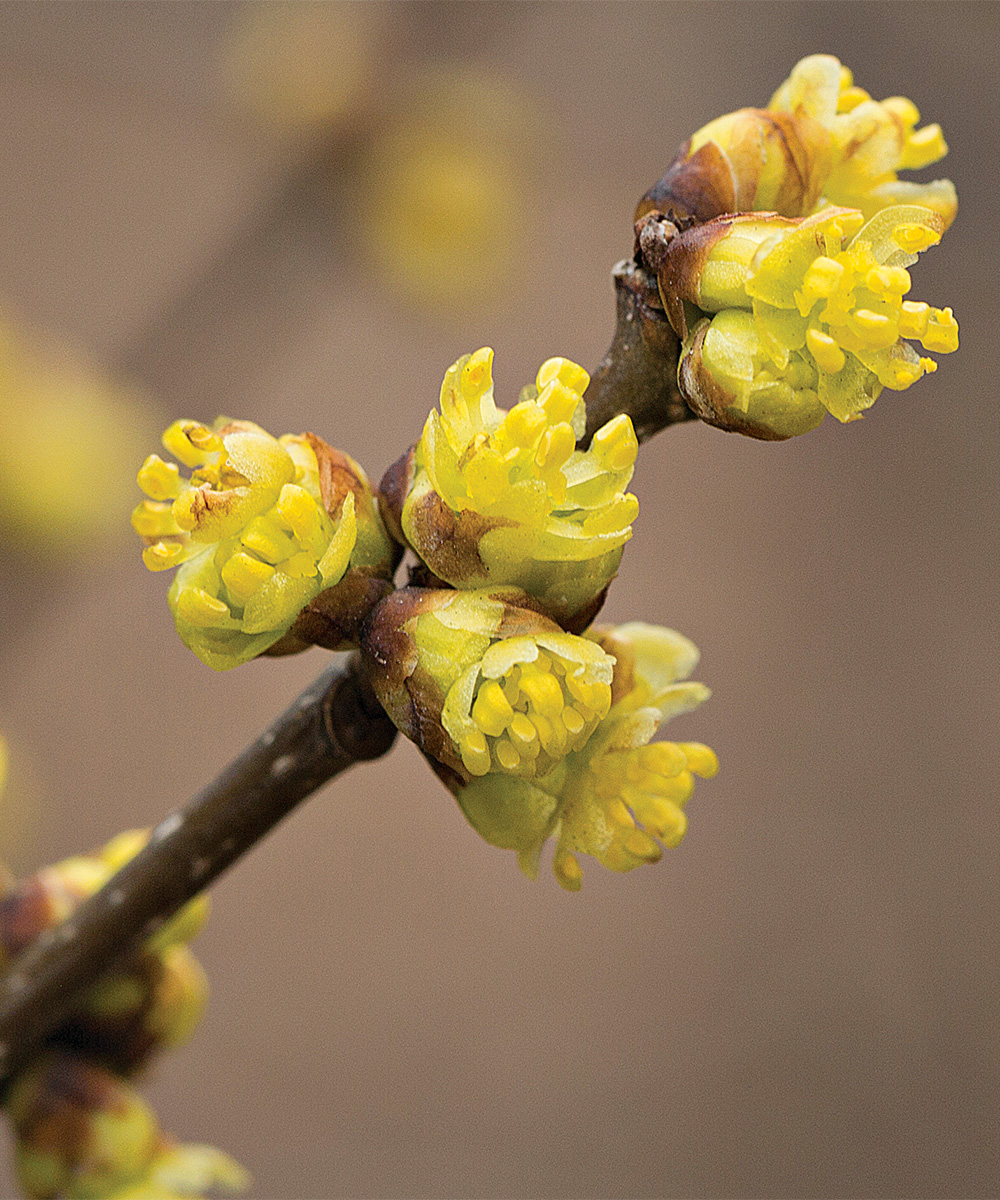 Name: Lindera benzoin
Zones: 4–9
Size: 6 to 12 feet tall and wide
Conditions: Full sun to partial shade; well-drained soil
Native range: Eastern United States
We gardeners often overlook common shrubs in favor of the rare or exotic. Spicebush is a common shrub that should be planted more widely in garden settings. It is well behaved, rarely growing taller than 10 feet, and has a pleasing structure. It blooms before the leaves emerge, with countless small yellow flowers along its branches. The foliage is a calming green color, and when crushed it emits the most delightful fragrance, with hints of citrus and clove. Spicebush is an important host plant for the spicebush swallowtail, while its cherry red fruit is relished by migrating birds in fall. When autumn arrives, the foliage turns a clear sunny yellow before abscising for the season. So much wildlife value for an often-overlooked shrub!
4. Bush Honeysuckle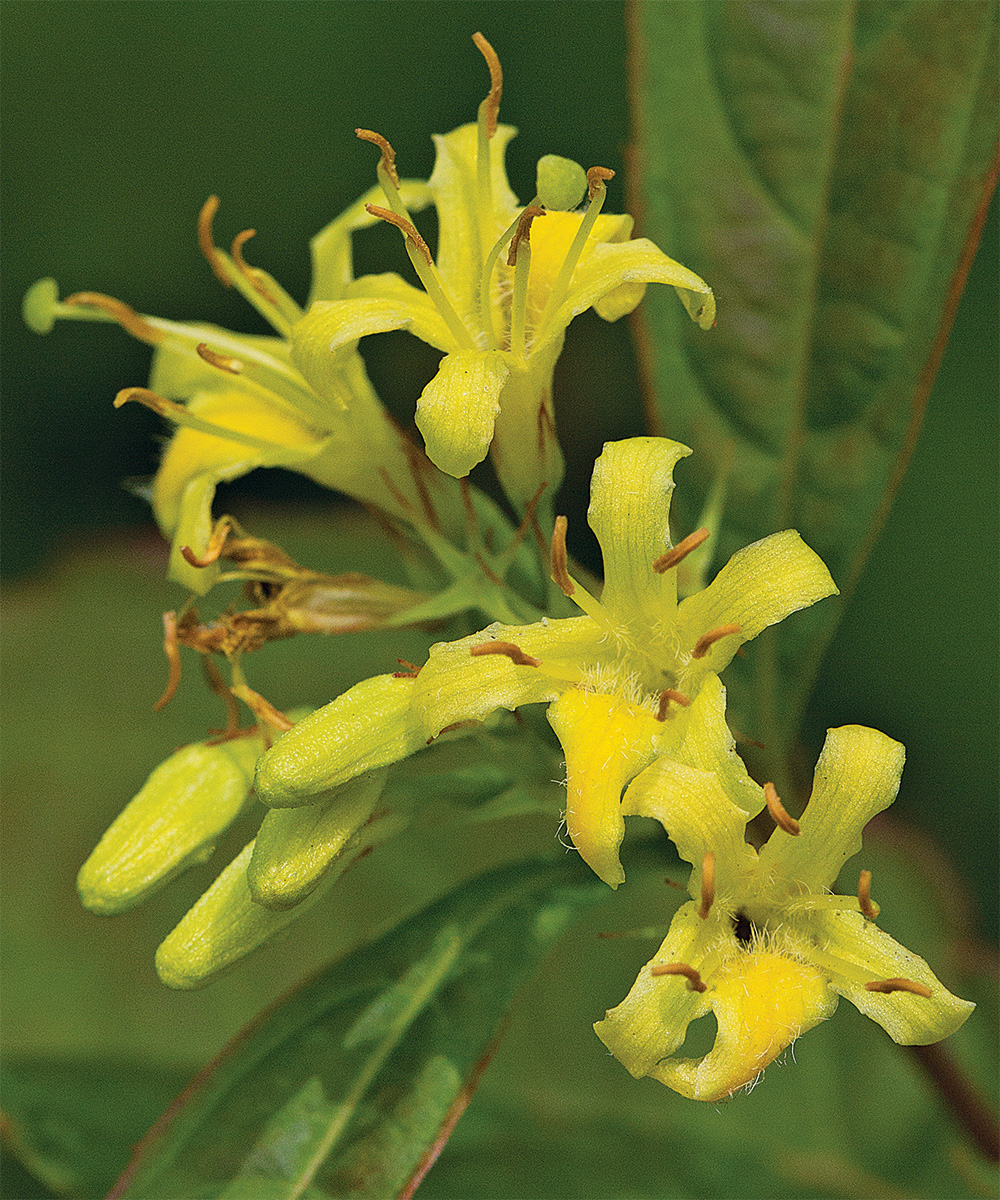 Name: Diervilla lonicera
Zones: 3–7
Size: 2 to 3 feet tall and 2 to 4 feet wide
Conditions: Full sun to partial shade; well-drained soil
Native range: Eastern North America
Bush honeysuckle is a suckering, densely branched shrub well suited for hedging and slopes. It occurs naturally in rocky open woodlands but is tolerant of most garden soils. The best flowering and leaf color happen in partial-sun conditions. In early summer, the shrub bursts forth with yellow tubular-shaped blossoms that attract hummingbirds, butterflies, and a variety of other pollinators. New foliage emerges tinged with bronze and red before fading to a glossy green. Autumn brings copper and red-orange hues to the plant, a perfect backdrop for the red seed capsules. An individual plant is self-sterile, so other individuals are needed for fruit to form. The thick growth habit of this shrub provides good shelter for birds.
---
Ulrich Lorimer is the director of horticulture at the Native Plant Trust in Framingham, Massachusetts.
Photos: courtesy of Ulrich Lorimer