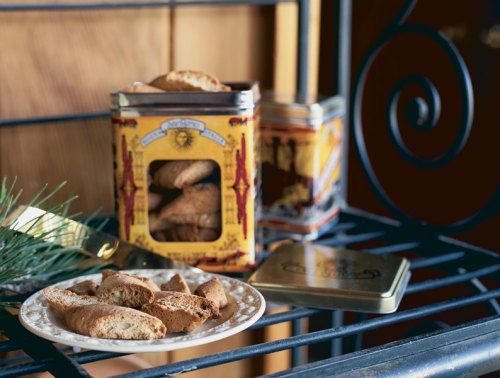 Ingredients:
A little unsalted butter for the pan
3 extra-large eggs
2 Tbs. plus 1/2 tsp. (about 1/2 oz.) dried anise seeds
2 tsp. sweet Marsala, sherry, or Madeira
3/4 cup sugar
Pinch of salt
1 1/2 cups flour
1/4 cup cornstarch
1/2 tsp. baking powder
Makes about 6 dozen
Line a heavy baking sheet with waxed paper and lightly butter it. Heat the oven to 350°F. Cover the eggs in their shells with hot water to warm them while preparing the remaining ingredients.
With a mortar and pestle or the back of a spoon in a bowl, crush half the anise seeds to a powder, leaving the rest in bits.
Run hot water in your mixer bowl until the bowl is warm. Wipe it dry, then combine the eggs, anise, Marsala, sugar, and salt. Using the whisk attachment if you have one, or beaters, beat on low speed until the eggs are foamy, then gradually raise the speed to high. Beat until the mixture is light and very thick, 6 to 7 min.
Sift the flour, cornstarch, and baking powder together onto waxed paper.
When the eggs are ready, sift in the dry ingredients in 3 parts, folding them in with a rubber spatula after each addition just until blended. The batter will be thick but soft. Place batter in a pastry bag (or a bag folded from parchment paper) with a plain 3/4-in. opening. Pipe evenly onto the baking sheet in straight logs 1-1/2 in. wide—3 strips about 12 in. long should do it. If necessary, take a table knife and smooth the edges and tops.
Bake the strips in the middle of the oven until golden, about 20 min. Leave the oven on. Slide the paper onto the counter, pull the paper off the logs, and turn the logs bottom-sides-up to cool. In about 10 min., with a sharp serrated knife, cut slices on the diagonal, 1⁄2-in. thick. Lay the cut sides down on the baking sheet (no paper needed) and bake until lightly toasted, 10 to 15 min. Cool thoroughly on the pan, then store in an airtight tin.
Recipe by Sylvia Thompson
December 1997
from issue #12