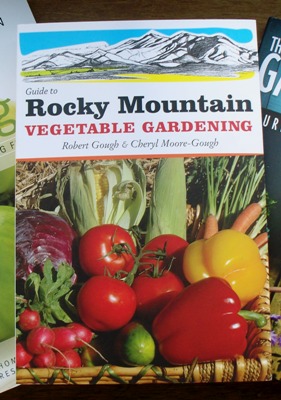 Because I've always gardened in Colorado, I naturally assumed gardening had to be difficult. Every year I struggled with lean soil, late spring freezes followed by hot weather, and little precipitation.
It wasn't until I started talking with gardeners from other parts of the country that I learned gardening isn't this challenging in other areas.
Some gardeners bragged how they could stick a tomato seed in the ground and grow bushels of delicious fruit. But now that they were growing in my neck of the woods, they all wanted to know, "What's the secret to gardening here?"
Well, one secret is having a great resource at your fingertips. If you garden in one of the five states that make up the Rocky Mountain region (Colorado, Idaho, Montana, Utah, or Wyoming), you need the "Guide to Rocky Mountain Vegetable Gardening" (Cool Springs Press, 2009). The book sells for $19.95 at CoolSpringsPress.com and other online retailers.
This guide is a must-have for anyone who wants to unlock the secrets of growing a vegetable garden in a challenging climate.
The authors, Robert Gough and Cheryl Moore-Gough, are horticulture experts who understand what Rocky Mountain gardeners need to succeed.
One of the reasons I like all 320 pages of this book is because the section on climate and soils is divided by state instead of lumping all of them together. Each state has its own special kind of soil and precipitation patterns.
"Site characteristics vary so widely that you must understand your specific garden conditions, based upon the soils, precipitation, and climactic conditions within a few hundred yards of your garden," the authors write.
This sets the stage for helping gardeners learn how to match the vegetable varieties they grow with their specific growing conditions.
After a thorough discussion of fertilizers and soil amendments, and a chapter dedicated to controlling weeds and pests, the guide presents a section on 40 vegetables that Rocky Mountain gardeners can grow.
I especially like the way the authors provide a list of recommended varieties for each veggie and how to plant, care, and harvest it.
I also like the feature called "What Happened Here?" where common problems are explained for each vegetable. For example, the problem, "My carrots have misshapen roots" is followed by an answer that addresses the reasons for twisted roots, forked roots, and stubby roots.
Collectively, the Goughs have almost 100 years of gardening experience—and that experience shows in this book. They learned many of their lessons the hard way, so Rocky Mountain gardeners won't have to.
Read more book reviews on VegetableGardener.com…