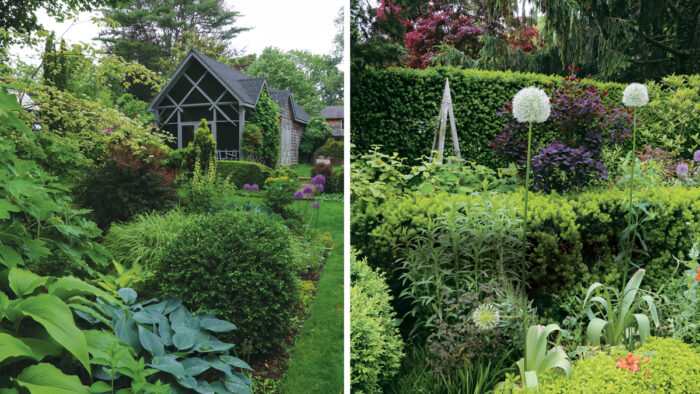 An architect in the garden. The idea might conjure images of an abstract landscape with a severely limited plant palette, replete with hardscape. Although I am an architect, this was not my gardening path. Instead, I wanted to create a landscape where the plants themselves reigned supreme—not the hard edges of geometrical cleverness, with the plants playing a subservient role. The Architectural Designer Me continually duels with the Plant Collector Me, neither one ever winning. A balance of the two is rarely achieved in my observations of gardens, but this was my goal: a balance between the insatiable collector and the incurable designer.
I am also aware of the painful—if accurate—quote by Mirabel Osler in her delightful book A Gentle Plea for Chaos: "There is an antiseptic tidiness that characterizes a well-controlled gardener. And I'd go further and say that usually the gardener is male. Men seem more obsessed with order than women."
Without doubt I am guilty as charged, but that quote haunts me and keeps me from overstressing architectural order, allowing the garden to be the romantic oasis any garden should be. Connecting my two worlds of architect and gardener, I long ago began to see my garden as a city, a collection of individual plants (that is, buildings) willfully molded into a larger whole. Streets, squares, piazzas, gateways and portals, spheres and pylons, public streets with public buildings, hidden neighborhoods with private dwellings, axial urban vistas and curvilinear suburban geometries. This approach creates in my garden what many refer to as "bones," and it ensures four-season visual interest.
The space at a glance
Where: Stony Creek, Connecticut
What: A shoreline garden that encompasses two smaller homes and a few outbuildings
Zone:

7

Age of the garden: 29 years
Size: 1 acre
Conditions: Full sun to partial shade; moist, well-drained, somewhat sandy soil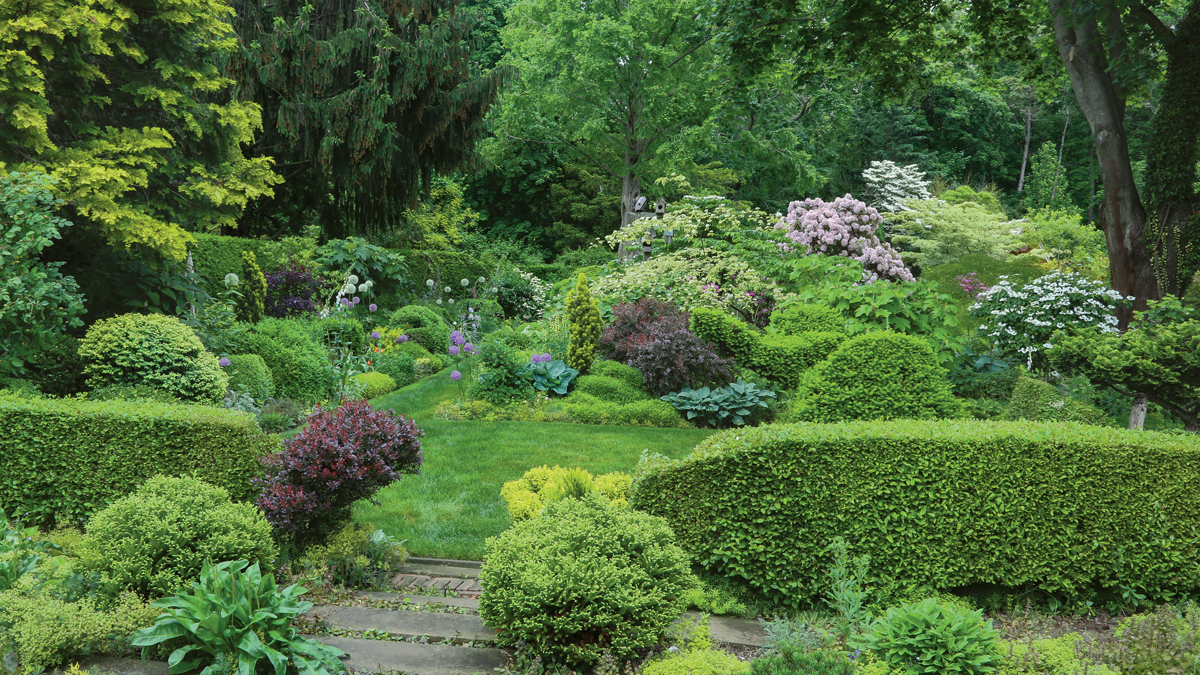 | | |
| --- | --- |
| Strike a balance between chaos and order. Clean bed lines, angular layouts, and plants with a strong outline help keep this multifaceted garden in check. | |
An axial arrangement gives the space organization and flow
The Forbidden City in Beijing had a large influence in my garden's arrangement. I traveled there frequently when I had an office overseas, and it was there that the importance of axial arrangement (when parts of a structure/landscape are arranged lengthwise, along a given axis) became clear. The Forbidden City's axial methodology of linking large and small things and its juxtaposition of connecting vast spaces with intimate places captivated me. The rich spatial sequences are understood only by walking through them. This concept has always seemed relevant to me when arranging the rooms within a new house I was designing, and that was certainly the case when it came to designing my garden. From key spots you should be able to make out the connection of one part of the garden to another, in a clear and concise way.
---
Garden Plan
The 3 keys to ordered chaos
1. Axial arrangements. Various parts of the garden are arranged to allow for long, uninterrupted sightlines. When standing at a specific center point, you can see clear connections between various garden elements.
2. Year-round interest. Sharp edges, stone walls, evergreens, and a unique serpentine hedge add definition and interest regardless of the season. Even in snow, these elements stand out and give the garden visual appeal.
3. Unifying gateways. Whether it's a pair of neatly trimmed boxwoods or an arbor covered in roses, various subtle gateways are used to signal the transition from one area of the garden to the next.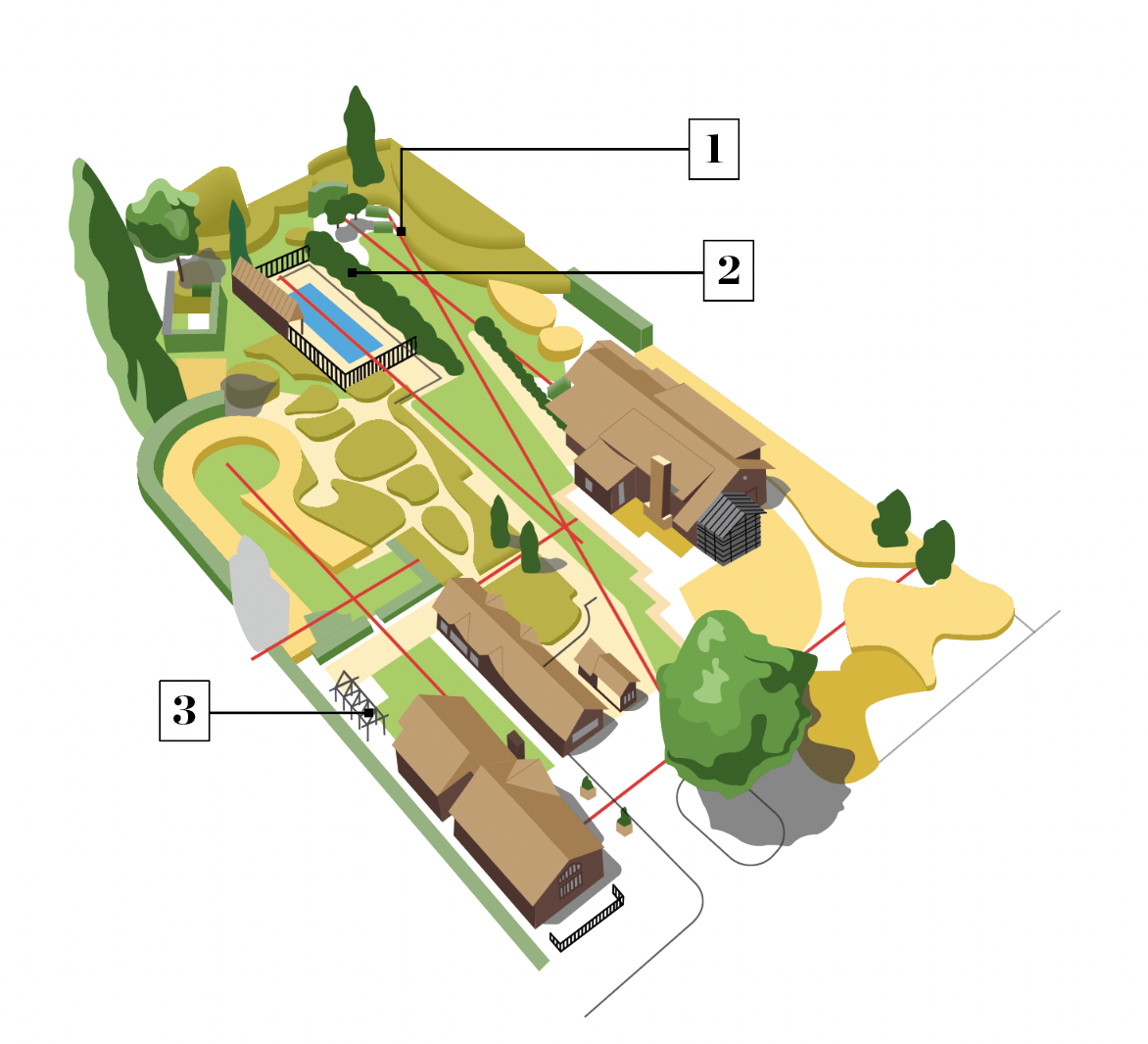 ---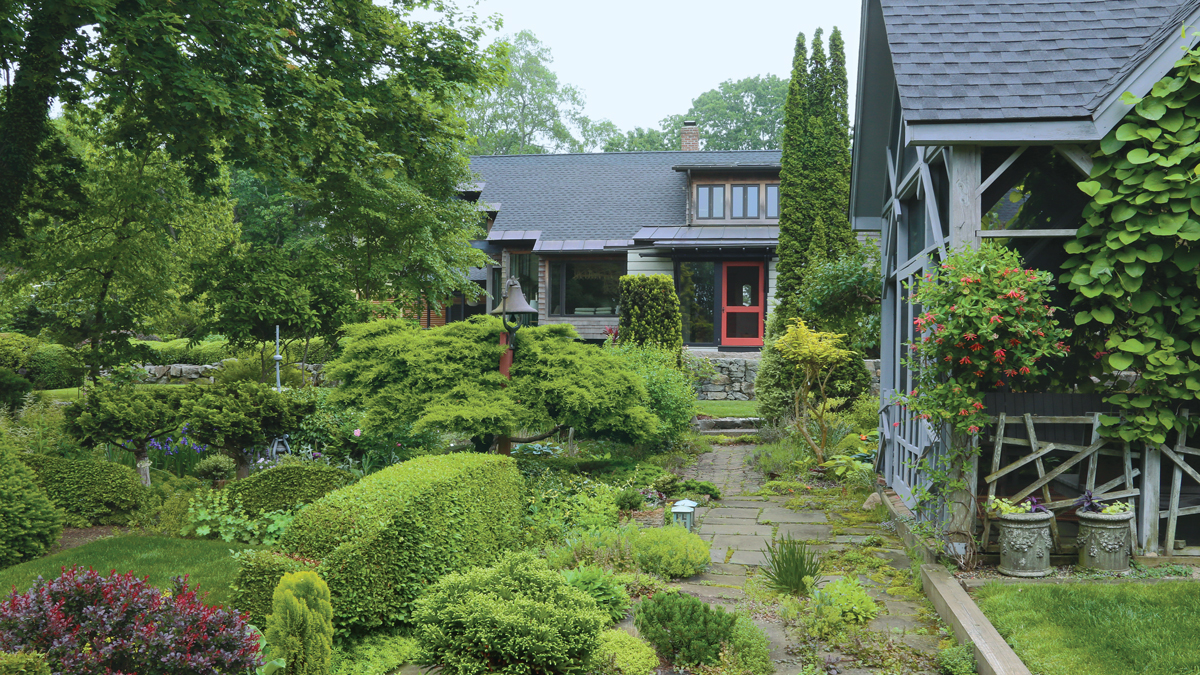 In my highly edited versions of those great traditions, the axis is employed with subtly and reveals itself slowly to those who search for it. For example, a focal point blue Atlas cedar (Cedrus atlantica, Zones 6–9) is visually connected by an axis across the lawn to a stately Korean fir (Abies koreana, Zones 5–9) 200 feet away. The red Gothic-inspired garden gate aligns with the centerline of the pool. And the dry garden with its adjacent brick path aligns with the front door of the main house. I never wanted the axes to be a dominant visual element, as in classic French gardens where it is all right angles and prominent long lines. Instead, I wanted subtle axes to connect key garden focal points, whether they are plants or other elements. Aside from organizing the space and helping define the flow, this axial arrangement helps ground the garden, preventing certain are bare. At these times of the year the framework itself is most apparent, and the "bones" are now called upon to do the work of maintaining a visually coherent layout.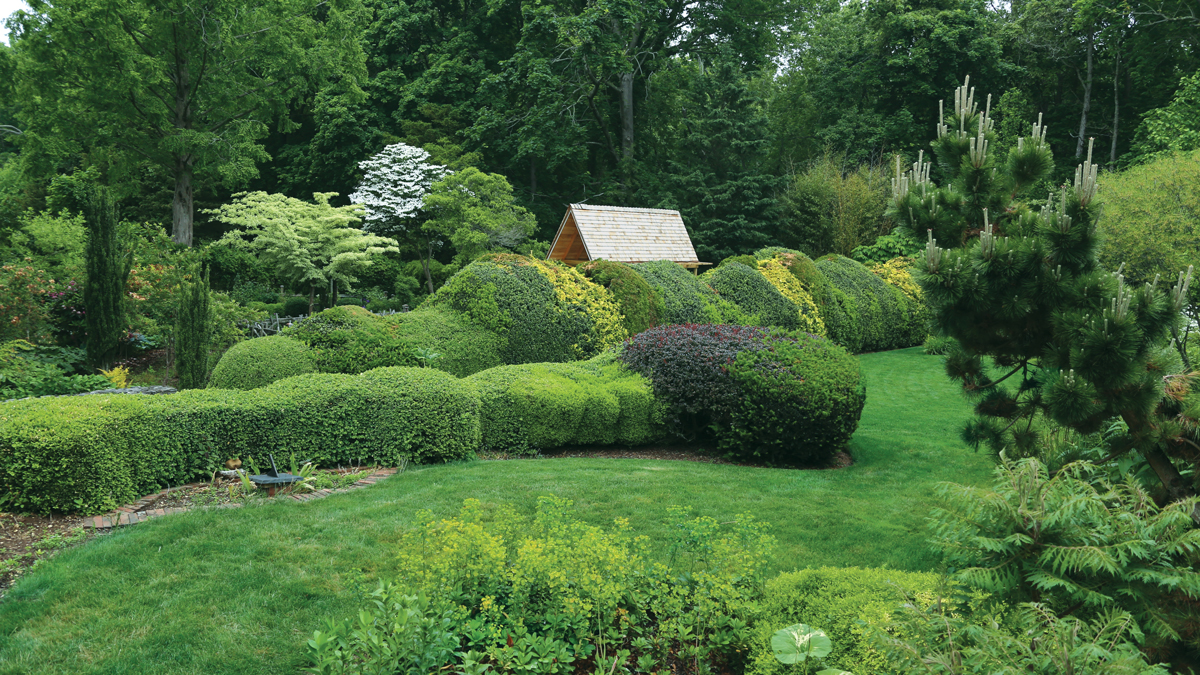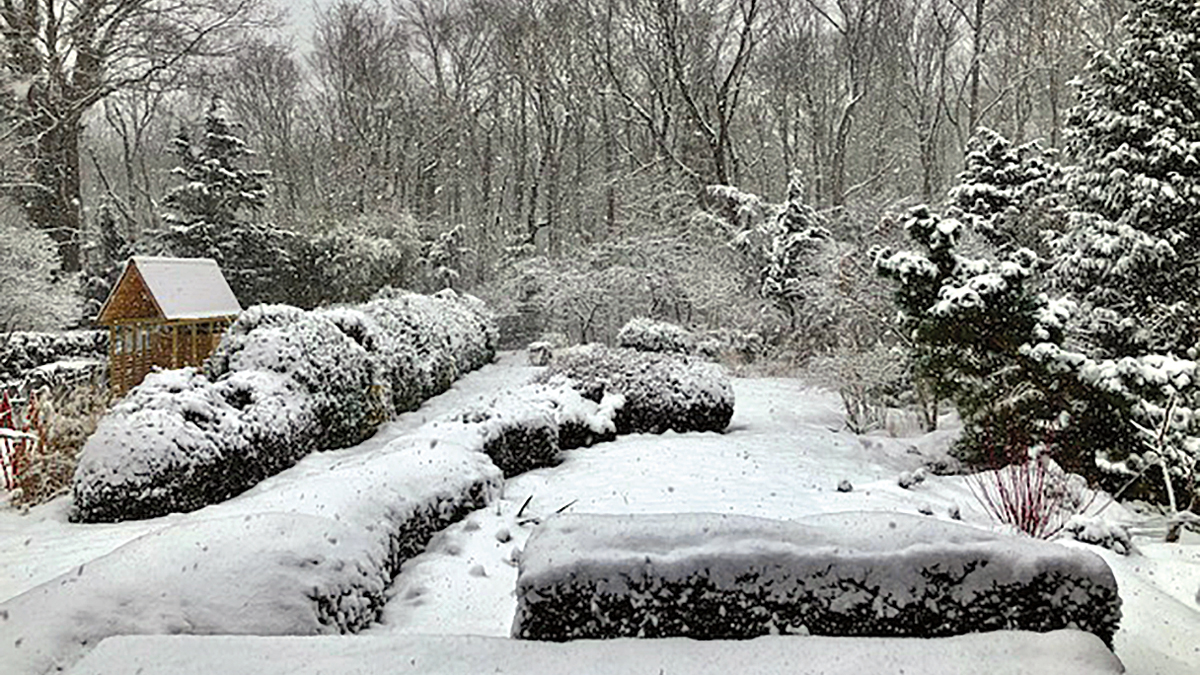 Sharp outlines play a critical role in delineating the garden framework year-round, including crisply edged beds and borders, as well as over 200 linear feet of carefully squared-off stone walls. All the stone was "quarried" on-site as a result of the need to blast granite just below the surface to install the pool and septic systems. Additional edges include clipped hedges utilizing an array of woody plants, such as yew, beech (Fagus spp. and cvs., Zones 4–7), Japanese holly (Ilex crenata, Zones 5–8), arborvitae (Thuja spp. and cvs., Zones 3–8), and hornbeam (Carpinus spp. and cvs., Zones 4–8). Perhaps the most unusual structural feature in the garden is the 75-foot-long tapestry hedge, sculpted as a rollicking serpent and comprised of a dozen species of evergreen shrubs. It is at its finest when severely clipped, showcasing the interweaving of its different leaf textures. Another signature feature of the garden is a 50-foot boulder wall with a cloud-pruned boxwood hedge atop, creating an effect of green boulders atop gray boulders.
Over the years, I have reduced the perennial population in the English-style borders in favor of more evergreens. The beds are now more interesting year-round and require less maintenance as a result. And I can now count on them to provide a strong framework, even when they're covered in snow.
As it turned out, being an architect in the garden was more of an advantage than a disadvantage, and I'm pleased to say that my eye delights at the view from my drafting board every month of the year. Frederick Bland is a managing partner at Beyer Blinder Belle, an architectural firm in New York City. He is also the former chairman of the board for the Brooklyn Botanic Garden.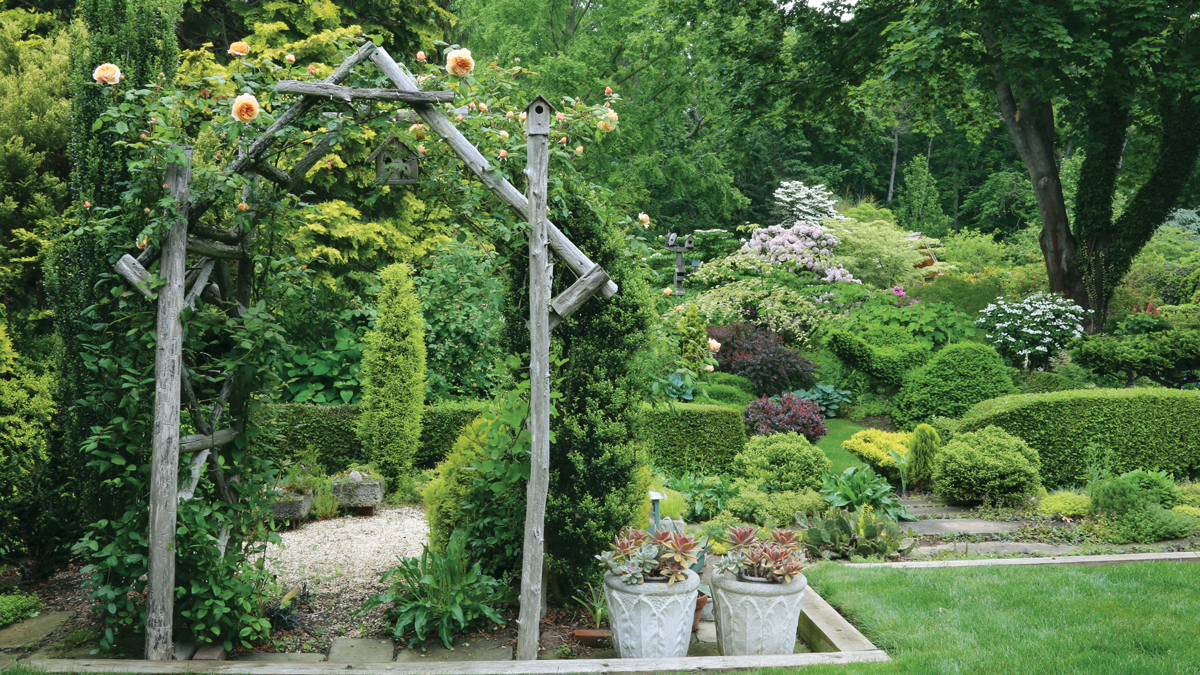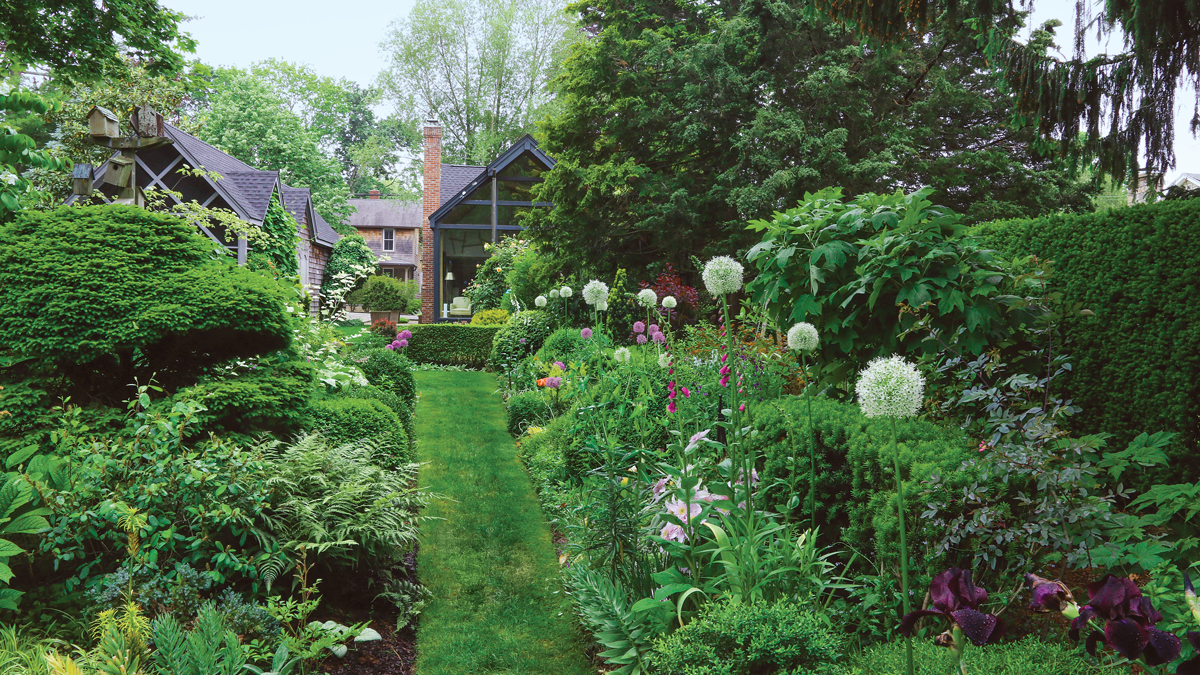 ---
Tip
Scale and proportion are meaningful concepts to architects but vague and imprecise to most people. To me, they are critical components in creating a successful garden. The relationship of one thing to another can quickly get out of balance, altering the proportions of a single shrub or tree—or an entire section of the garden—and pruning back selectively (but continually) is my way of maintaining scale.
ABP stands for "always be pruning." The books say to prune most trees and shrubs in winter. But I prune continually, year-round, whenever my eye says that something is getting out of proportion. In a mature garden with such density as I have, pruning is one of the most important tasks and the only way to ward off the impending jungle.
---
Tour this garden and see an interview with the gardener
Frederick Bland is a managing partner at Beyer Blinder Belle, an architectural firm in New York City. He is also the former chairman of the board for the Brooklyn Botanic Garden.
Photos, except where noted: Danielle Sherry