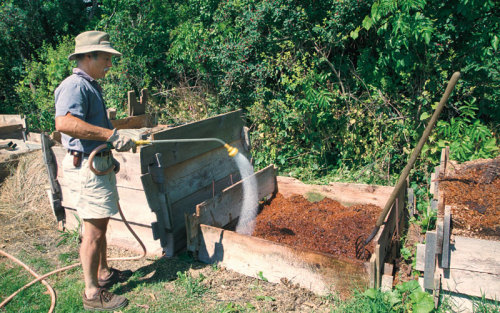 Easy to assemble and disassemble, Lee Reich's bin can adapt to the size of your compost pile. Composting turns kitchen and yard scraps into a marvelous soil amendment, and you don't have to do much to accomplish this stunning transformation. Whether you're a new composter or a seasoned vet, check out the links on this page for tips on the benefits of composting, composting systems, building a compost bin, managing your compost, compost tea, and worm composting.
​
A well-balanced compost pile doesn't smell.
Photo by vinzca under the Creative Commons Attribution License 2.0.
Composting 101

• Hot Composting vs. Cold Composting
• Video: Composting Made Easy
• Creating Healthy Compost
• Composting Hot or Cold 
• Composting in Cold Weather
• Getting Started in Composting
• Compost: Things You Always Wanted to Know
• Start Your Compost Pile This Winter

 

Compost bins and systems

• 6 Ways to Make Great Compost
• The Victory Garden Composter – part 1
• The Victory Garden Composter – part 2
• A Starter Compost Heap
• DIY Food Scrap Digester/Composter
• A Homemade Compost Bin
• Building a Compost Bin
• More Compost, Less Work
• Portable Compost Bins
Worm composting

• Let Worms Compost Your Kitchen Scraps
• Video: The Easy Indoor Worm Bin
• Video: Getting Started in Worm Composting
• Worm Composting



Other ways to compost

• Bring On the Bokashi
• Start a New Garden Bed with a Compost Sandwich
• The Compost Heap Alternative
• Composting in Winter

Leaves and grass clippings

• It's Fall Garden Cleanup Time
• Uses for Fallen Leaves in the Garden
• Leaf Mold as a Soil Conditioner
• Grasscycle, Compost and Mulch with Grass Clippings
• Video: Fall Leaves Make a Great Natural Mulch
• Improve Your Soil by Raking Less


Manure

• Rabbit Manure in the Garden
• Raising Animals as Gardening Allies
• Using Manure to Fertilize Your Garden
• Fertilizing the Old-Fashioned Way, with Manure


 

Compost tea

• Video: How to Make Compost Tea
• Brewing Compost Tea
• The Jury Is Still Out on Compost Tea



Compost Q&A



•

Compost and ammonia
• Using a compost tumbler in cold weather
• What's living in my compost?
• Are compost activators useful?
• Flies in compost
• Does your compost pile smell?
• Ask a composting question…