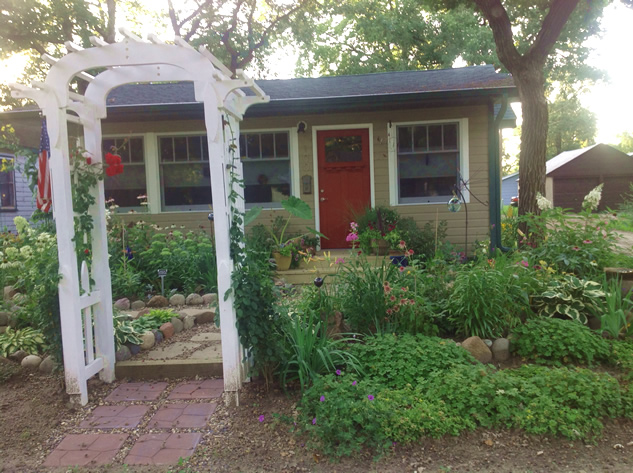 Not only has this cottage has been skillfully renovated, reclaimed perennials add a unique touch of community history!
"This urban cottage garden within the city of Big Lake, Minnesota is owned by Sue and Barry Nelson. Two years ago they purchased a 100 year old cottage and renovated it using the original floor plan and dropped siding. Reclaimed perennials were used from houses being torn down in the area. Then they added more plants. A large deck with a three season porch was added, an ideal spot for enjoying the yard. A workshop for husband Barry and a garage completed the project. Barry's artistic talents are evident in the unique structures placed throughout their property. Bolders border the pathways and the goal of no grass to mow was achieved. Unfortunately, their large lily collection had already bloomed when these pictures were taken."
Please keep sending in photos (and stories)! Whether you've never shared before or you've been featured multiple times, we want to see your garden! Email a few photos and the story behind your garden to [email protected].
Do you receive the GPOD by email yet? Sign up here!