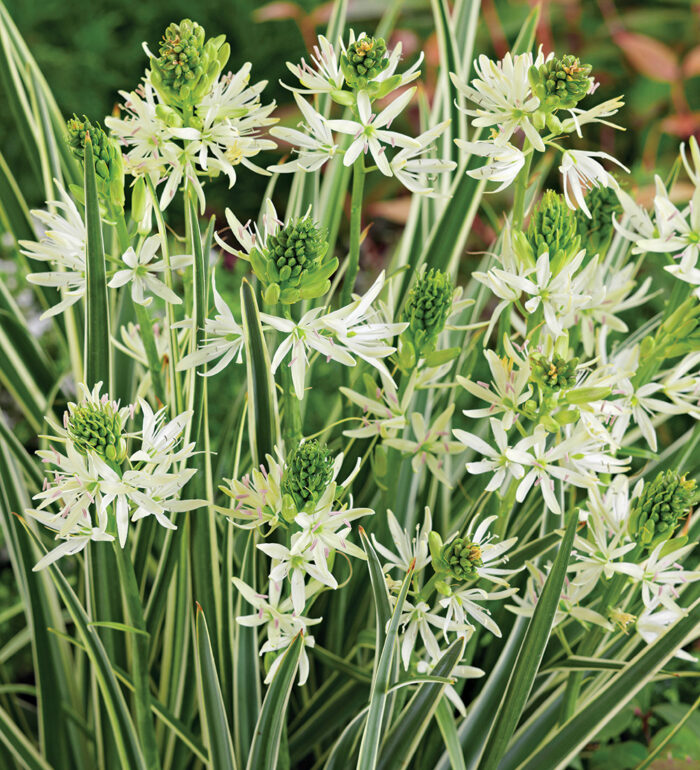 It sometimes seems that all bulbs come from either the Netherlands or somewhere around Greece or Turkey. But North America is home to some stunning bulbs as well. Camassia is one, and like most native plants, it has a bunch of common names: camas, quamash, wild hyacinth. Giant camas is, obviously, one of the larger members of the genus, getting up to almost 3 feet tall.
A Camassia Cultivar to Know
A standout cultivar of this species is 'Sacajawea', which features thick flower stems holding aloft 2-inch-wide star-shaped flowers. These stems arise from upright blades of foliage that have a creamy white edge to them. Blooming in late spring, 'Sacajawea' enjoys full sun and moist soil while growing and is not a favorite of deer or chipmunks. Treat the foliage as you would that of daffodils: Let it turn brown before cutting it back.
'Sacajawea' camassia
Camassia leichtlinii 'Sacajawea'
Zones: 4–8
Size: 24 to 30 inches tall and 12 to 18 inches wide
Conditions: Full sun to partial shade; average to moist soil
---
More:
---
Source