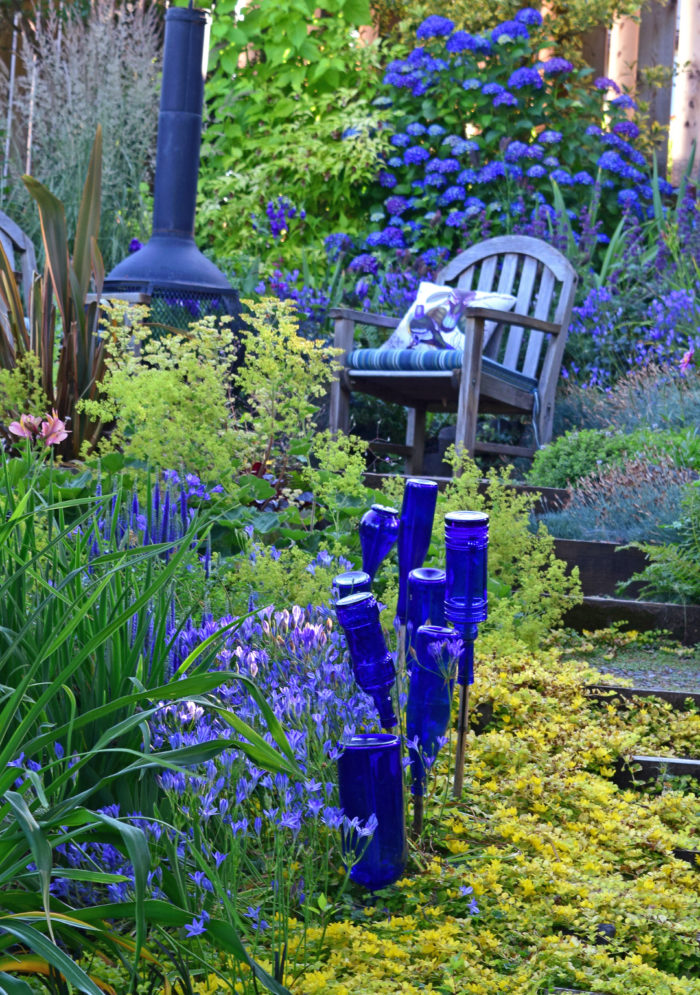 Today we're visiting Nancy Sarpola's garden.
I have sent several batches of photos in for the GPOD in the past, but it has been a few years since then. I thought I would send some from the last couple of years, as I am looking through them now that winter is moving in. I garden on a sloped quarter-acre in Corvallis, Oregon. We have a small lawn and a good-size paver patio. There are bands of shrubs and perennials in between the lawn and patio, several trees to keep us cool in the summer, and a small garden for vegetables and cut flowers to one side.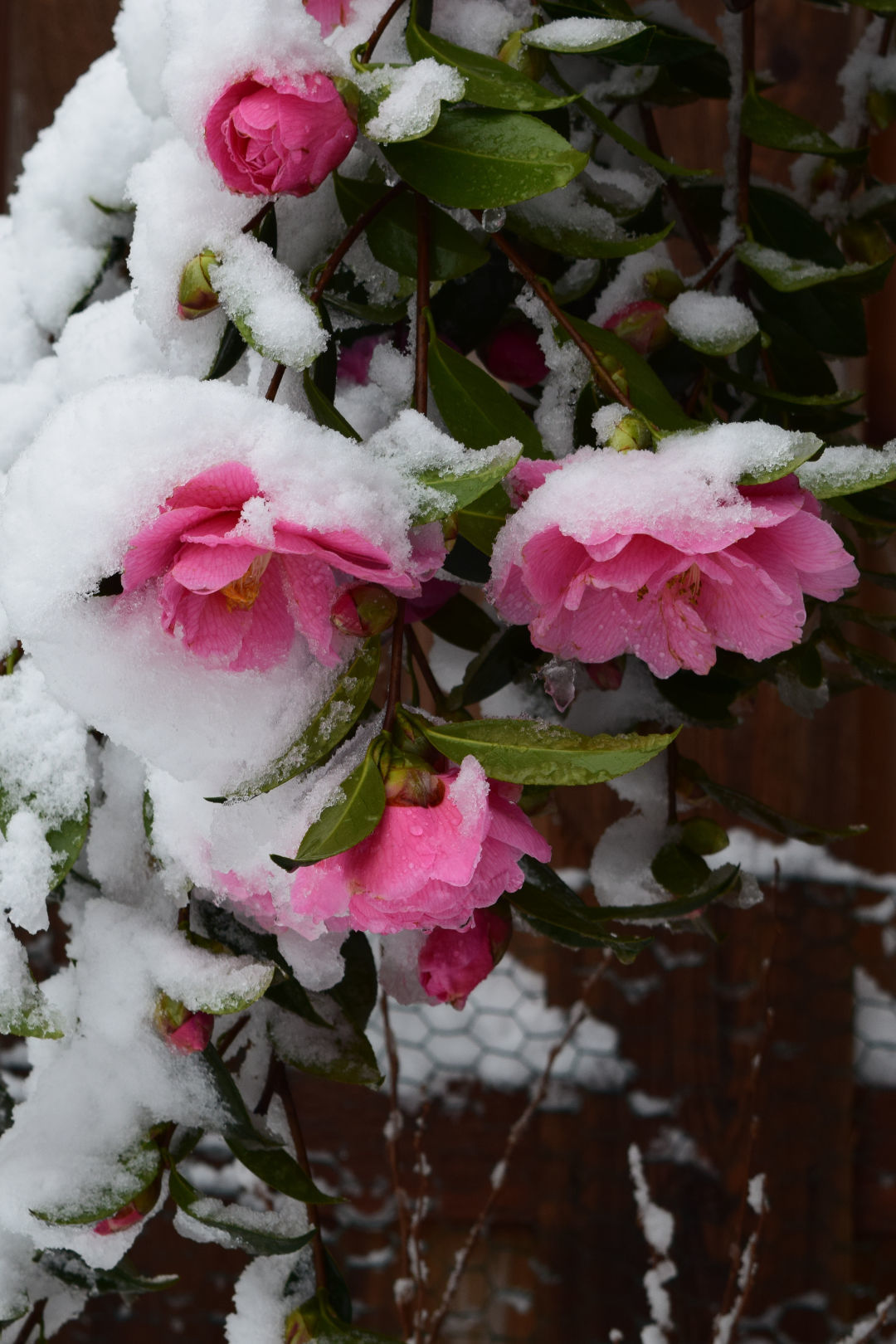 Camellia 'Donation' (Camellia × williamsii 'Donation', Zones 7–10) after a March snowfall.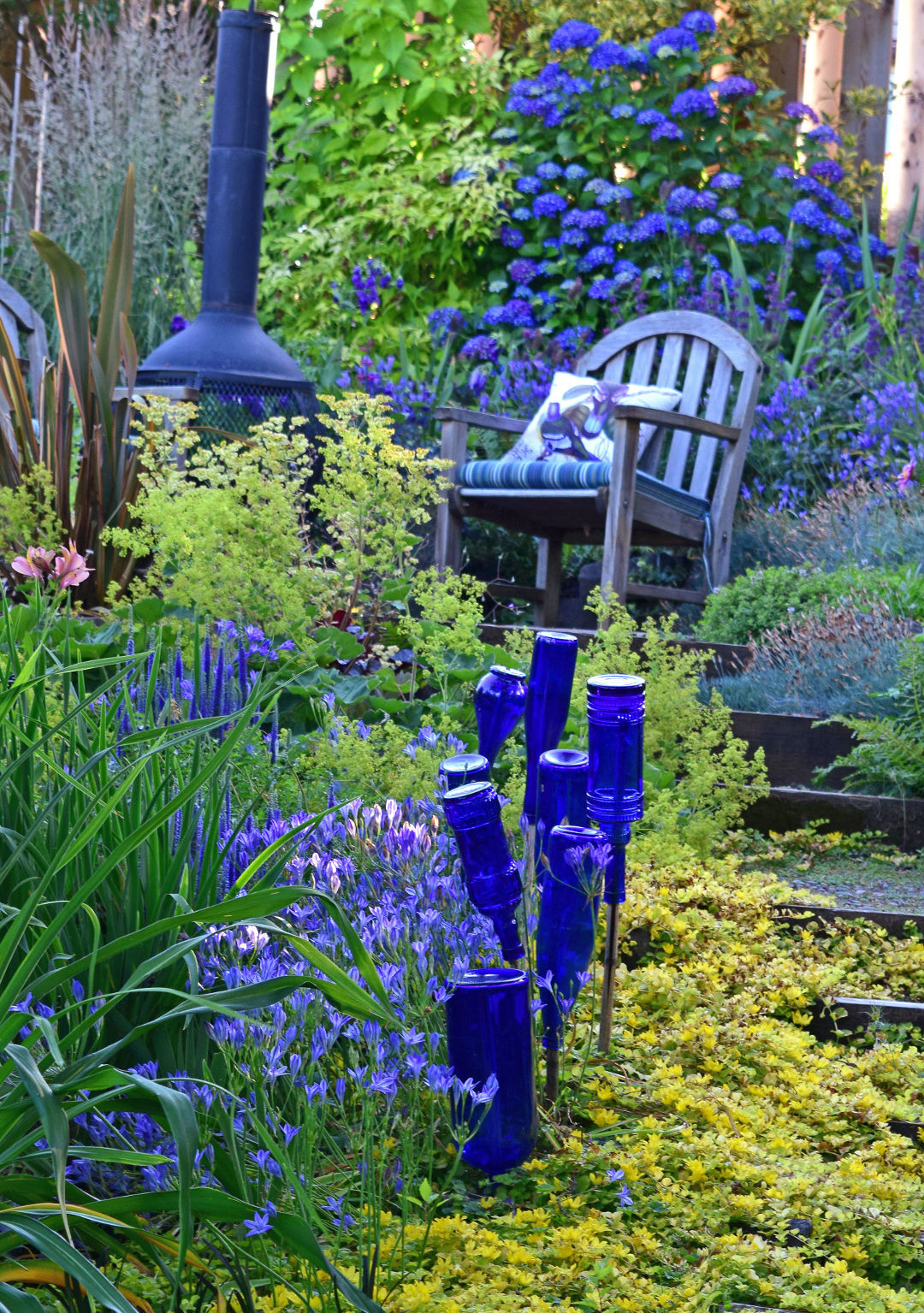 A dwarf hydrangea (Hydrangea macrophylla, Zones 6–9) at the top of a path with blue tritelia (Tritelia laxa, Zones 5–9) growing through golden creeping Jenny (Lysimachia nummularia 'Aurea', Zones 4–8). Tritelia is native to the West Coast and is a supereasy bulb for us to grow here in western Oregon.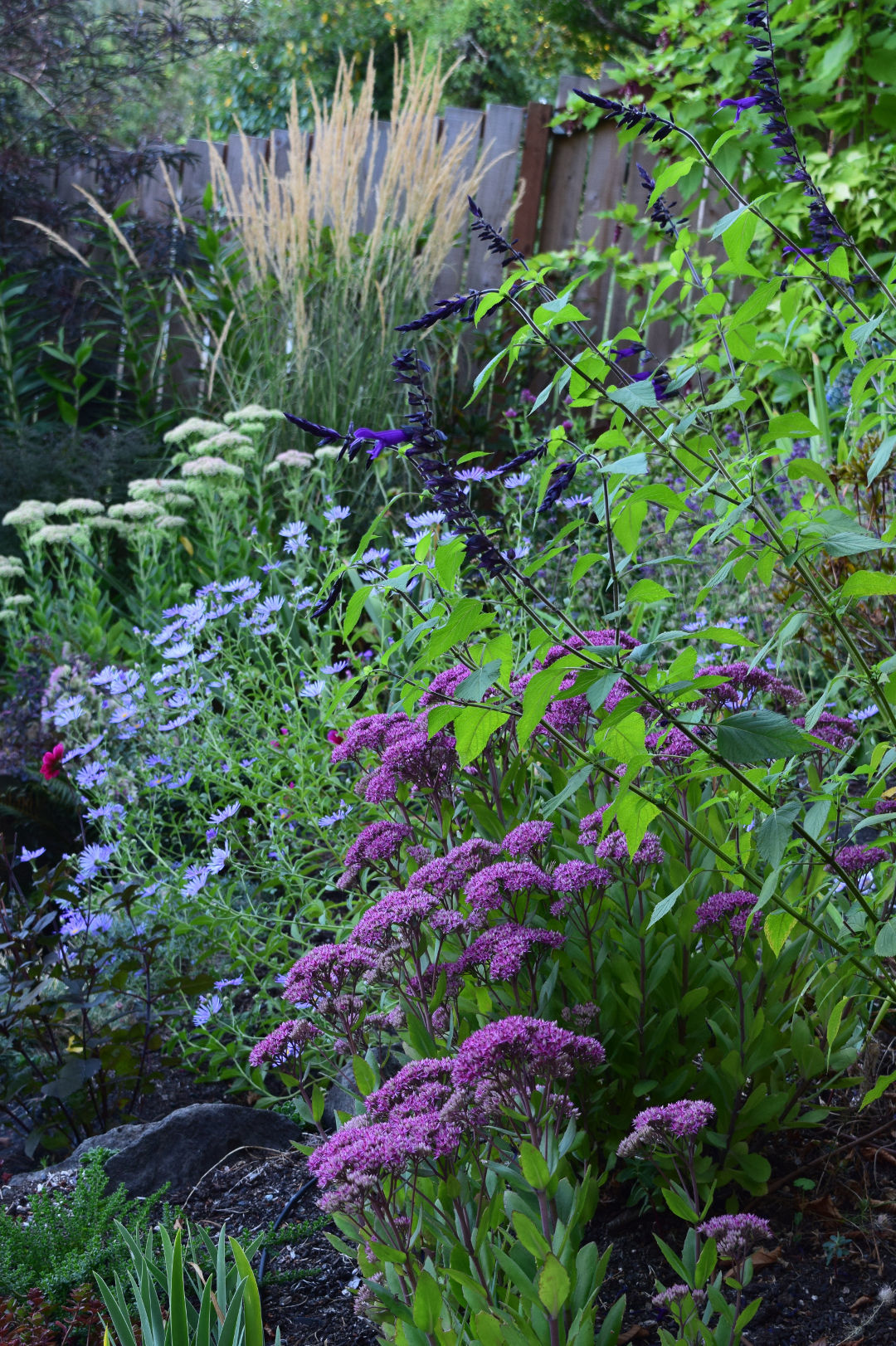 A late summer picture featuring Aster × frikartti 'Monch' (Frikart's aster, Zones 5–10), Sedum 'Mr. Goodbud' (Zones 3–9) and Salvia 'Amistad' (Zones 8–11).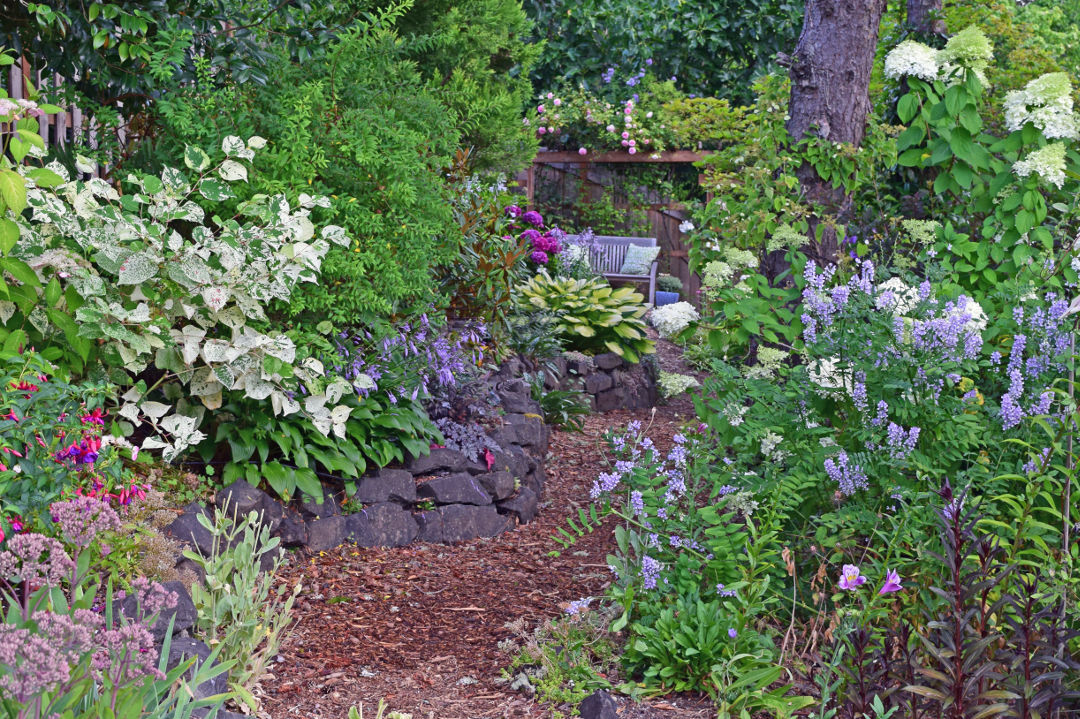 Looking north on the path at the top of our lot toward a trellis with Rosa 'Eden' on it and a limelight hydrangea (Hydrangea paniculata 'Limelight' Zones 4–8) and Galega 'Lady Wilson' (Galega × hartlandii 'Lady Wilson', Zones 4–8) in bloom on the right. This photo was taken in late July.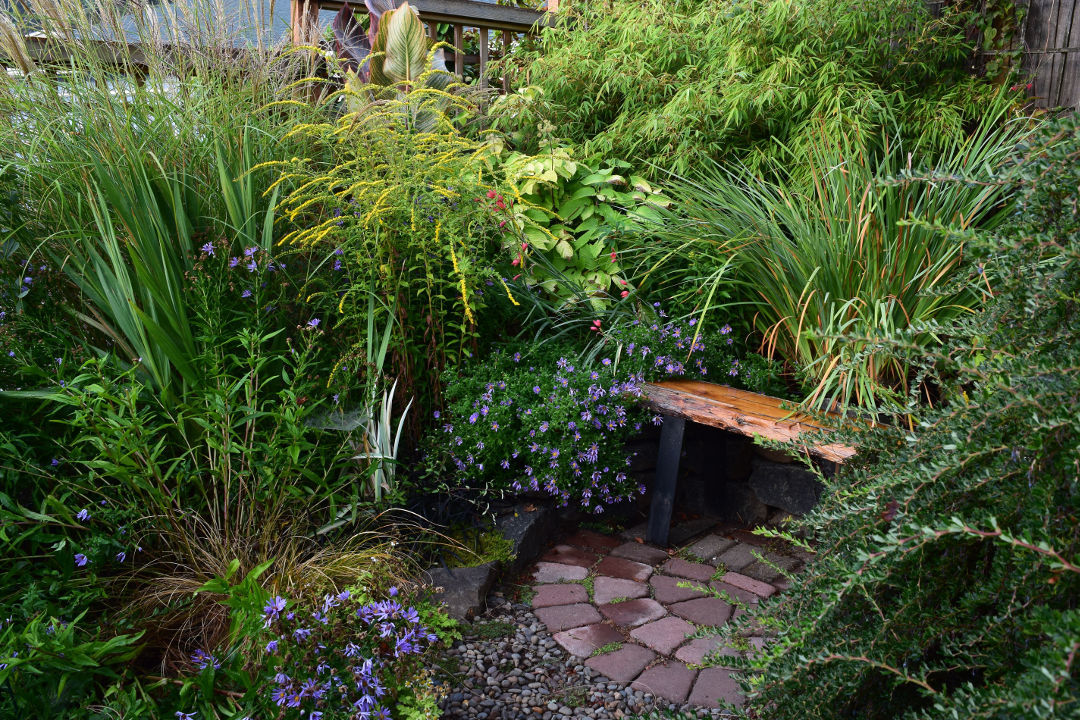 A little seating area in September made out of some leftover pavers. It features asters and 'Fireworks' goldenrod (Solidago rugosa 'Fireworks' Zones 5–9) at this time of year.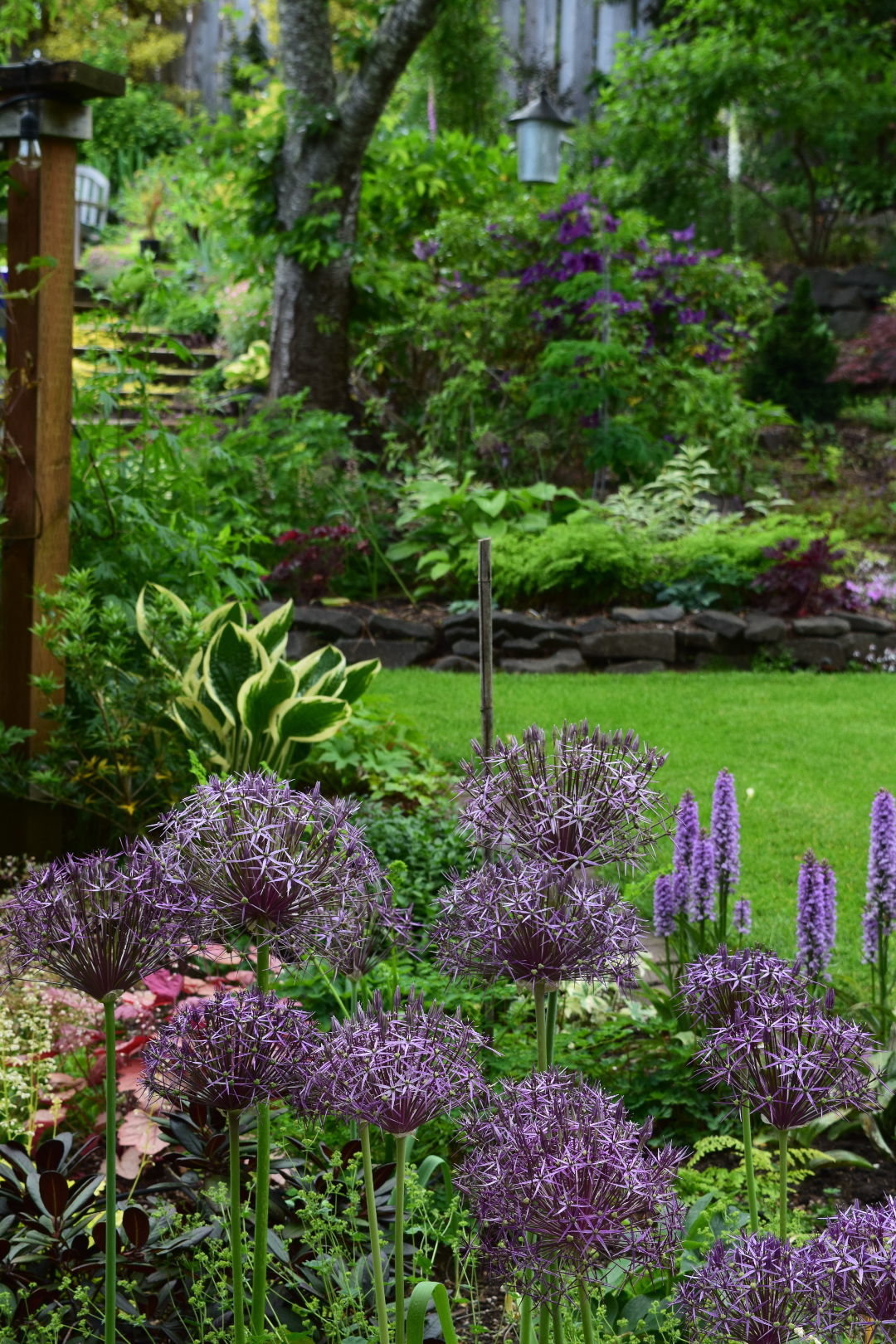 This photo is from late April and shows Allium christophii (stars of Persia, Zones 5–8) in the foreground.
Japanese forest grass (Hakonechloa macra, Zones 5–9) backed by 'Visions' astilbe (Astilbe chinensis 'Visions', Zones 4–8).
Yellow Dicentra scandens (Zones 7–10) vine mixing with 'Polish Spirit' clematis (Zones 5–9) and Lysimachia ephemerum (milky loosestrife, Zones 6–9). This lysimachia is not an aggressive spreader like so many of its kin.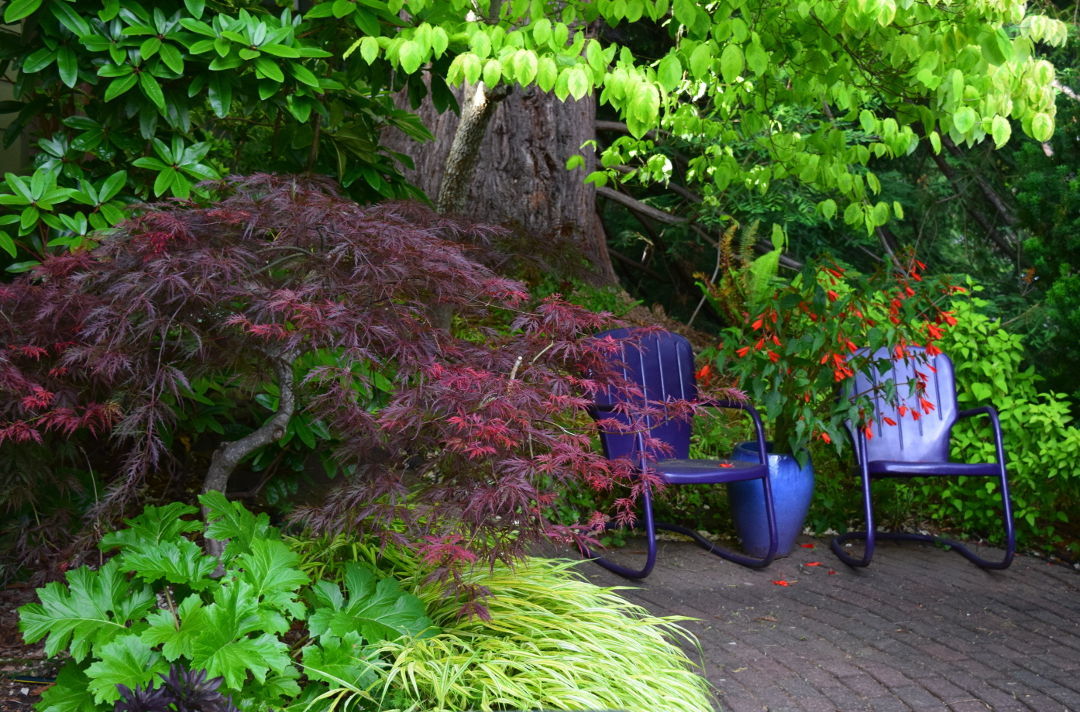 These are chairs I got at a rummage sale for $10 each! I repainted them in my favorite color and put them in this little nook with a Japanese maple (Acer palmatum, Zones 5–10), Acanthus mollis (Bear's breeches, Zones 7–11) and Japanese forest grass.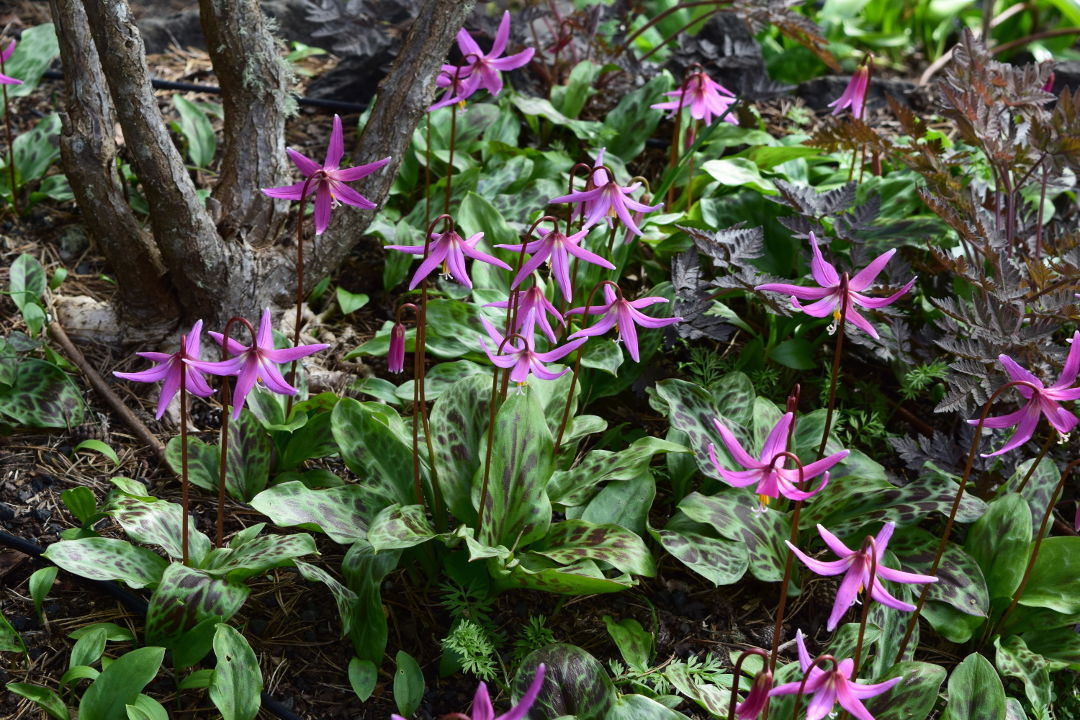 An early April photo of a patch of Erythronium (trout lily) in bloom.  
Have a garden you'd like to share?
Have photos to share? We'd love to see your garden, a particular collection of plants you love, or a wonderful garden you had the chance to visit!
To submit, send 5-10 photos to [email protected] along with some information about the plants in the pictures and where you took the photos. We'd love to hear where you are located, how long you've been gardening, successes you are proud of, failures you learned from, hopes for the future, favorite plants, or funny stories from your garden.
If you want to send photos in separate emails to the GPOD email box that is just fine.
Have a mobile phone? Tag your photos on Facebook, Instagram or Twitter with #FineGardening!
You don't have to be a professional garden photographer – check out our garden photography tips!
Do you receive the GPOD by email yet? Sign up here.