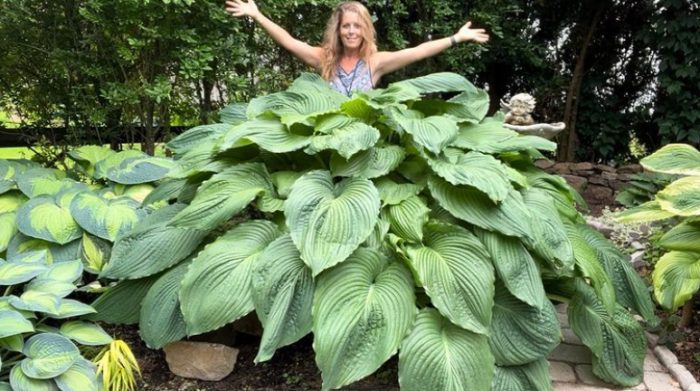 Today we're visiting with Lonna and Jon in Williamsport, Pennsylvania. They are avid gardeners and particularly lovers of hostas. Lonna started collecting hostas in 2016 and now has well over 800 different varieties. Yes, EIGHT HUNDRED!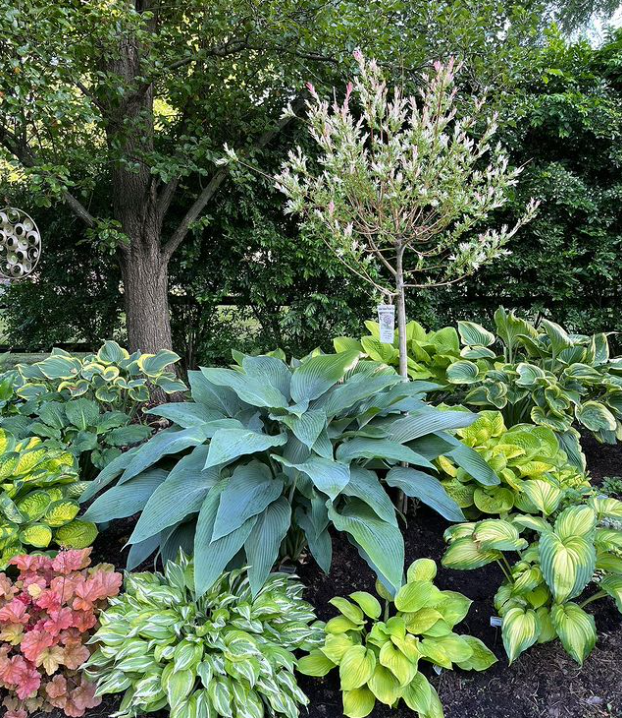 The big hosta in the center with the long blue leaves is one of Lonna's favorites, Hosta 'Tidewater'. Standing tall behind it is a new addition to the garden, a dappled willow (Salix 'Hakuro Nishiki', Zones 5–7).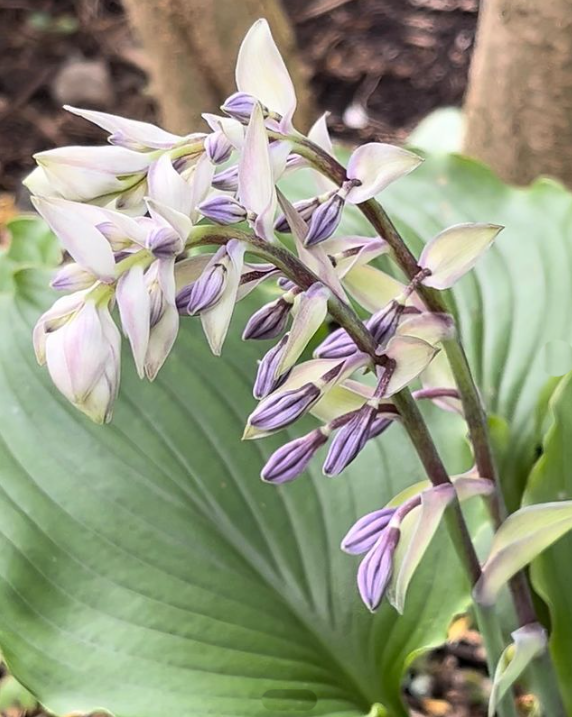 We all know hostas have beautiful foliage, but the flowers can be pretty nice too, blooming at many different times of year. This is 'Marilyn Monroe', a late bloomer, coming in at the end of September with these elegant arching flower stems and attractive creamy bracts below each purple flower.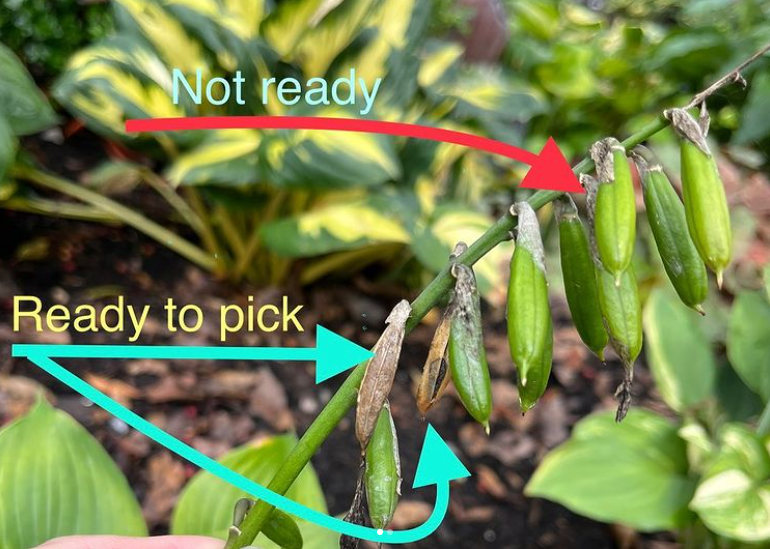 Not content with over 800 named hostas, Lonna also likes growing her own hosta seedlings and has over 200 of them so far. This image shows how to harvest hosta seeds. The green pods develop after the flowers fade, and once they turn brown they're ready to pick.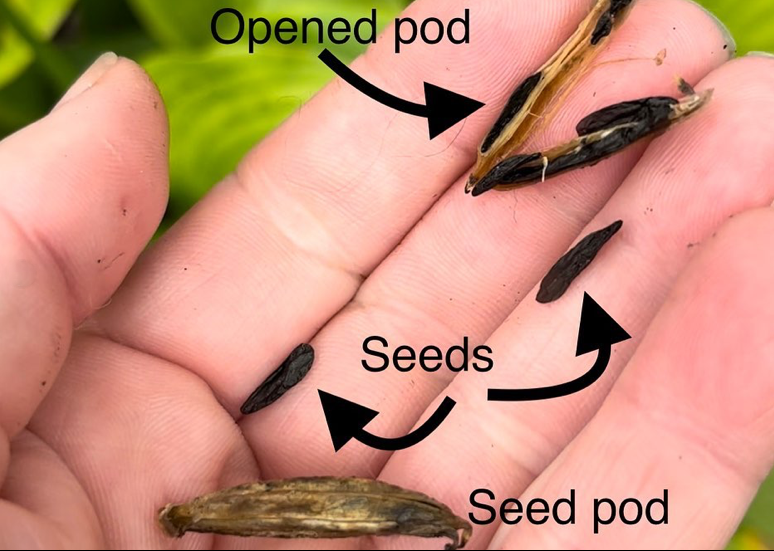 Here's what hosta seeds look like. If you just let the seeds develop naturally, you'll get whatever hybrids the bees made as they went from flower to flower. Most of your seedlings will have green leaves, but growing from seed can be a fun way to explore hostas and get cheap plants to fill up your garden.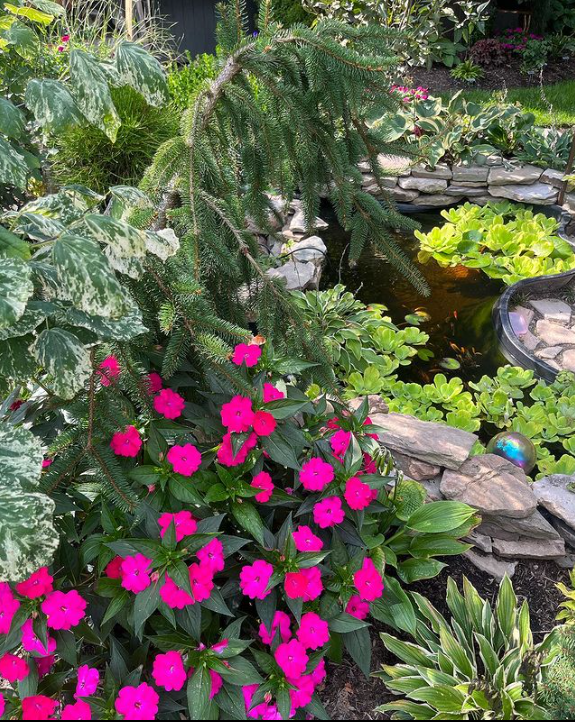 As much as Lonna and Jon love hostas, their garden doesn't only feature hostas. Here an impatiens (Impatiens hawkeri, Zones 10–11 or as an annual) blooms next to a garden pond.
Many hosta varieties can change their look a lot during the growing season. This is 'Empress Wu' and 'Dancing Queen' in early summer.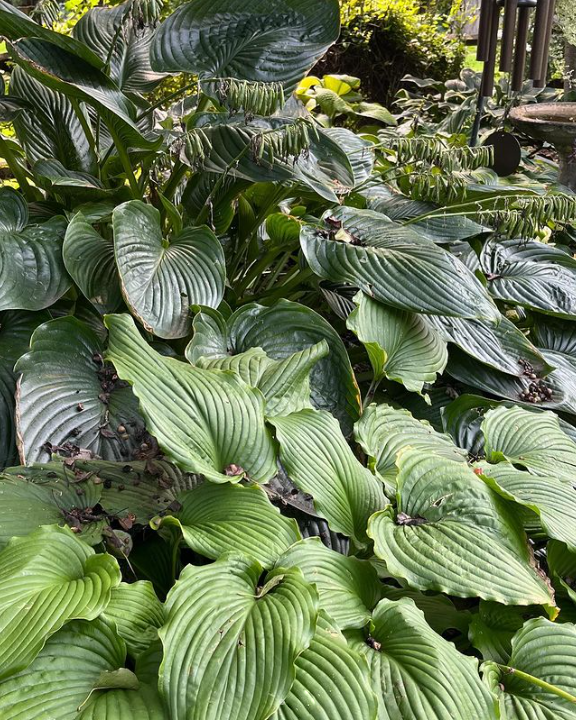 And here is a shot of the same two plants in mid-September, after the bright colors have faded a bit. Many yellow-leaved hostas will fade to green as the season progresses. The blue color on a hosta leaf is produced by a layer of wax, and summer heat causes it to lose the blue color and shift to a smooth, glossy look.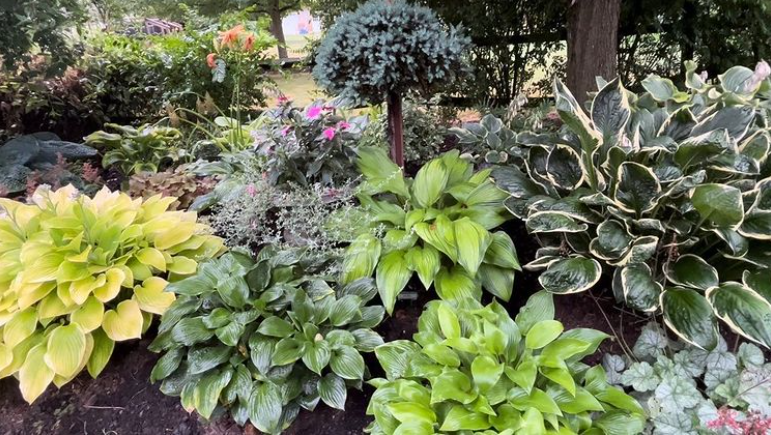 The hosta garden looks lush after a rain in August, a reminder from Lonna to keep hostas irrigated right through the summer. Though most hostas don't grow new leaves after their first flush in spring, later in the summer they are growing the roots and buds that will be next year's plants, so keeping them well cared for all summer will give you bigger plants next year.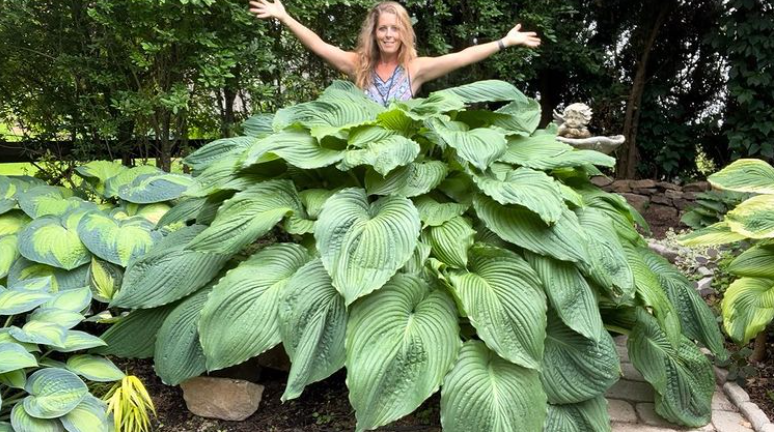 Lonna poses with Hosta 'Niagara Falls'. This huge, beautiful plant started as a little division with two leaves that Lonna's friend sent her in the mail. Clearly Lonna knows how to make hostas very happy in her garden!
If you are interested in learning more about hostas, Lonna recommends joining the American Hosta Society or checking out the Hosta Library. And be sure visit Lonna's Instagram: @paintedleafhostagarden
Have a garden you'd like to share?
Have photos to share? We'd love to see your garden, a particular collection of plants you love, or a wonderful garden you had the chance to visit!
To submit, send 5-10 photos to [email protected] along with some information about the plants in the pictures and where you took the photos. We'd love to hear where you are located, how long you've been gardening, successes you are proud of, failures you learned from, hopes for the future, favorite plants, or funny stories from your garden.
Have a mobile phone? Tag your photos on Facebook, Instagram or Twitter with #FineGardening!
Do you receive the GPOD by email yet? Sign up here.