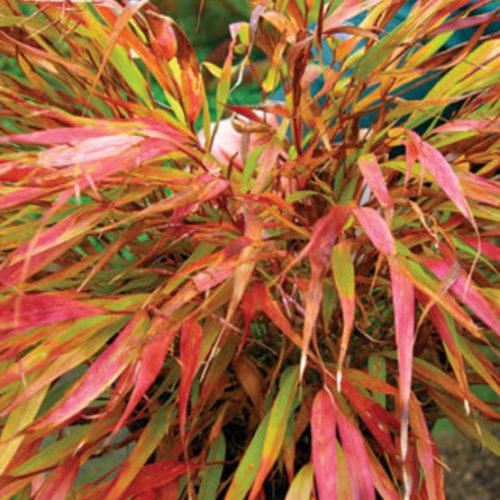 Some gardeners love Japanese forest grass because it looks like a baby bamboo grove or a lush woodland carpet. I love it because of the graceful motion that it adds to the garden—even on windless days. Such evocative beauty coupled with overall garden vigor (notably disease and deer resistance) are what make it a popular garden choice. In response to demand for greater variety, plant breeders have been working hard at increasing the palette of available cultivars. Of these newer selections, 'Nicolas', a dwarf variety that boasts lustrous green leaf blades with burgundy staining, is a notable standout.
 The pigment variegation of this plant pre­sents early in the season and intensifies to a vibrant reddish orange for a gorgeous late-season show. The long blades also add a nice texture to floral arrangements. Japanese forest grass is a versatile plant. It can stand alone as a ground cover or intermingle with other perennials, deciduous flowering shrubs, and spring bulbs. But because large varieties can sometimes swallow their perennial pairings and smother the lower foliage of shrubs, a dwarf cultivar, like 'Nicolas', offers a significant design benefit.
Problems'Nicolas' may be slower to establish and more susceptible to weather variables than other varieties. These are common attributes of many dwarf and variegated plants, which may need closer-to-ideal cultural conditions to thrive than their larger or greener counterparts. For me, 'Nicolas' is a gradual-but-steady grower. If some of you wish to have the colors of 'Nicolas' in a full-size plant, try the cultivar 'Beni Kaze'.   -Justin Nichols is a horticulturist at Coastal Maine Botanical Gardens in Boothbay, Maine. From Fine Gardening issue 149, Like it / Love it.
Genus

: Hakonechloa

Zones

:

5, 6, 7, 8, 9

Plant Type

:

Grasses

Maintenance

:

Low

Growth Rate

:

Moderate

Light

:

Partial Shade

Foliage Color

:

Purple/Burgundy

Characteristics

:

Showy Foliage